Life
Your Big Cedar Summer Bucket List
Soak up summer while social distancing at Big Cedar Lodge. We've rounded up our top three must-do activities—all of which are incredibly Instagrammable.
By Dayle Duggins
May 20 2020 at 10:51 a.m.
Hop on a golf cart, drive through a waterfall-filled cave, sip your drink of choice while overlooking Table Rock Lake, then end the evening with a sunset ceremony. It doesn't get much better—or more Ozarks—than that. 
After two months of stay-at-home orders, Big Cedar Lodge has reopened its doors, allowing 417-landers and travelers to experience the nature-based escape while maintaining social distancing. In addition, Big Cedar and Top of the Rock have rolled out new experiences that can be enjoyed over a couple of hours or a whole day. We experienced its reopening firsthand and rounded up our top three things to do on your next visit.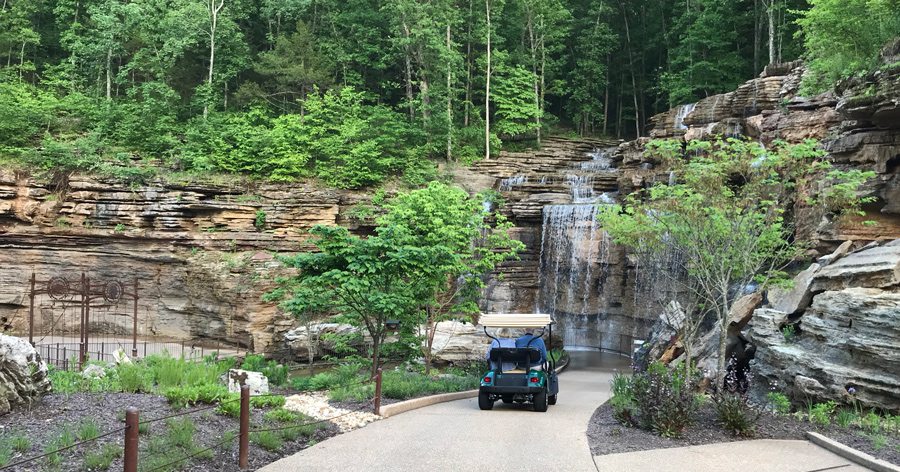 1. Rent a golf cart
If you haven't cruised through Top of the Rock on a golf cart, it's time to splurge a little and spice up your life. Head to the welcome center, rent a cart, and hop on the two-and-a-half-mile Lost Canyon Cave & Nature Trail. Along the way, you'll drive through an incredible waterfall-filled cave (where you can order your drink of choice), ride over bridges, see rock formations and so much more. New additions include the Eagle's Nest overlooking Table Rock Lake, a butterfly garden, Horseshoe Bridge and Indian Head Falls. If you're in it for the photos, the Eagle's Nest is an essential stop.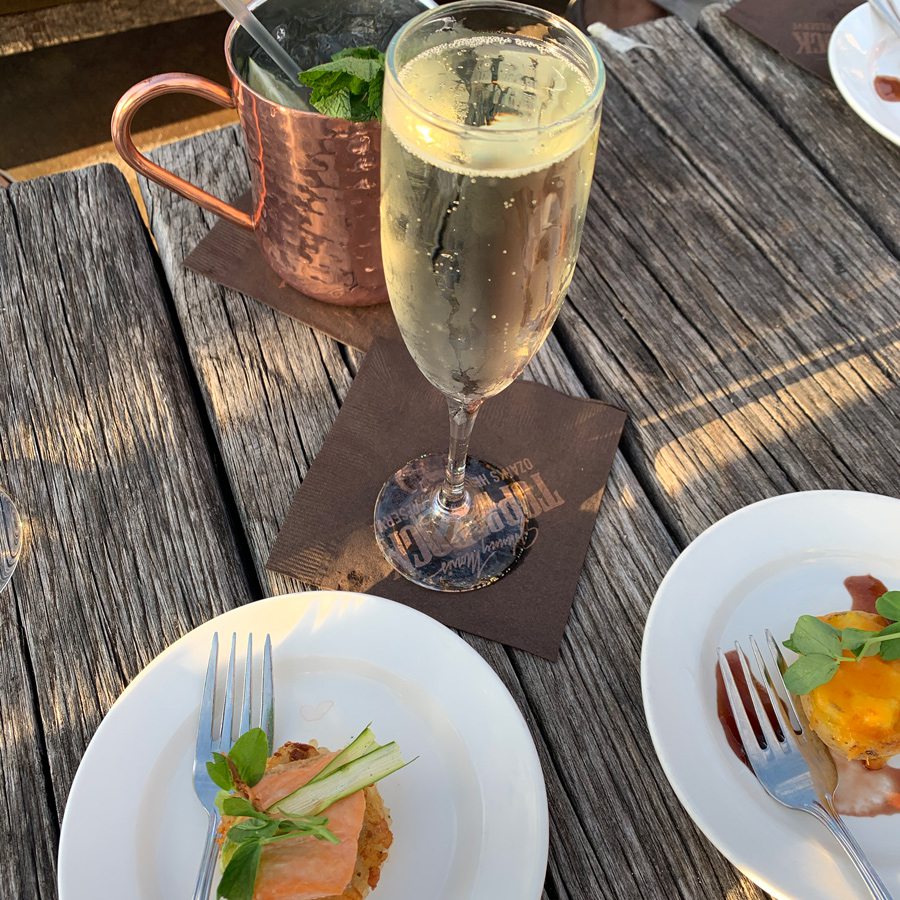 Photo by Dayle Duggins
Order from Osage Restaurant's new menu. Pictured on the left: Salmon with mushroom risotto cake and crispy asparagus.
Purchase Photo
Photos by Dayle Duggins Opt for a table on the patio of the Osage Restaurant.
2. Make a reservation at Osage Restaurant 
Osage Restaurant at Top of the Rock serves up a mind-blowing view of Table Rock Lake. Its new executive chef, Nate Parnell, recently rolled out a new steakhouse dining concept featuring new appetizers, sous vide steaks, fried chicken, shareable sides and more. Parnell says many Morris family recipes have been incorporated into the menu. Of the dishes we sampled, the salmon with mushroom risotto cake and the apple gooey butter cake were at the top of our list. If the weather is nice, you can't beat the patio seating. Don't forget to make a reservation.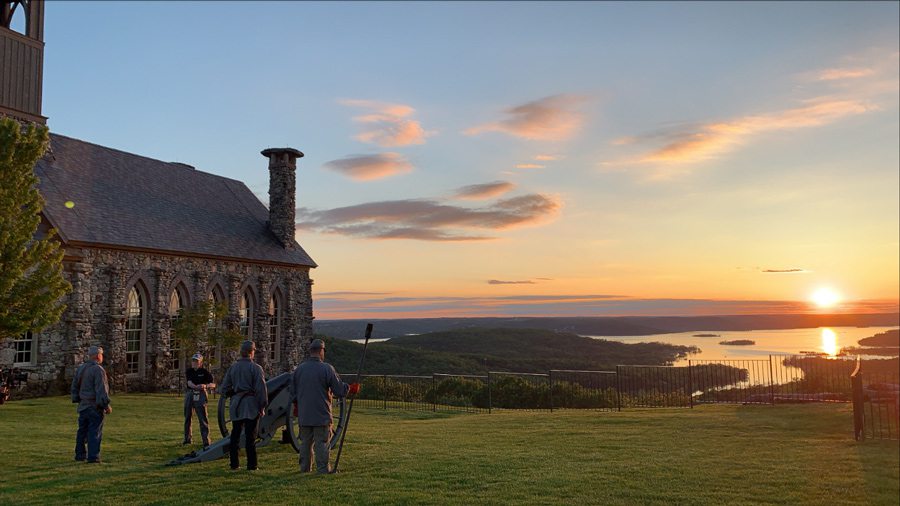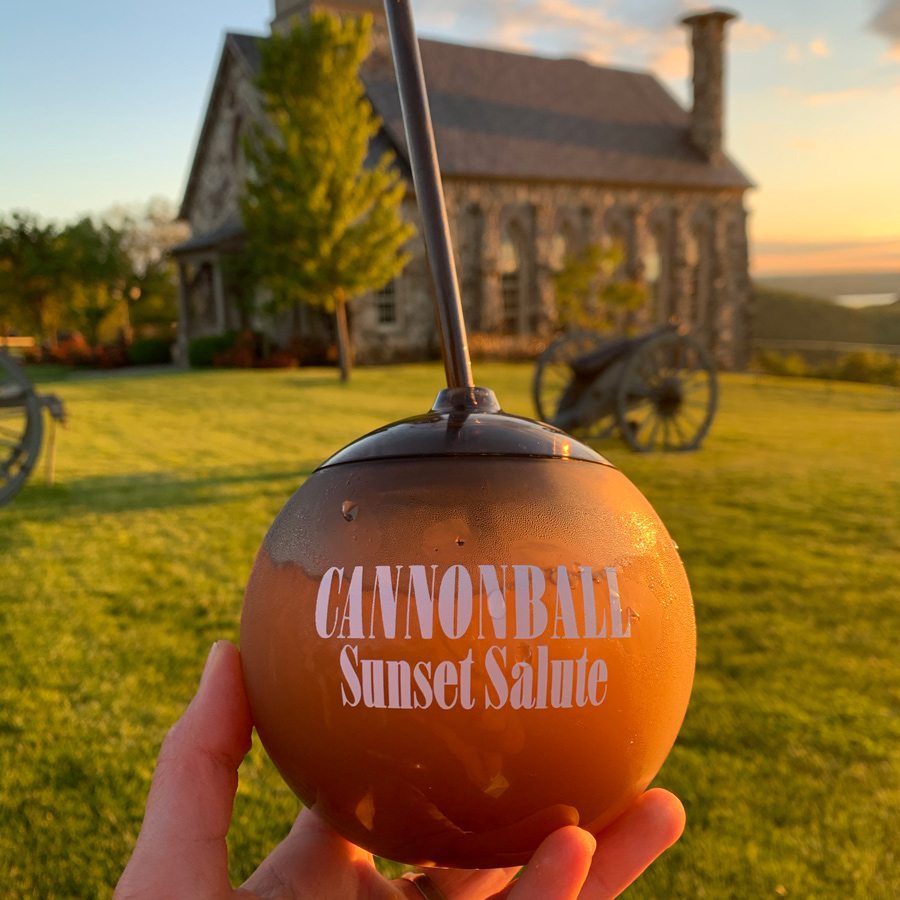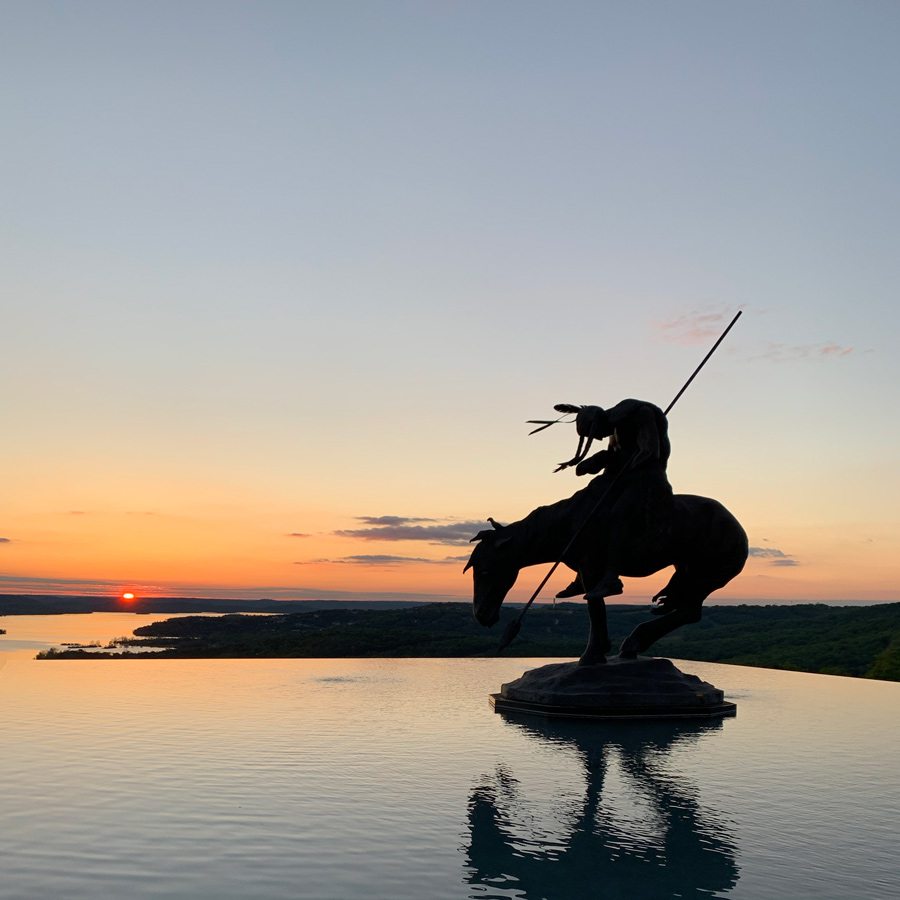 3. Stick around for the Sunset Ceremony
Don't even think about sneaking off before Top of the Rock's signature Sunset Ceremony. Order up a drink, sit back and relax as the sun sinks into Table Rock Lake. Bagpipers provide the tunes and the sounding of a Civil War cannon provides the grand finale as the sun shows its final glistening light. If you really want to lean into the theme, ask your waiter for a Cannonball. The campy drink combines amaretto, bourbon prickly pear puree and pineapple juice to create a sweet li'l sipper. The golden hour celebration has other benefits: You truly cannot take a bad photo, so whip out the phone and snap away. 
Boasting 4,600 acres of wide open spaces, there's so much more to explore at Big Cedar. While you're waiting for dinner, make sure to check out the Cathedral of Nature lookout point. What started as a sinkhole has turned into an underground treasure hunt spearheaded by Bass Pro Shops founder Johnny Morris. While hunting for a cave connection and exposing rock, more than 100,000 loads of dirt have been hauled out of the massive underground wonder. A moonshine distillery is also in the works, though no timeline has been solidified.