Food
Recipes for Cooking with Bok Choy & Ramps
Sarah Kraber of Pino & Tink's offers two recipes for using some lesser known spring greens in the kitchen.
By Claire Porter
Mar 2020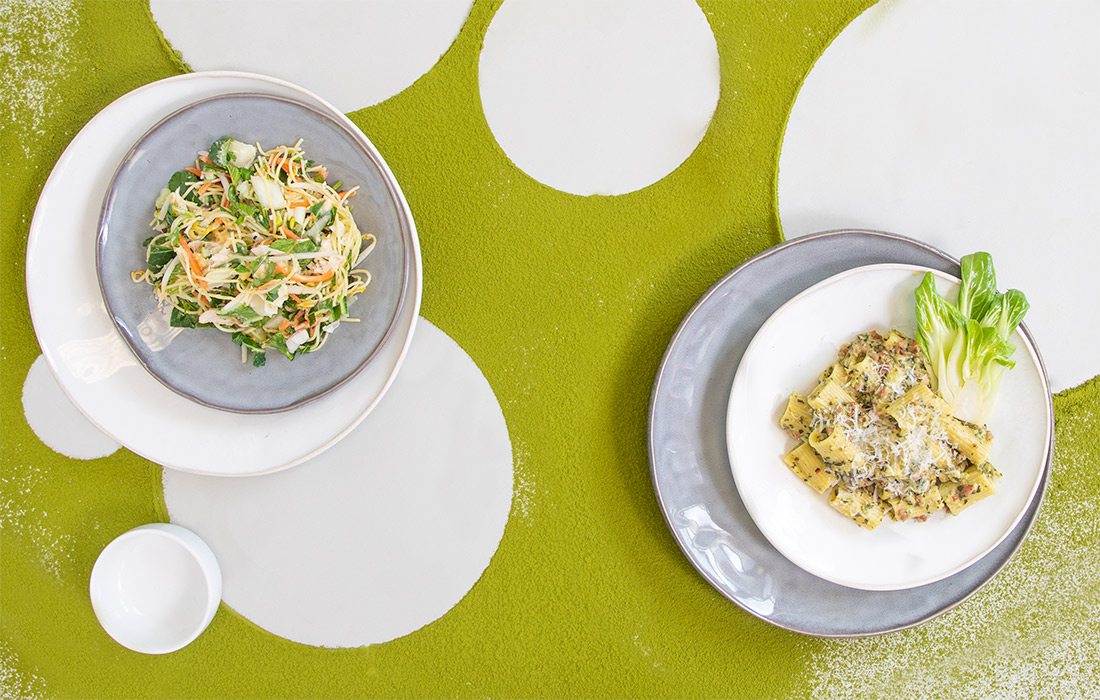 Show some love to springtime's often underappreciated greens, bok choy and ramps. These pasta dishes from Sarah Kraber of Pino & Tink's cater to the dueling personalities of spring: a hearty, subtly smoky ragu warms you from the inside out on cool nights, and a tart herb-laden cold noodle salad prepares you for vibrant spring days ahead.


---
This cold Thai noodle salad is a play on a salad Kraber had at a Thai restaurant while in New York. Its creamy coconut base is coupled with tart lime, all of which is punctuated by spicy chili with an undertow of sweetness. The best part? Once you've chopped your ingredients, assembly is a breeze.
Serves 4–6

Salad Ingredients
1 bunch of ramps, roots trimmed
Olive oil, salt and pepper to taste
½ pound spaghetti, cooked, drained and rinsed under cold water
2 cups cooked shredded chicken
3 cups bok choy, julienned
½ cup cilantro, chopped
½ cup mint, chopped
1 cup carrots, shredded
1 cup bean sprouts
¼ cup chopped pistachios
¼ cup canned fried onions
¼ cup unsweetened coconut flakes
Dressing Ingredients
1 cup coconut cream (alternatively, you can use ¾ cup coconut milk and ¼ cup heavy cream)
1 tablespoon Asian chili oil, or more to taste
2 tablespoons fish sauce
2 tablespoons granulated sugar
Juice of half a lime
To Prepare
Preheat the oven to 400ºF. Place trimmed ramps on a baking sheet, drizzle with olive oil and sprinkle with salt and pepper. Roast for 10 minutes, then let cool. Once cool enough to handle, roughly chop ramps. In a blender, combine all dressing ingredients and process until smooth. Taste and adjust seasoning as needed. In a large bowl, combine noodles and remaining salad ingredients. Pour enough dressing over salad to moisten well and toss to coat the salad. Serve at room temperature or cold.


---
With quick-pickled bok choy
This recipe is an iteration of a dish Kraber's mother made for her growing up. Grinding bok choy and sausage gives hearty texture to the creamy sauce, which is amped up by the addition of spicy mustard. Go the extra step and add a side of pickled bok choy. "Although not necessary, [it] really elevates this dish," Kraber says.
Serves 4–6
Quick-Pickled Bok Choy Ingredients
2 cups granulated sugar
1 cup rice vinegar 
2 tablespoons salt
5 cups bok choy or baby bok choy, sliced or cut into 2-inch strips, white and green parts
To Prepare
Combine sugar, salt and vinegar in a glass jar or plastic container with a lid. Add chopped bok choy, seal and shake jar gently to combine. Allow bok choy to marinate at least 30 minutes up to a few days. (Store in the fridge if pickling longer than 30 minutes.) 
Bok Choy and Smoked Sausage Ragu Ingredients
1 package (13–16 ounces) smoked turkey 
sausage, casing removed
4 cups bok choy
2 tablespoons butter
2 tablespoons olive oil 
½ teaspoon salt
½ teaspoon ground white pepper 
½ cup beer, lager recommended
¾ cup heavy cream 
1 tablespoon Chinese-style hot mustard 
1 tablespoon whole-grain mustard
1 pound rigatoni 
½ cup grated pecorino Romano
To Prepare 
Cut sausage into two-inch pieces. Add to a food processor and pulse six or seven times until ground. Remove from food processor and set aside. Add bok choy to food processor and pulse six or seven times until ground. In a large skillet over medium heat, heat butter and oil. Add smoked sausage and brown slightly, then add ground bok choy, salt and pepper. Continue cooking, stirring frequently, until sausage and bok choy are cooked and most of the liquid has evaporated. Deglaze the pan with the beer and continue cooking until mostly evaporated. Add heavy cream and reduce, stirring occasionally until you have a tight ragu consistency. Stir in mustards and adjust seasoning.
Meanwhile, cook pasta per package instructions, being sure to reserve ½ cup of pasta cooking water. Add pasta to sauce and stir to combine. Add pasta water a few splashes at a time to loosen the sauce and coat the pasta. Sprinkle in pecorino Romano and stir. Serve hot with pickled bok choy alongside.