Food
Warm Up with the Unexpected Combo of Chili and Cinnamon Rolls
As the weather starts to cool off, warm up with a hearty bowl of chili. Instead of the expected cornbread side, whip up these quick and easy cinnamon rolls. The warm spice brings comfort to a chilly autumn day.
By Claire Porter
Sep 2019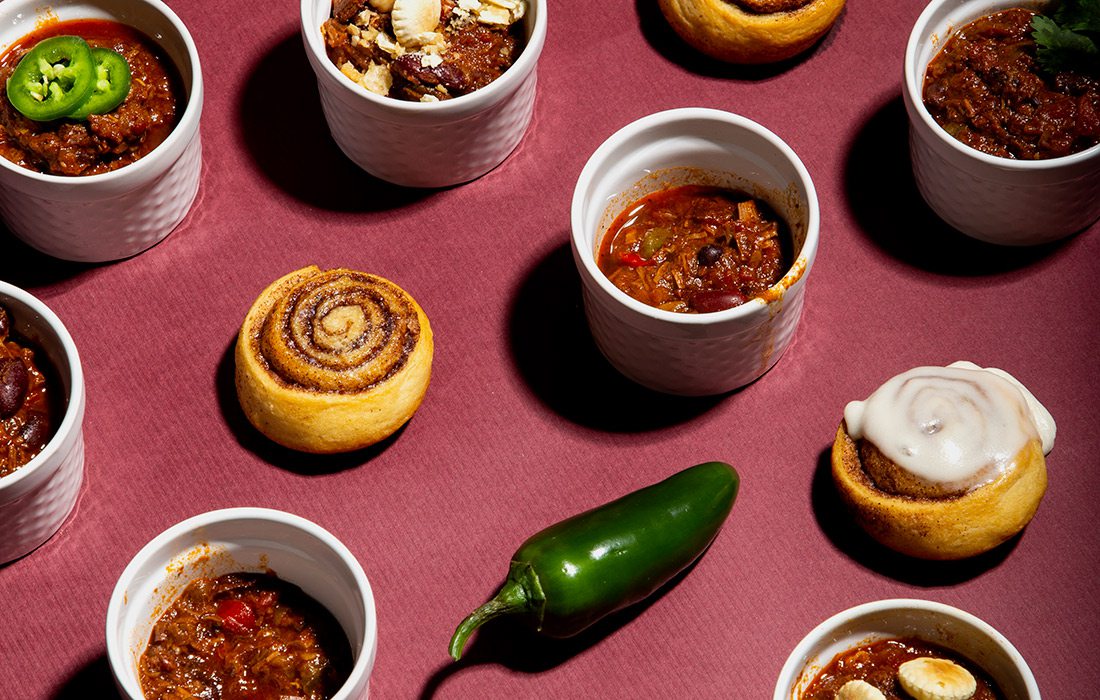 Instead of crumbly cornbread accompaniment, serve your chili with a cinnamon roll. Cat Lix of Missouri Spirits says many recipes call for cinnamon, so why not leave it out of the chili and add it to your side dish instead? "To me, it is a perfect match," Lix says.


---
Ingredients
3 slices bacon, chopped

1 large yellow onion, chopped

1 red bell pepper, chopped

2 jalapeños, finely chopped

3 cloves garlic, finely chopped

3 cups smoked beef brisket, cut in 1-inch cubes

3 tablespoons chili powder

1 tablespoon cumin

½ tablespoon smoked paprika

1 cup Missouri Spirits Bourbon

1 15-ounce can of diced tomatoes

1 15-ounce can of tomato sauce

½ 15-ounce can black beans, 
drained and rinsed

½ 15-ounce can kidney beans, 
drained and rinsed

1 4-ounce can green chilis

Salt to taste
To prepare
In a pot over medium heat, sauté bacon until crispy. Remove bacon and set aside. Add onion to the pot and cook until soft. Add bell pepper, jalapeño and garlic and cook an additional minute to soften. Season with salt. Add brisket, cooked bacon and all dry seasonings. Cook for a few minutes to warm brisket through and soften vegetables, stirring well as the mixture cooks. Add bourbon and deglaze the pan. Cook off alcohol (about 3 minutes). Add tomatoes, tomato sauce, beans, green chili and salt. Bring chili to a low simmer. Cover and let cook for a minimum of 30 minutes. The longer it cooks, the more integrated and concentrated the flavors become. Chef Lix recommends letting it cook for 2 hours. If the chili is too thick, thin with water until it reaches your desired consistency. 


---
Ingredients for cinnamon roll
¼ cup granulated sugar
1 tablespoon cinnamon
2 tablespoons butter, melted
2 packages pre-made croissant or crescent roll dough
Ingredients for frosting
7 tablespoons butter, softened
2 ounces cream cheese, softened
2 tablespoons milk
½ teaspoon vanilla extract
¼ teaspoon salt
1½ cups powdered sugar
To prepare
Combine sugar and cinnamon in a bowl. Unroll one package of dough onto a clean surface. Brush surface with melted butter and sprinkle generously with the cinnamon-sugar. Starting at one end, roll dough into a cylinder and slice off thick rounds. Repeat with second package of dough. Nestle rounds in a baking dish or place in a muffin tin. Brush tops with remaining melted butter. Bake per package instructions.
For frosting, beat butter and cream cheese until fluffy. Add milk, vanilla and salt and beat to combine. Gradually add powdered sugar until smooth. Dollop on top of freshly baked rolls.