Drinks
5 Best Heated Patios in Springfield
Wintertime might not be the official patio season but with these local spots heating things up, we can dream. To keep our outdoor dining fantasies alive, we found five of our favorite heated patios to keep you toasty all season long.
By Haley Phillips
Feb 2020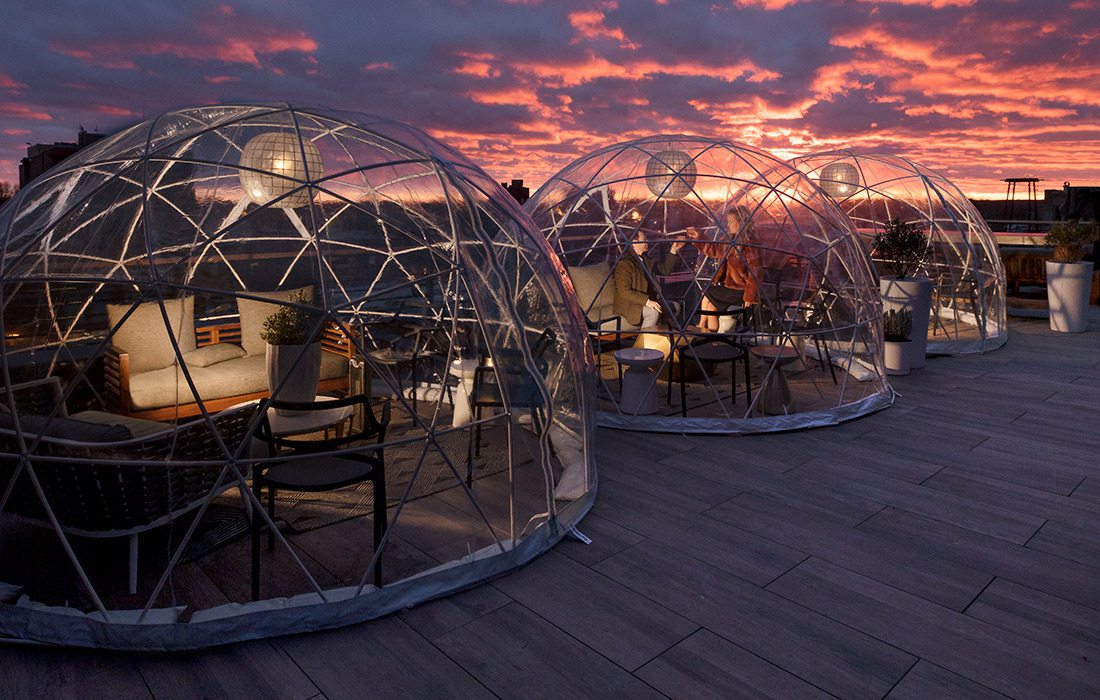 260 E. McDaniel St., Springfield, 417-851-1768
If you're in the market for an evening of cocktails and panoramic views, Vantage is your place. What makes this hot spot even hotter during the winter months are the heated igloos and fire pits perched along the rooftop to keep the chill away. Insider tip: Arrive early. All igloos are first come, first served. 
What to Order: Sip on a house favorite, the Nightfall with notes of pear, ginger and lime.
601 S. Pickwick Ave., Springfield, 417-986-5800
We all know good things come in small packages, and one great example of this is Cherry Picker Package + Fare. With only 16 seats inside, the cafe gets good use out of its patio—even in the winter. Curl up with an espresso or glass of wine by one of the two chimeneas on the patio. 
What to Order: Can't decide on coffee or spirits? Choose both when you order a KC Coffee featuring a regional whiskey.
4211 S. Lone Pine Ave., Springfield, 417-882-5300
Just off the Galloway Creek Greenway Trail, you can understand why Galloway Grill is one of our favorite patios for any season. With electric heaters in the ceiling to warm you during the cold snaps and the Trail Burger ready to fill you up, you'll have a hard time convincing yourself it's not summer.
What to Order: The Trail Burger's classic bacon and BBQ combo will warm your soul.
2144 E. Republic Road B-401, Springfield, 417-799-9387
The fire pits are all ablaze on Reverie's rooftop. Find an excuse to settle in for an evening of curious cocktails under the heated umbrellas and watch the sun set over Farmers Park while you feel the stress—and the chill—melt away.
What to Order: Pop in during the evening-long happy hour on Tuesdays for $3 tacos.
4123 S. National Ave., Springfield, 417-881-2389
For big game day vibes, grab a cold one and find a seat on Uncle Bently's patio to watch your favorite team. Somewhere between the thrill of the game and the patio's radiant heat, you'll forget all about the groundhog's threat of impending winter. As a full-service bar, the brews flow heavily, and the pub encourages guests to bring your own food.
What to Order: Take advantage of neighboring restaurants and have your fave foods delivered straight to the patio.