Reviews
Mouth-watering Dishes at Best of Luck Beer Hall in Springfield
With all the best backyard amenities, more beer options than you can count and a menu of familiar foods with a twist, Best of Luck Beer Hall makes a compelling case for taking your next pre-game tailgate offsite.
By Claire Porter
Jun 2019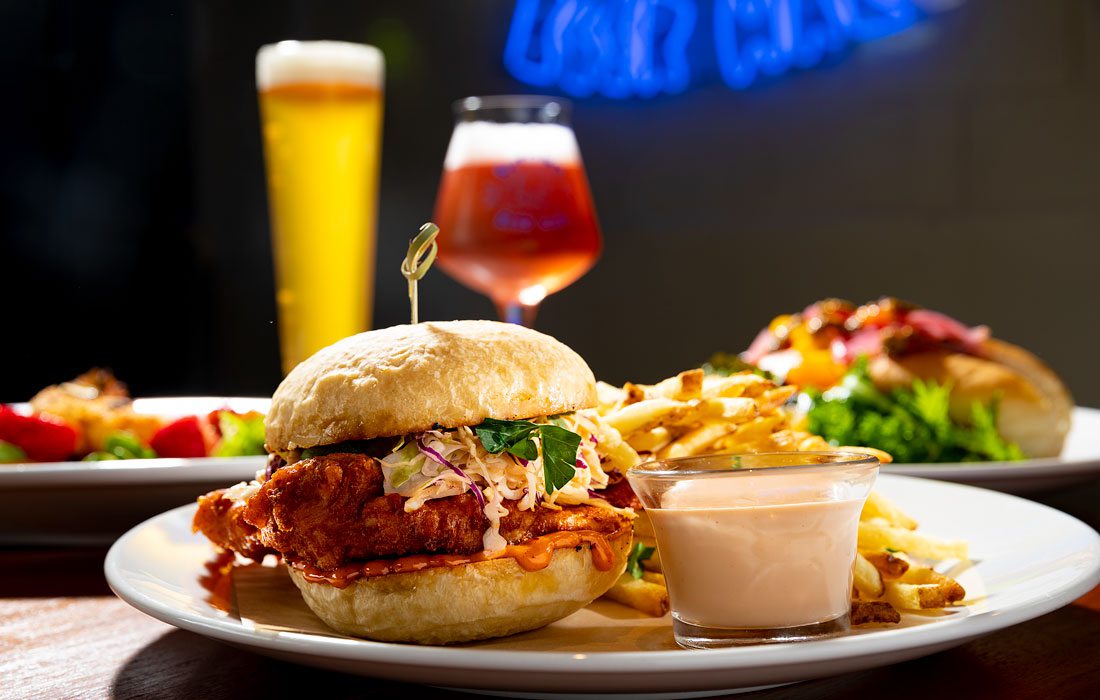 When we review a new restaurant, we typically start by telling you about the atmosphere, about the interiors, about the owners and their vision and the restaurant concept. All the background stuff so you can start to imagine what it's like to eat here. I will get to that eventually, but, quite honestly, my mind has been so preoccupied by one dish that I urgently have to tell you about it before I get to anything else. That dish is the fried chicken sandwich with kimchi at Best of Luck Beer Hall.  
I'm a sandwich fiend, and I have a deep, deep love of fried chicken, so I'm kind of biased. But even without those considerations, this is objectively amazing. Perfectly crispy juicy fried chicken is topped with kicky chili aioli, saving each bite from the dryness that normally plagues fried chicken sandos. Funky kimchi adds a spicy crunch, and cilantro brings a fresh herbaceous touch. (Pro tip: An insider with a hot sauce habit says you can order it "spicy" for even more intense heat.) All of it is sandwiched between chewy ciabatta buns. In short, make sure you order this, or at least try a bite (or several) of someone else's. 
If you can ever take your eyes off the sandwich—it's hard, I know—you might notice some of the elements at Best of Luck that draw in crowds. Tucked behind Zayka Indian Cuisine off of Jefferson Avenue, this beer hall is more like a neighborhood block party tucked inside a downtown rabbit hole. Arcade games are scattered around the concrete floor, flanking long tables that encourage mingling. Facades of houses line the walls, and a faux-turf game yard sits in the center, drawing the eye to the sleek white bar.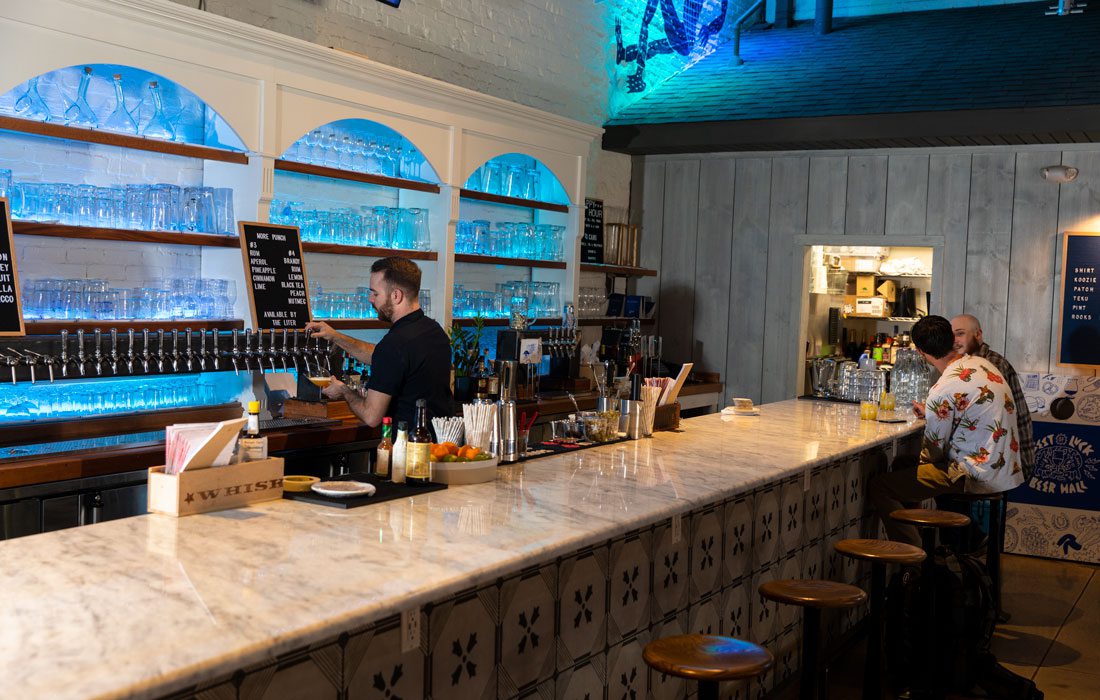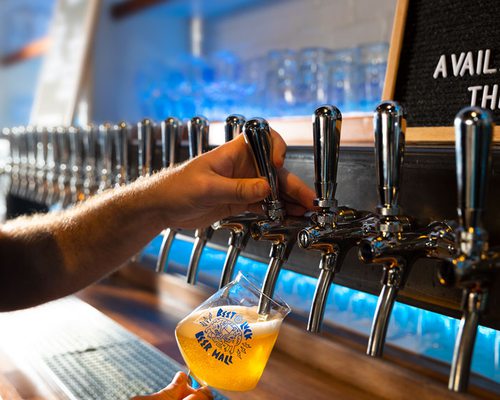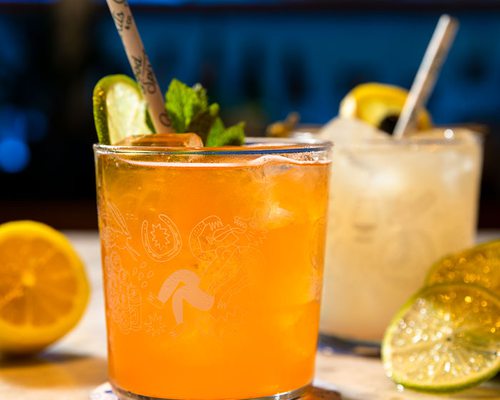 And what a bar it is. The massive shifting beer selection is displayed on screens, and a small but seasonal cocktail menu and four draft punches round out the bar program. If you can't find a beer to suit you—a tall order with this many options—give the punches on tap a try. Some are a little sweet, some tart, some bitter, some spicy, but they're all punchy, a little unusual and a lot refreshing.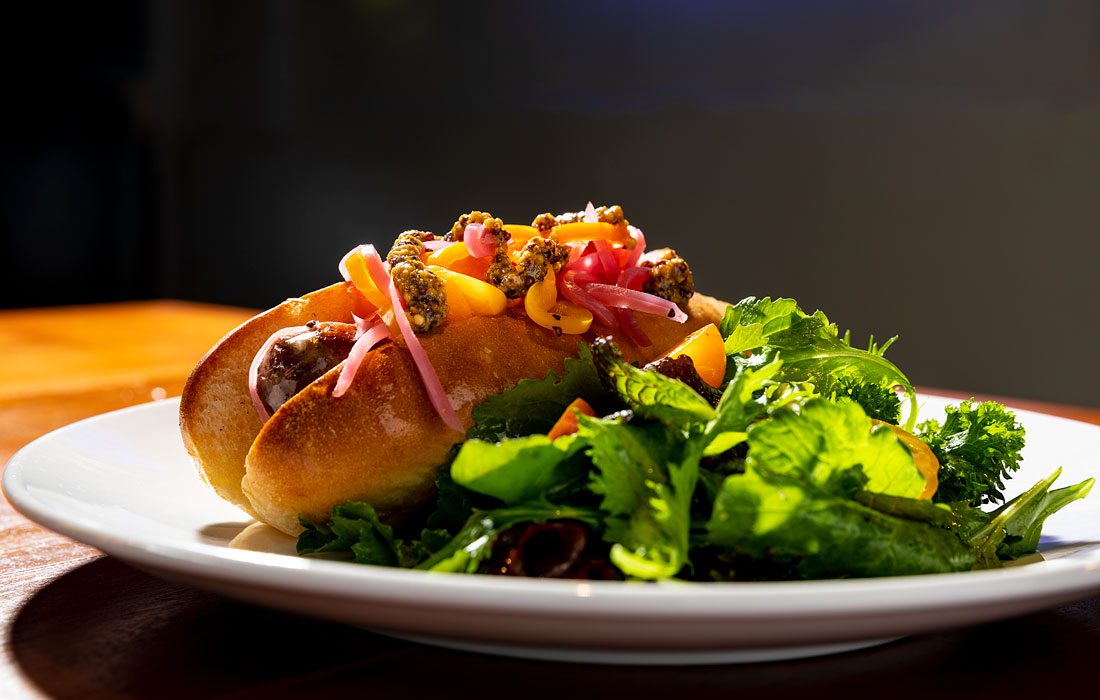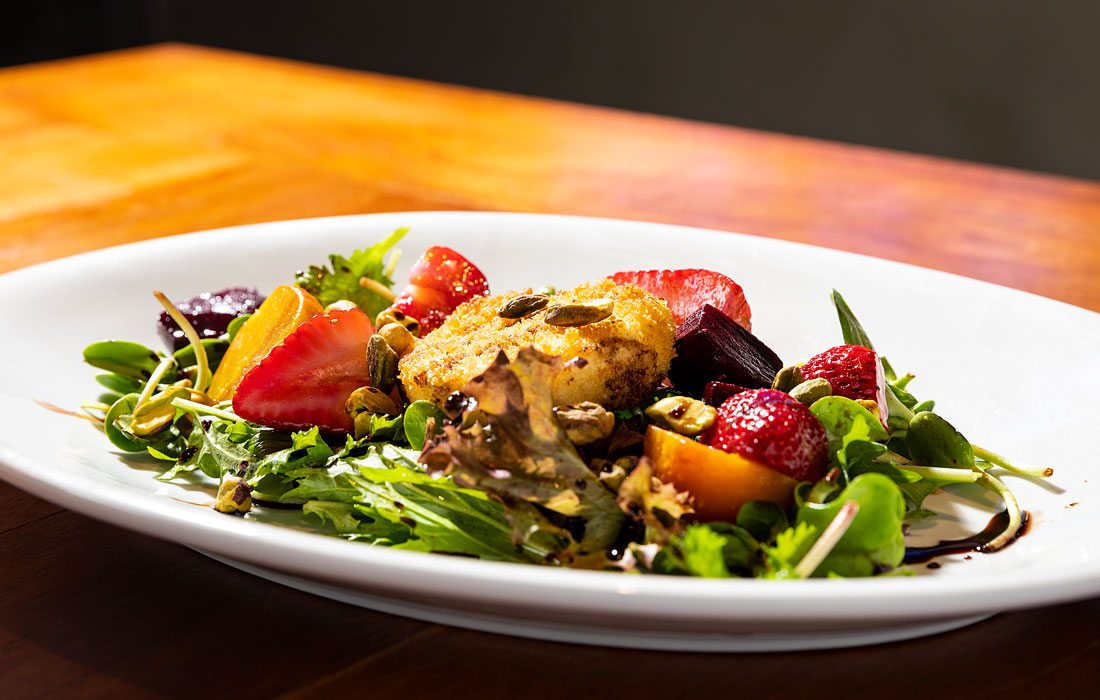 Leaning into the neighborhood haunt vibes, Best of Luck's food menu is full of familiar tailgate dishes like burgers, brats, chicken wings, fries and salads, all of which are made with twists that keep this from being any old sports bar. Portions leave you plenty full but not gluttonously stuffed, and the menu has mix-and-match options for a customized meal. Shoestring fries are crispy and begging to be dunked in one of many dipping sauces (try the LUCKY burger sauce), hot dogs get a briny crunch from pickled relishes, brats become lusciously indulgent with rich beer cheese sauce, and salads have sweet and earthy elements and plenty of crunch. Basically, everything tastes like a family cookout, if your family were made of great chefs with a few wild ideas about funky flavor combinations. 

Next time the sun is shining, pitch the store-bought potato salad, gather the neighbors, stretch your bocce arm and head to Best of Luck. Oh, and maybe order a fried chicken sandwich or two.