Coffee Maverick
Kent Morrison does coffee a little differently than most coffee shop owners. Learn how he went from a men's gym owner to the creator of an irresistible protein drink to the brain behind the rockingest coffee shop we've ever seen.
BY JULIE SEDENKO DAVIS PHOTOS BY KEVIN O'RILEY
Apr 2012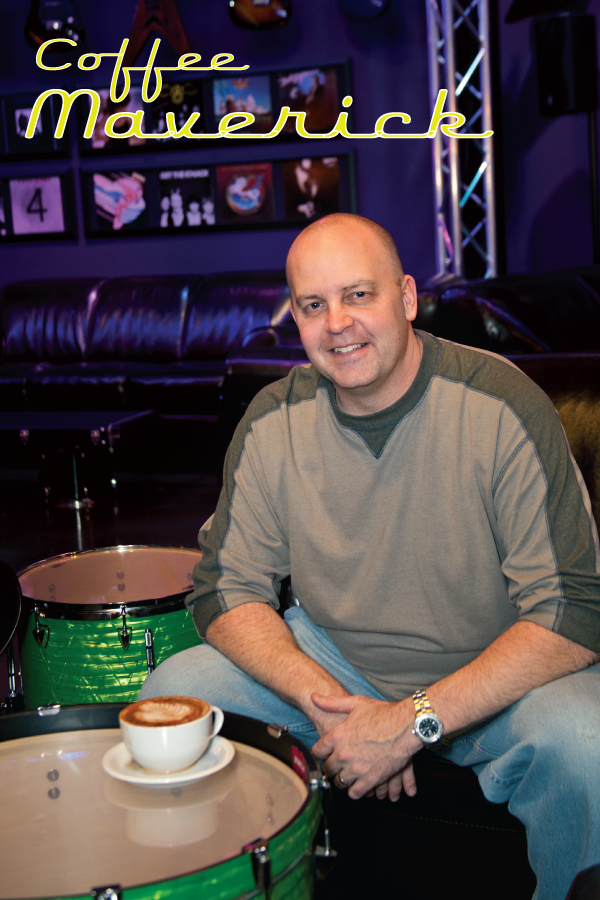 Coffee is a stimulant. And, today, there's at least one business in 417-land with the personality to prove it. Rock music blaring from the sidewalk is the first clue that Classic Rock Coffee isn't your everyday coffee shop. Step inside, and it's obvious this is no study hall. It's more of a bar scene without the alcohol. Guitars line one wall. Several flat screens play music videos on another.

Trusses frame the headlining coffee roaster while stage lighting adds to the overall effect. The bathrooms are even less typical. Black lights spotlight neon graffiti, giving an almost back alley feeling. Yet, in spite of its edginess, Classic Rock Coffee is still… well… classy.

Even the menu here is unique with drinks named after popular rock songs like "Great White Buffalo," "Crazy on You," "Sweet Emotion" and "Black Betty." After I order my Dirty White Boy (a white mocha named after the Foreigner song), the shop's owner appears. Dressed in jeans and a T-shirt with several days' worth of whiskers, Kent Morrison is the epitome of this laid-back atmosphere.
Morrison didn't set out to become an entrepreneur. In 1992, he was armed with a telecommunications degree and surrounded by the portable walls of a Kansas City cubicle. That's when he realized he was at the beginning of a long and excruciatingly boring career. For a guy who likes rock music and hates to shave, the daily grind of a 40-hour office job didn't exactly fit his persona.
When a buddy suggested opening their own gym, Morrison left the cubicle behind. He had a great financial backer (his dad, Steve Morrison), allowing him to open Gold's Gym in Springfield.

While Kent enjoys success today, he's definitely familiar with failure. In its first four years, the gym sank farther into the hole. It's one thing to fail on a bank loan. It's another to fail on a loan from your parents. "I didn't like going home for Christmas or Thanksgiving because that conversation would always come up," Morrison says. "It was tough."

Pride and a desire not to disappoint his family drove Morrison to make it work. He created profit centers to turn things around: Personal training, tanning and a juice bar. Soon gym equipment reps began taking notice, and word spread. The phone started ringing, and Kent found himself on the road helping other gyms create their own juice bars. He also began putting together a protein powder package he called Shake This. Morrison quit the gym business and devoted his time to selling his juice bar concept to other fitness centers. But Shake This would ultimately be the next fork in the road for his career. Morrison's new office was his dining room. He had one employee who helped ship 10 to 40 boxes of Shake This a day.

But Morrison felt he could make a better product. In 2005, he hired a blending house and, over the next year, worked to perfect a protein powder according to his own taste.

As Morrison continued selling his juice bar concept to fitness centers, many clients were asking for coffee. Not wanting to lose business to a coffee distributor, Morrison began to research the possibility. That's when he met Ed Kuhlman, and his career took another twist.
The New Orleans native was operating Kuhlman's Coffee, his own roasting company. Morrison learned everything there was to know about coffee from Kuhlman. But that wasn't the end of their partnership. Kuhlman was looking to leave his business, and Morrison knew his expertise would be invaluable in creating the highest quality cup of coffee.

Kuhlman's was rebranded Classic Rock Coffee, and the concept of a coffee shop began to take shape. Knowing other successful businesses were built around music (Hard Rock Café and House of Blues for example), Morrison decided a classic rock theme could be a hit. The theme was a no-brainer: Our Coffee Rocks!

The entrepreneur found an outlet for his creative side, pouring himself into designing a unique coffee shop with top-notch product. Some questioned Morrison's choice to locate Classic Rock at Kansas Avenue and Sunset Street. But take a quick look behind the scenes, and the reason is clear. This is one of the only places he could sell coffee and operate a shipping dock. Here they ship packages of Shake This alongside Classic Rock's specially roasted coffee. As we tour the operation, Morrison points to the various labels: Illinois, Iowa, Michigan, Missouri. To say business has grown from the days in his dining room is an understatement. Back then, shipping 40 boxes was a great day. Today it's more like 200.
Over the years Morrison's learned a few things the hard way. The main lesson he shares: You should work in a profession to gain expertise before starting your own business. Second, work the numbers. Know the profit margin on your product. Finally, make sure you have proper funding and perseverance. The perseverance, he admits, is a little tricky. Many business owners get out too soon.

Fortunately for Morrison, he has a supportive and smart wife of 16 years. Amy doesn't get overly involved in the details of day-to-day operations, but she is invaluable when it
comes to keeping her husband focused.

Their three kids, 15-year-old Stephanie, 9-year-old Molly and 2-and-a-half-year-old Madden gave Morrison his latest career idea. With the older ones often peddling products for extra-curricular activities, Kent and Amy decided to start a fundraising program called Coffee 4 Funds. Obviously, Classic Rock beans will be the featured product.

Morrison is also getting ready to open Classic Rock's first franchise in Kansas City. While expansion is definitely in the future, he's not looking to become the next Starbucks. Morrison plans to keep things simpler, aiming for around 20 Classic Rock franchises. While this entrepreneur's story is definitely not over, it's obvious he's happy with his environment. "We're in jeans and T-shirts," he says. "We're hanging out, we're having a good time, we've got good music." That's a far cry from a cubicle.