Travel
Eureka Springs Getaway
Visit the mountain town of Eureka Springs, and discover all the delicious restaurants, eccentric kitchenware stores and watering sweets shops lining the downtown district.
By Jessica Nunley | Photo by Jeremy Mason McGraw
Apr 2014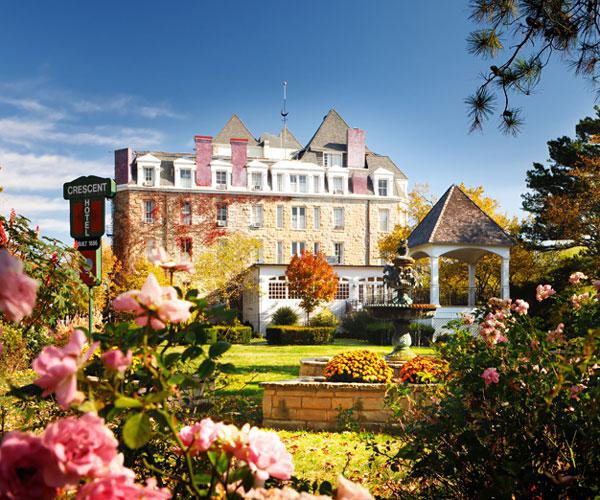 Stay
For a lodging experience both frightening and relaxing, visit the 1886 Crescent Hotel and Spa (75 Prospect Ave., Eureka Springs, 1-877-342-9766, crescent-hotel.com). Guests can take ghost tours, unwind at the spa and enjoy fine dining, all in the same location. Dine at the 1886 Steakhouse on the first floor, then wander the halls looking for ghosts. Or stop at the Crescent Theater to watch a supernatural comedy unfold. Less than a mile from downtown, the Crescent Hotel is within walking distance of the town's popular attractions. Room rates range from $120 to $375. 
If you're in the mood for rest and relaxation, Peabody House Historic Inn (7 Armstrong Street, Eureka Springs, 479-253-5376,eurekaspringspeabody.com) in the heart of downtown was designed with romance in mind. Weekend packages include couple's massages, spa packages, champagne, roses, dinner vouchers and carriage rides downtown. Suites range from $115 to $175 per night, or $445 and $575 for weekend packages.
Eat
Sprinkled along Main Street are several popular eateries including the underground Mud St. Café (22G S. Main St., Eureka Springs, 479-253-6732, mudstreetcafe.com). Regulars rave about the juicy burgers, fresh salads, sinful desserts and full-service bar. This local hotspot is open for breakfast and lunch every day except Tuesdays and Wednesdays.
Or head to the tasty Local Flavor Café (71 S. Main St., Eureka Springs, localflavorcafe.net, 479-253-9522) for a mix of Italian, French and American cuisine. Try the crab cake appetizer and the chocolate lavender crème brûlée.
Visit The Grand Taverne (37 N. Main St., Eureka Springs,1-800-344-6050, grandcentralresort.com/taverne), and enjoy American fare with French influences. Try the blueberry-citrus duckling and goat cheese cheesecake.
For something different, stop at KJ's Caribe Restaurant and Cantina (309 W. Van Buren, Eureka Springs, 479-253-8102). Enjoy colorful artwork and Caribbean cuisine.
Looking for an intimate setting? Settle in at the Stone House Wine Bar (89 S. Main St., Eureka Springs, 479-363-6411, eurekastonehouse.com). Wines are paired with savory cheese, bread and meat platters.
Shop
While you're downtown, stop by to shop at Gourmet Eureka (7 Center St., Eureka Springs, 479-253-7738,
gourmet-eureka.com) and stock up on colorful kitchen tools, cookbooks and tasty foods and seasonings. 
Next, visit Chef Guido at Tummy Ticklers (51A S. Main St., Eureka Springs, 479-253-6120, shoptummyticklers.com), where walls are lined with eccentric kitchenware and flavorful coffees and teas.
Sweet Fudge Kitchen (36 Spring St., Eureka Springs, 479-253-5810, sweetfudgekitchen.com) treats you with salt-water taffy, homemade chocolates and fudge.
Finally, take a free half-hour tasting tour at Fresh Harvest Tasting Room (512 Village Circle, Eureka Springs, 479-253-6247, freshharvest.com). Explore the distinct flavors of more than 65 balsamic vinegars and olive oils from all over the world.
Play
Take a break from eating, and head to the Turpentine Creek Wildlife Refuge (239 Turpentine Creek Ln., Eureka Springs, 479-253-5841, turpentinecreek.org). Only 7 miles away from Eureka Springs, this refuge houses tigers, lions, leopards and  bears on more than 400 acres. Tourists pay $10 to $20 to view the animals in their habitats.
Embrace your adventurous side by soaring over the forest floor on the Ozark Mountain Ziplines at Eureka Springs (208 W. Van Buren, Eureka Springs, 479-363-6699, ziplineeurekasprings.com). For around $90, you can fly more than 200 feet above the ground.