Nicola Gilardi's Kitchen
Chef Nicola Gilardi of Nicola's is known for creating exquisite Italian cuisine at his Springfield restaurant. We invited ourselves into his home for a tour of the gourmet chef's very own kitchen.
Apr 2014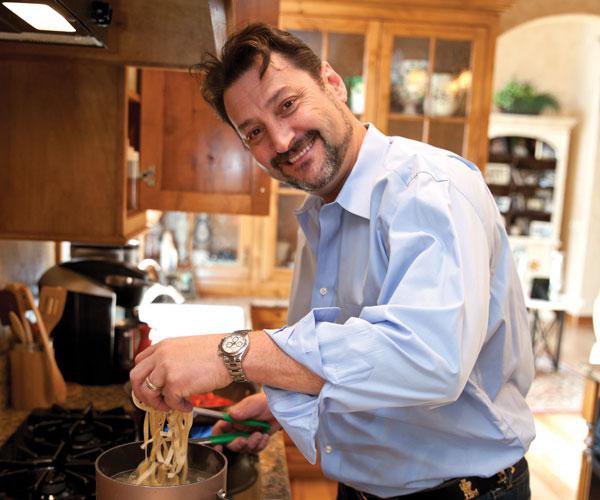 The Sharpest Tool of the Bunch
Gilardi keeps his most-prized cooking utensil—a Wusthof Classic knife—tucked away in a cabinet and in its original packaging. "This is my baby," Gilardi says. "When I use this knife, I own the kitchen." He keeps the chef's knife hidden for a couple of reasons: "I don't want the kids to get cut, and I want the knife to stay sharp," he says. 
Double Heat
Gilardi's kitchen is home to a couple of ovens. "We cook and entertain a lot for family events and customer appreciation events," Gilardi says of himself and his wife, Monica. "We like two ovens so we can cook, and when people bring something, we can also keep it warm." 
Bright and White
Since they're often playing host, the Gilardis keep their cabinets stocked with an abundance of white kitchenware. "I always like a nice, crisp white plate," Gilardi says. "You eat with your eyes first." White plates usually show off the colors of the food the best.
The Written Word
The Italian cookbook Bugialli on Pasta is displayed near Gilardi's cooktop, and you'll often find a stack of La Cucina Italiana magazines on his counter. "I don't follow the recipes in the books, but I look through them to help with ideas sometimes," Gilardi says. "One of the biggest problems for a chef is we can forget what we used to do… like a person goes to church to stay familiar with God, a chef can look at magazines to stay familiar with food." Monica sometimes displays her 50 Shades of Chicken cookbook by the stove. "She finds it to be a good conversation piece when we entertain," Gilardi says. 
Bottled Up 
You'll always find a bottle of good quality olive oil sitting on Gilardi's cooktop. "For cooking, you should use olive oil," Gilardi says. "Extra virgin olive oil, for cooking, would be wasted. You can use it on dishes and salads, but not for cooking." 
A Fish Named Grace
A bright red Beta fish named Grace (after Monica's grandmother) lives on the windowsill in Nicola's kitchen. "The boys got it for Monica," Gilardi says of the couple's sons, 14-year-old Nic and 8-year-old Tomaso. And Nicola has gone to great lengths to help keep Grace alive. "When my son was changing the water, the fish went into the garbage disposal," Gilardi says. "But I got him out. I saved the fish."
Full of Flavor 
In addition to many of the usual suspects and a plethora of Italian spices, you'll find a collection of Asian spices in Gilardi's spice cabinet.