Reviews
Brunch at Cantina Laredo
Mix Mexican flavors with brunch favorites, and you have a tasty Sunday morning meal at Cantina Laredo.
By Katie Pollock Estes | Photos by Kevin O'Riley
Apr 2015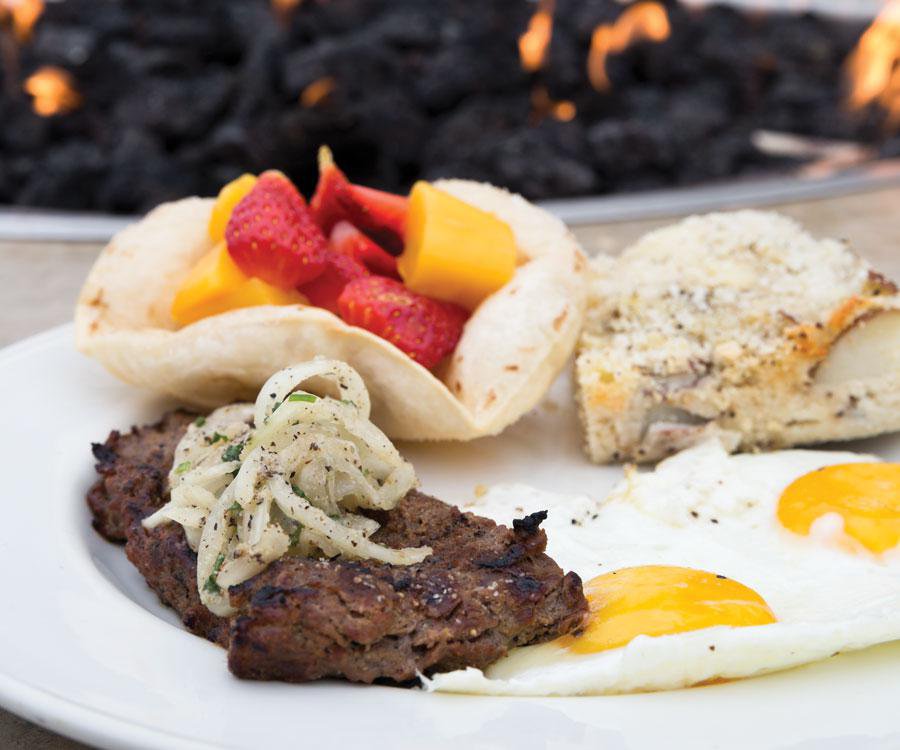 One of the best parts of brunch is the bloody Mary. I'm not saying the other perks aren't good reasons to go: the unhurried late-morning meal, the tasty food and the fact that brunch inherently makes me feel like a lady of leisure. But everybody knows you don't pass up permission for a socially acceptable grown-up drink before lunchtime rolls around. 
I hadn't tried the brunch at Cantina Laredo, even though I had dined at the spot for lunch and dinner several times. But when I heard that you get a free drink with brunch—and that one of the options is a bloody Mary made with tequila instead of vodka—I decided to give the Mexican-themed brunch a try.


Shrimp, fish and scallops are paired with fresh veggies, olives and avocado in Cantina Laredo's ceviche.

I started out the meal by ordering the ceviche appetizer to share with my husband, Eli. And, of course, I ordered a tall glass of that   beautiful (and free!) tequila-spiked Bloody Maria. Eli ordered a mimosa.
With a nice mix of shrimp, fish and scallops, the ceviche was full of acidic zip and even some surprising Mediterranean flavors like capers and chopped green olives. It was topped with my favorite stuff ever: slices of creamy avocado. We scooped bites of the zippy concoction with crunchy tortilla chips and enjoyed it immensely. 
Although much of the menu is devoted to more typical Mexican lunch and dinner options like fajitas and enchiladas, there were also plenty of dishes to choose from that had a breakfast-y spin. I was salivating over the idea of the crab cakes Benedict topped with chipotle hollandaise sauce (yum!), but ultimately both Eli and I were craving meat and decided to try the asada y huevos. The dish came with grilled carne asada steak, indulgent cheesy potatoes and a flavorful chimichurri sauce served alongside two eggs served any way you like them. I opted for over easy, so I could dredge a few bites of my tender steak and potatoes through the creamy yolk. Even though the potatoes made the meal feel a little heavy, the herbaceous chimichurri brightened it all right back up. I only wish there had been a little more of it on the plate.
I took a sip of Eli's mimosa at one point, and it was tasty—your typical mimosa, sweet and bubbly. A few drinks into my own Bloody Maria, I was actually wishing I had ordered a mimosa instead. The Maria was downright delicious, but holy cow, it was strong. I took back everything I had previously thought about how much I wanted that morning swill. I had obviously overestimated myself. The good news, though, is that they sure don't skimp on the good stuff.


While the Bloody Maria at Cantina Laredo is similar to a Bloody Mary, it's made with tequila instead of vodka.