Profiles
Seven Questions with Adam DeBacker
Inspired by a love for the kitchen and making people happy, 17-year-old chef Adam DeBacker has owned Truffles E Truffles for seven years, rolling more than 20,000 pieces of chocolaty goodness for 417-land and beyond.
By Rose Marthis | Photo by Kevin O'Riley
Apr 2015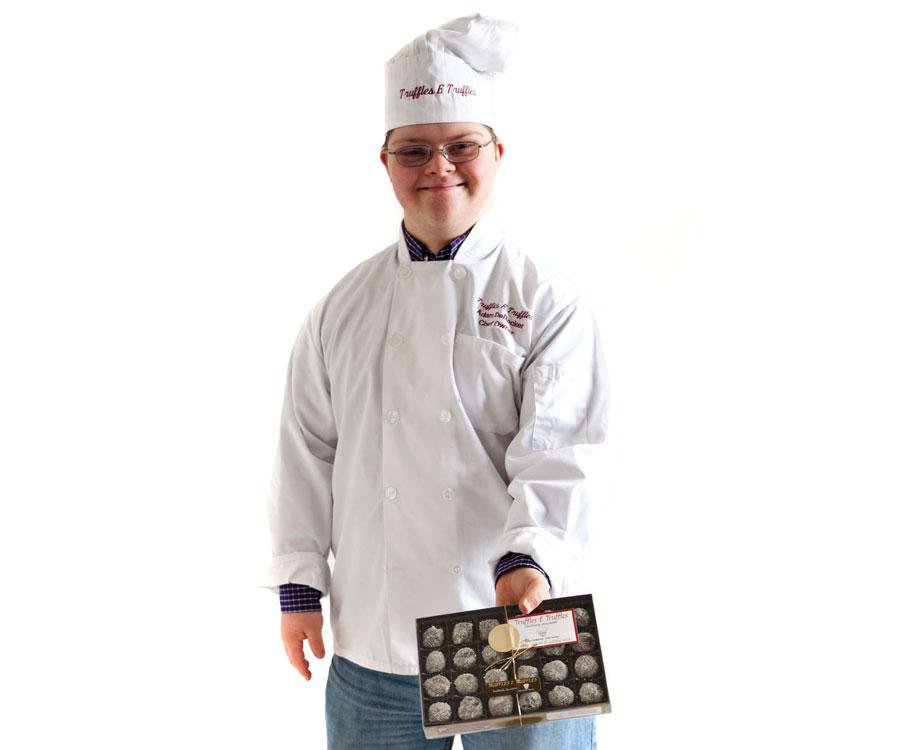 It started as a love for food and a dream to go on an African safari. When Adam DeBacker was 10 years old, he started making dark chocolate truffles out of his kitchen at home. Using all-natural ingredients, he makes delicate truffles of velvety chocolate and rolls them in either white chocolate or coconut. His truffles started gaining popularity, and he realized he could use his success in the kitchen to fund his dream vacation. In just a handful of years, he has joined the American Culinary Federation (ACF), has presented his truffles at national conventions and local food festivals and has become a successful teenage entrepreneur. As business keeps growing, Chef Adam hopes his truffles make people happy and has earned more than $5,000 doing what he loves. 
417 Magazine: What inspired you to start your own business at such a young age? 
Adam DeBacker: I started Truffles E Truffles when I was 10 years old. I've always loved cooking. I wanted to start a business for quite some time and decided truffles were the way to go. 
417: What do you love most about your business?
A.D.: My favorite part of making truffles is to make people happy. I make the truffles, the people eat the truffles. I want to get pretty big. I want to make lots of truffles and make lots of people happy. I think I'll be doing it for a long time.
417: Tell us about the events and conventions you have done. 
A.D.: At the National Down Syndrome Congress 2014 Convention, I got invited to do a presentation about my business. I talked about entrepreneurship and setting goals and what you should do and ideas for a business. It was teaching other people how to start their own business. I also made my truffles for an ACF convention in Kansas City. That was great, and I got to meet a bunch of other chefs. I was the youngest one there. I've been going to Flavor & Flair [a fundraiser for the Springfield Symphony and the Springfield-Branson Chef's Association] for three years. I have a booth, and I make truffles for it so people can try them and buy them. 
417: What advice would you give to other young people who want to go into business for themselves?
A.D.: Have really good customer service, have fun with it, and choose a product that you would really like to go into business with. You have to love what you do. 
417: Do you have any other businesses you want to get into?
A.D.: Truffles was my first business idea, but I've had others since then. I love history, and I love food, so I'm thinking I can combine the two. It'll be certain times in history, and I can make the food from that period. My favorite historical period is World War II. 
417: Do you cook or bake other things as well?
A.D.: Pasta, eggs, steak, seafood, lobster, crab, shrimp, salmon, all kinds of fish. Just about anything. I like cooking entrees more than baking. 
417: Who is an inspiration to you? 
A.D.: My mom and dad and my grandparents. They're so supportive of me and my business. They just take care of me in every possible way they can. It really helps when you have family behind you.