Health
Hula Hoop Fitness Class at Fusion Fitness
We swivel our hips all the way through a hula hoop fitness class at Fusion Fitness.
Written by Dayle Duggins | Photos by Brandon Alms
Apr 2016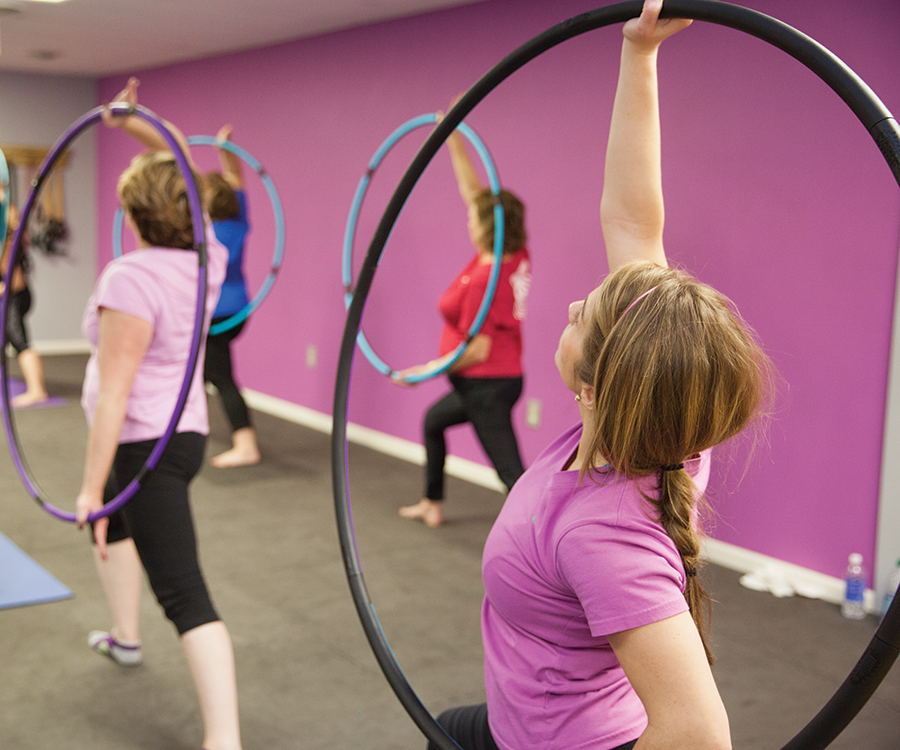 Fusion Fitness
1740 S. Glenstone Ave., Ste. O, Springfield
417-844-4689, yournewbffs.com

For a child of the '90s, I have a lot of nostalgia attached to a hula hoop. Not only would I mercilessly spin the piece of plastic around my waist, but around my ankle in the form of a Skip-It. Since my parents refused to buy me my own Skip-It, I instead put my neighbor's through the ringer. Many days were spent pounding the pavement as I spun the plastic apparatus around my ankle challenging myself to rack up more circles than the day before. Because of this, the hula hoop and its sister toy hold a special place in my heart.
Flash-forward 10 years to my freshman year of college. My randomly selected roommate would display her twirling talents in the most public of places on campus and was dubbed "Hula Hoop Girl." The hula hoop was following me. Recently, I received an email about a hula hoop fitness class from my editor Katie Pollock Estes saying, "I imagine this being like the rhythmic gymnastics at the Olympics. You in?" Of course I'm in, Katie.
THE FITNESS STUDIO
The day had finally come that I would try out the FXP Hula Hoop Fitness class at Fusion Fitness. After work, I set out on my journey to the workout studio in Glenstone Square by Coyote's Adobe Cafe. It didn't feel quite right leaving my '90s scrunchie at home, but I arrived. When I entered the small facility, owner Ronda Shirley greeted me with a smile. Behind her was a white board with the phrase "When in doubt, hoop it out" scribbled on it. Love it. 
Fusion Fitness is a one-room workout studio with bright purple walls that conveniently match the shirt I wore that day. Shirley is a certified personal trainer and opened the gym in 2013. "I saw women at gyms who felt intimidated, and I wanted to create a place where women can feel comfortable and not worry about what they look like." The hula hoop class started in November 2015, and it's now one of the studio's most popular classes. The gym also offers Body Fusion, Flex Fusion, InTENse Fusion, Piloxing, PiYo and Zumba. Fusion's age range spans from 18 to 72, which goes to show that Shirley's vision of creating an all-accepting environment has come to fruition.
THE EXPERIENCE
Instead of having me use my own colorful hoop, Shirley handed me a bag that contained six pieces that snapped together to create a two-pound, blue, purple and turquoise hula hoop. After I had assembled the piece of fitness equipment, I shed my socks for the barefoot class, and all of the other ladies started filing in. The studio is really small and lots of women showed up for the class, so we couldn't all quite fit in one room. Some of the gals had to hula hoop on the wood floor off to the side of the padded floor area.
Once we were all spread out, Shirley fittingly kicked off the class with the song "Hula Hoop" by OMI. We started out with regular, good old-fashioned hula hooping to get warm. The key to hula hooping is keeping one foot in front of the other with knees slightly bent and moving your waist from front to back. The energy created by the hips moves the hoop. "If the energy stops, the hoop drops," Shirley says. "You can also move your hips from side-to-side, but a lot of beginners say it's harder at first."
Everyone in the class had mastered the motion, so we stretched and transitioned into a series of lunges, squats, leg lifts and ballet barre moves that all incorporated the hoop. I've never been a ballerina, so it was interesting to get into first and second positions. We would do each exercise on the right side of our bodies first, followed by the left side. Along with big sweeping movements, Shirley had us do small pulsing movements that really made the burn set in. I could see the burn on my fellow classmates' faces and hear it in their groans. It's so easy to stop once the burn sets in, but I pushed through knowing that it's the sign of progress.
Then it was time for arms. I love working out my arms so I was ready to make these biceps burn. And burn they did. We pushed the hula hoop out in front of our bodies in unison and then pulsed our little hearts out. Then we pressed the hoop above our heads in the same fashion. I had to stop a couple of times during the arms section to break. After a couple seconds of relief, I'd pick the hoop back up and the burning would come back like a bad habit. But it burned so good!
Once we survived the legs and arms, we did a few more lunges, then hit our abs and stretched. This stretching incorporated yoga elements rather than ballet barre elements, which was fun for me because I do yoga a couple of times a week.
THE EFFECTS
FXP stands for fun, accessible and progressive. And the class definitely was fun. Where else can you hula hoop for exercise? I was a little rusty, but that made the experience more exciting. The class incorporates cardio, strength and high-intensity interval training mixed with elements of Pilates, yoga and ballet barre. I wasn't sore the next day, but Shirley said typically, most people's arms are sore. "I definitely get the most moans and groans in the arms and legs sections because the small movements burn a ton," she says. Every class is different because the instructors mix up the order of the 100-plus movements. 
I can now, for the first time ever, call myself a hoop star.