Life
5 Best Locally Made Camping Snacks
Whether you're hitting up a campground with the kiddos or flying solo on the trail, these five packable treats are perfect for fueling your body. Bonus: You'll fuel your soul with the great outdoors.
Written by Savannah Waszczuk | Photo by Vivian Wheeler
Apr 2017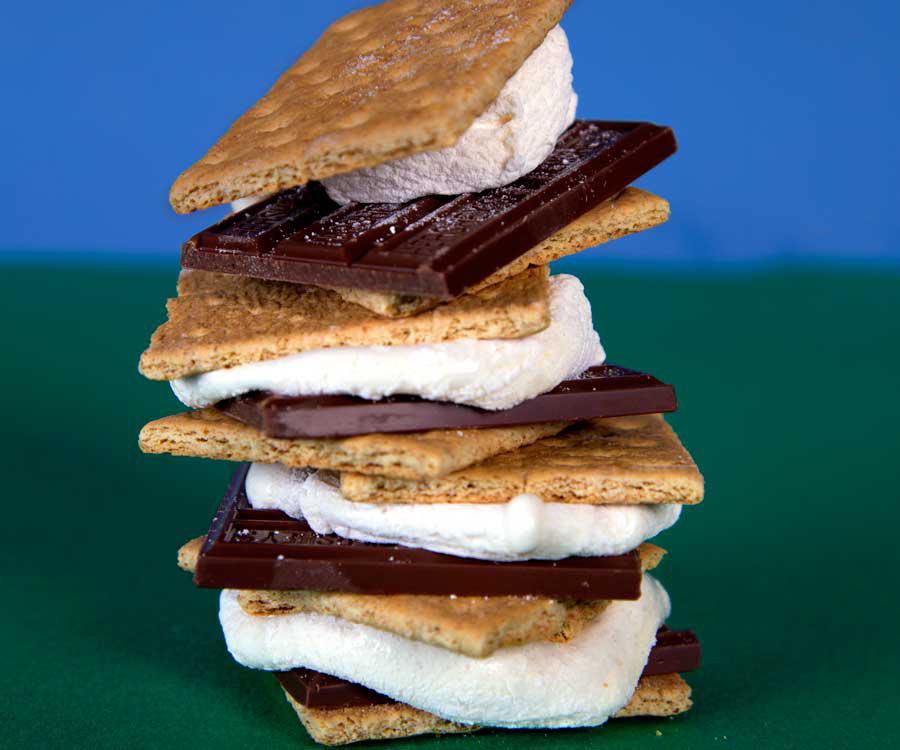 1. KatieMade Marshmallows
Available at B+B Boulangerie & Fair-Weather Café
607 S. Pickwick Ave., rear door, Springfield
417-315-8602, katiemadeit.com
Why we love it: Move on over, Kraft—417-land's own Katie Kring makes marshmallows that take the s'more to a whole new level. Kring's delicacies come in a wealth of flavors, but classic vanilla is all you need for the toasted 'mallow dreams are made of. Luckily they're three for a buck—you're gonna want seconds.
2. Neighbor's Mill Bakery & Cafe House-made Granola
Available at Neighbor's Mill Bakery & Cafe
E. Independence St., Suite 110, Springfield
417-720-4162, neighborsmill.com
Why we love it: Neighbor's Mill granola is a go-to snack for an outdoor adventure—it's light, portable and made with good-for-you ingredients. The gluten-free mix is loaded with rolled oats, cornflakes, almonds, pecans, sunflower seeds, toasted coconut, honey and maple syrup.
3. Hörrmann Meats Summer Sausage
Available at Hörrmann Meats
3250 E. Battlefield Road, Springfield, 417-351-4230
1537 W. Battlefield Road, Springfield, 417-886-6328
horrmannmeat.com
Why we love it: Forget the weenie roast—Hörrmann Meats summer sausage is ready to eat straight from the package! This protein-packed snack is smoked then sold in ¾-pound logs that are perfect for grab-and-goers. If you like heat, try the jalapeño and cheddar variety.
4. Brick & Mortar Coffee Cold Brew Concentrate
Available at various local retailers including Brick & Mortar
1666 E. Saint Louis St., Springfield
417-812-6539, brickandmortarcoffee.com
Why we love it: Caffeine lovers rejoice: the folks at Brick & Mortar Coffee were thinking of you when they created this cold brew concentrate with their ampersand house blend. It comes in 16-ounce bottles and is meant to be diluted—one bottle can make 32 to 48 ounces. This stuff is magic juice for coffee-craving backpackers looking to save space in their packs.
5. Date Lady Organic Dates
Available at various 417-land grocery stores including Price Cutter, MaMa Jean's Natural Market, Hy-Vee and Homegrown Food
Why we love it: We can't grow dates in 417-land, but luckily Date Lady finds the world's best and brings them right here. These Barhi dates are loaded with potassium, magnesium and antioxidants, and they're as healthy as they are delish. The caramel-y tasting treat is great on its own or pitted and packed with nut butter.