Style
Top it Off
It's time to ditch heavy winter coats for a jacket. Local style experts share their tips for incorporating stylish, spring-suitable outerwear into your wardrobe.
Written by Stephanie Towne Benoit | Styled by Dylan Lyle | Photos by Brandon Alms
Apr 2017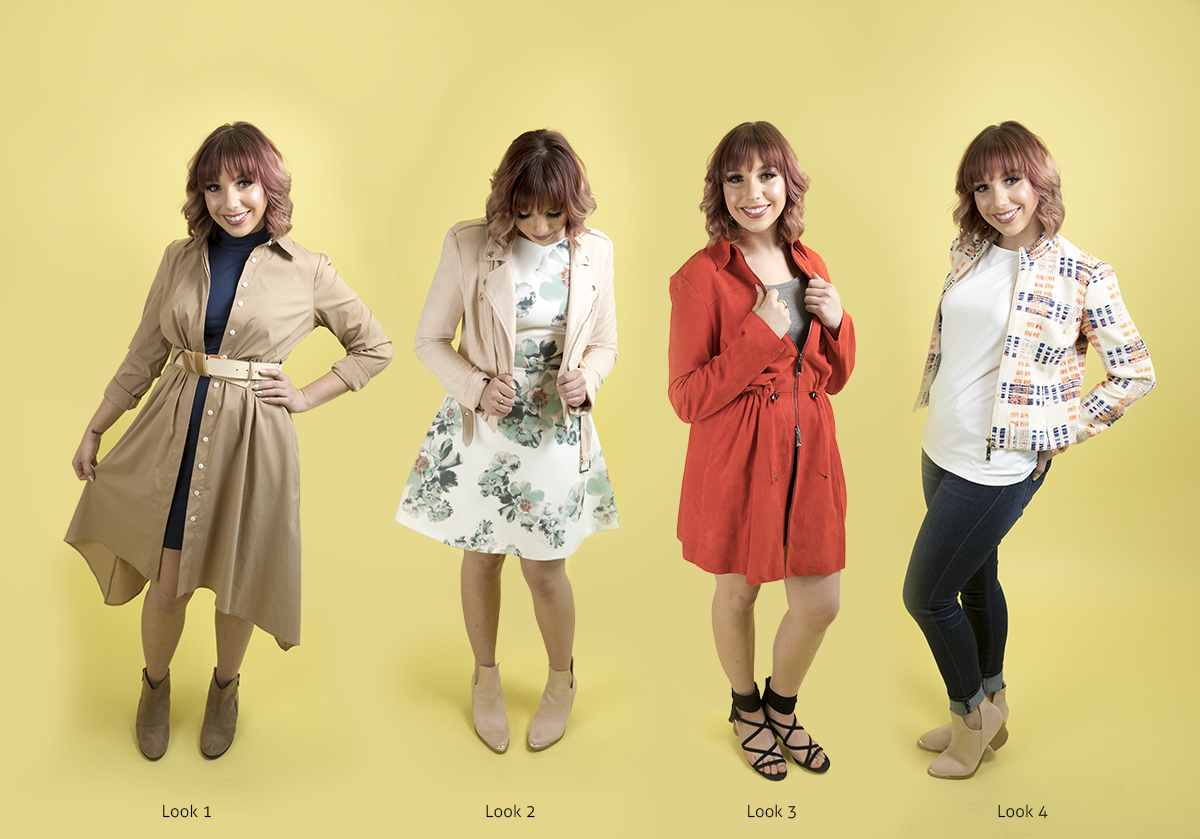 Get the Look
Look 1: Fate Hampton evening jacket, $63 at Red Poppy Boutique; Michael Lauren Tripp mini dress, $76 at MODERN Society; Jessica bootie, $64 at MODERN Society 
Look 2: Wyldr You Ain't jacket, $88 at MODERN Society; Shilla Saint Flore dress, $134 at MODERN Society; Soda Chance bootie, $38 at Red Poppy Boutique 
Look 3: Snapper Suede Anorak jacket, $1,298 from Worth New York; Michael Lauren Eden slim dress, $88 at MODERN Society; Qupid Lucy heel, $43 at MODERN Society 
Look 4: Natural navy plaid jacket, $748 at Worth New York; Optic white sleeveless tee, $98 at Worth New York; Unpublished Olivia denim high rise, $76 at MODERN Society; Soda Chance  bootie, $38 at Red Poppy Boutique
DON'T: Go too heavy-duty
"Don't go for anything too heavy or hard to layer. Spring jackets should appear effortless and should complete an outfit. You should not have to rely on your jacket for all of your warmth, like you do a coat in the winter."—Andrea Pena, with MODERN Society
DO: Mix and match
"Mix a fitted blazer with a more casual boyfriend jean, or pair a casual lightweight bomber with a sleeker ensemble."—Lindsay Jones, with The Red Poppy Boutique
DO: Consider fit and fabric
"Fit is always a key factor in jackets. Fabric is also something else that should be taken into consideration. Someone who travels frequently will do better with a knit fabric versus silks or linens."—Pam Stahle, with Worth New York
DO: Layer for our unpredictable Missouri weather
"You can always layer a sweater underneath if it is colder than normal, or skip to a tank if summer is starting to arrive early. That way you are not tied in to always having to do one or the other."—A.P.
DO: Be adventurous
"Entertain the idea of wearing a longer jacket as either a jacket or dress. It can still be worn over a sheath dress, skirt or pant, thus lending more versatility to a single jacket."—P.S.
DO: Look for embroidery, patchwork or other decorative elements
"A twist you will see with some of these this season is the embroidery and patchwork that many of the bombers and denim jackets have. I have noticed a lot of almost Asian influence with the style of patchwork and floral embroidery."—A.P.
DON'T: Shy away from trends
"You can choose a lightweight bomber, a long, lightweight duster, a long open vest, kimonos and a few spring blazers."—L.J.
DO: Keep comfort and versatility top of mind
"You want it to be versatile enough to be able to wear over and over and also to be able to create many different looks. You want it to be comfortable enough to even want to wear it over and over. You want to pay attention to the weight of the jacket. And try to aim for something middle of the road—not too heavy, not too light. That will give you the most wear out of the jacket."—A.P. 
DON'T: Forget about classics
"There's always the classic trench raincoat that never goes out of style."—L.J. 
DO: Combine fabrics and textures
"Leather jackets can be mixed with jeans or a cotton pant. A leather or suede jacket is even a great look at the office when worn over a silk dress. Silk blouses are classic pieces underneath a suede or wool-blended spring jacket. Brushed terry, which is another great fabric for spring, can be worn over cotton or knits."—P.S.
DON'T: Think of jackets as just another piece of outerwear
"Spring jackets can be worn for a utility purpose but also as an added accessory to add flair to your wardrobe."—L.J.
DO: Try a trendy color
"On trend this season are the blush, mint, classic white and sage colors. The utility green jacket was pushed from fall to spring as well." —L.J.