Health
Dive Into Adult Swimming
Writer Lillian Stone dived headfirst into the world of competitive adult swimming.
By Lillian Stone
Mar 2018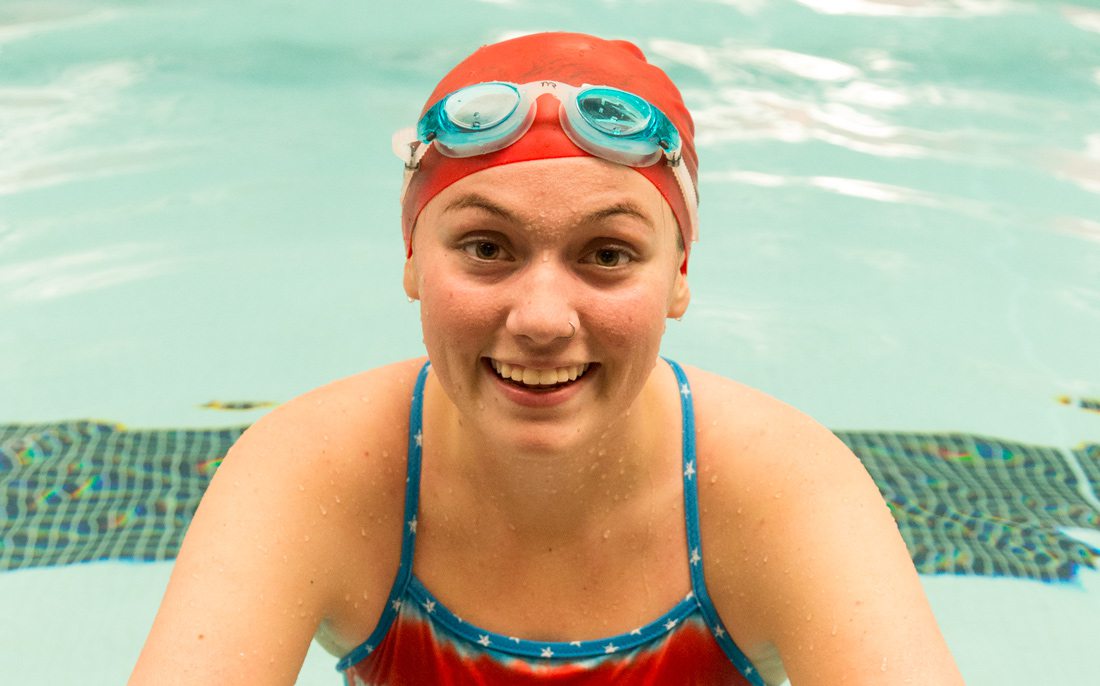 I was, at one time, a proud member of the Central High School swim team. I joined the team looking for a competitive outlet but spent most of my time clowning around in the beginner's lane with my equally unathletic friends. We eventually formed a fake girl band called The Breast Strokes, known for hit singles like "Can You See My Butt Right Now?" and "There Are Too Many Kids in this Lane." I lasted exactly one season.

Fast forward to early 2018 during a particularly grueling cold spell. I had found solace in refined carbohydrates, and the idea of bikini season was terrifying. Swimming seemed like the perfect way to tone up quickly. 

Unfortunately, I hadn't spent much time focusing on proper technique in high school. I wasn't ready to cultivate a solo swimming practice, so I explored group swimming options for adults. That's how I found Masters Swimming, an adult swim league with coaches across the country—Springfield included. Intrigued, I squeezed myself into the last racing suit on the Academy Sports clearance rack and entered the world of competitive adult swimming.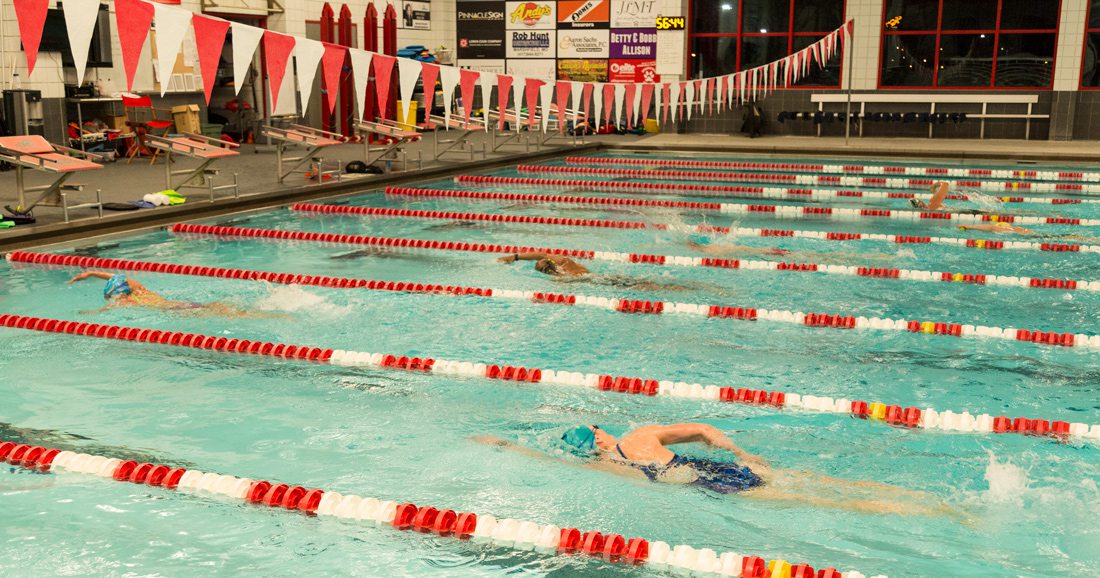 The Pool
Masters sessions take place at the Breech pool on Drury University's campus. A locker room is available along with a variety of community equipment like kickboards and fins. The Masters swimmers share the facility with the local high school club team and the Drury team, so the 10-lane, 25-meter pool can get crowded. I had a lane to myself for most of my sessions, which was a good thing considering the level of flailing that took place during my early workouts.

The Workout
I arrived for my first session at 5:30 on a Friday morning. I am not a morning person, and I was nervous and grouchy as I waddled into the pool in a one-piece swimsuit that, upon further inspection, was likely meant for a child. After chatting with the coaches about my goals, I grabbed a kickboard and a pair of fins from the community equipment station and plunged into a lane.

Springfield's Masters group is coached by Thomas Baumann, a former University of Missouri swimmer and current Drury assistant coach. Kacper Pelczynski, a graduate assistant and former Drury swimmer, helps out. For me, the one-on-one coaching was the biggest benefit of the Masters sessions. Many of my fellow swimmers were highly competitive—Siphiwe Baleka, for example, is a U.S. Masters national champion and former Ivy League swimmer. However, like me, several in the group required specialized workouts, like one triathlete who joined the group with limited prior experience.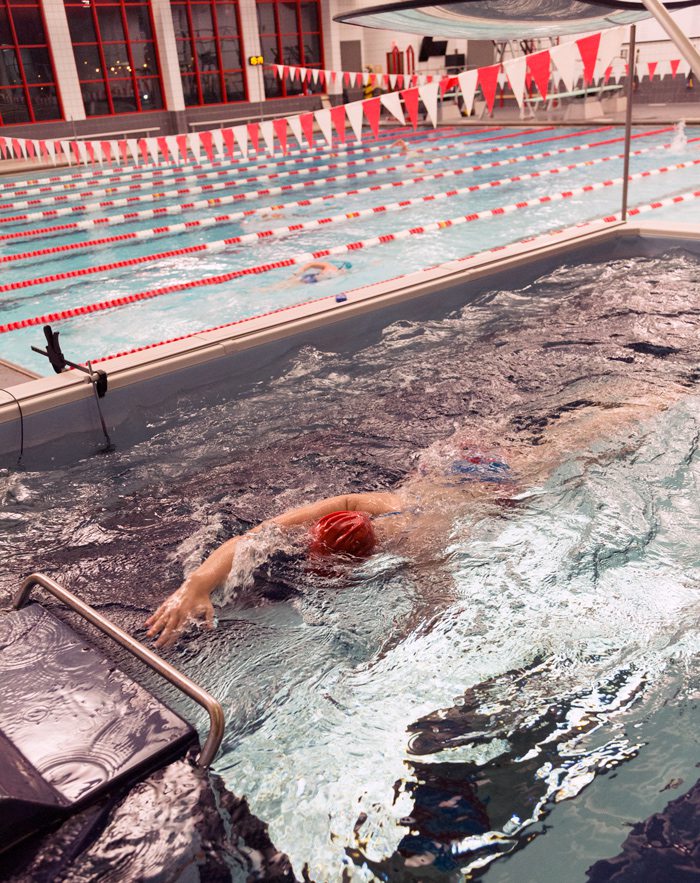 Throughout my first session, Pelczynski assessed my stroke and coached me on basics. I was surprised at how challenging the first few laps felt. I pushed through 50 meters, or two laps, frustrated by my sloppy technique. I wasn't sure how to combine proper breathing, shoulder rotation, head placement and stroke patterns—all while maintaining a decent pace. The biggest boon to my technique was the Endless Pool stroke trainer, a device about the size of a large hot tub that offered a continuous current, allowing me to swim in place while watching myself in an underwater mirror to figure out why my strokes felt awkward. The stroke trainer, combined with Pelczynski's encouragement, allowed me to improve faster than I expected.


The Effects
I became more comfortable with proper technique after a few sessions. That's when we started working on my stamina with a variety of freestyle and backstroke drills. Pelczynski encouraged me to push myself, moving beyond basic technique to cultivate speed and distance. Muscle soreness reared its head after the first week or so, but it was a satisfying soreness. Swimming is a low-impact workout, but it offers intense cardio with a totally unique full-body burn.
Overall, joining the Masters was an empowering experience. Swimming alongside competitive athletes took me out of my comfort zone and allowed me to focus on my own strength in a way that I never have before. As my technique improved, so did my stamina, and I began to enjoy getting up early to swim—so much so, in fact, that I've decided to stick with it for a few more months. 

The Breast Strokes may not be making a comeback anytime soon, but my high school jeans just might.
Masters Swimming
Location
For more information, 
contact Springfield 
Aquatics at 417-864-
6869
What to Bring
Competitive swimsuit, swim cap, goggles and water
Classes
Monday through Friday at 5:30 a.m.
Price
$30 per month. Although there is a monthly fee to swim with the Masters, interested parties are welcome to join the group for a few free sessions to assess whether it's a fit for their wellness goals.