Style
Brown Eyed Girls
With plenty of Southern charm and tons of style, the original brown eyed girl, Jan Avery, opens shop on the square in Ozark.
By Ettie Berneking | Photos by Brandon Alms
Aug 2014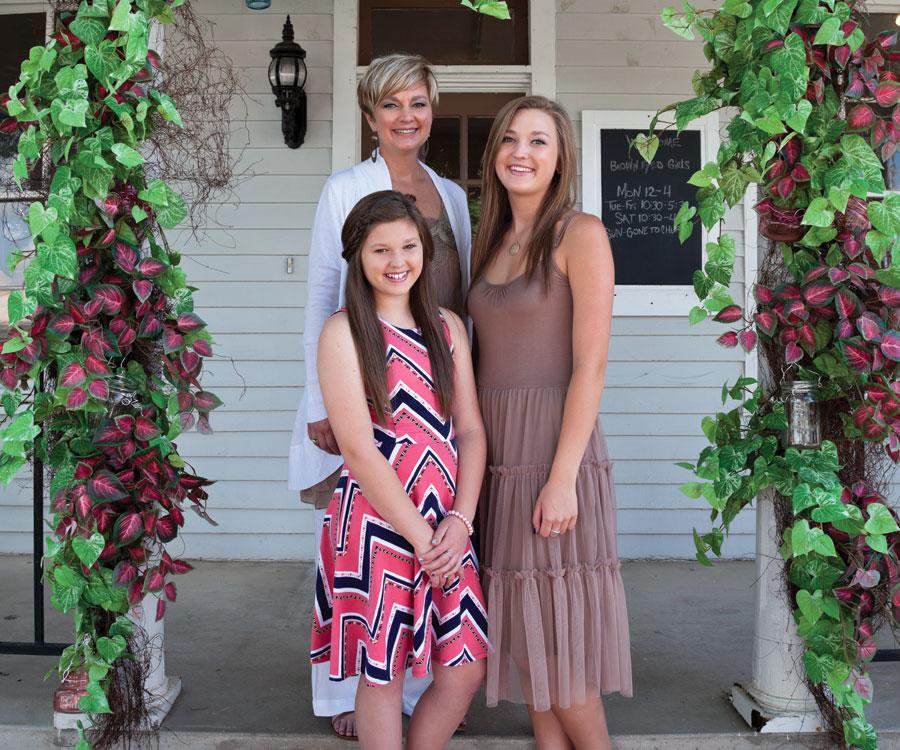 Brown Eyed Girls
101 E. Brick St., Ozark 417-551-4822
Open Mon., noon–4 p.m.;  Tue.–Fri., 10:30 a.m.–5:30 p.m.; Sat. 10 a.m.–4 p.m. 
Turn onto Brick Street, just off the square in Ozark, and a darling old house greets you on the left. The home was built back in 1905 and has seen many tenants come and go. Last October, this charming home opened its door to Jan Avery, who used its spacious rooms and welcoming atmosphere as the site for her new boutique, Brown Eyed Girls.
When Avery opened the store, her goal was to create a warm and comfortable environment to shop in while surrounded by art. During those first few months, the store took up the home's two front rooms. It's nearly a year later, and business has grown. Today, Avery has filled every room with a well-curated collection of men and women's clothing, home décor, an assortment of gifts for all ages and an impressive collection of hand-crafted jewelry. 
"I love to see people come in and get excited about something I've picked out," she says, explaining why she made the move from a stay-at-home mom to first-time business owner. Avery and her husband, Jason, moved to Ozark from Memphis nearly 17 years ago, but that Southern charm is still very much present in Avery's life. In fact, several of the jewelry lines, artwork and clothing lines she carries are from Mississippi. Avery heads back to her home town, Tupelo, Mississippi (the birthplace of Elvis), several times a year and returns to 417-land with a collection of work by artists she met while on her Southern excursion.
Art has always been a big part of Avery's life, and she has her mom to thank for that. "Mom was always such a creative person," Avery says. "Growing up, my friends were in summer camp, and I was in a ceramics class." Avery is continuing her mom's love of art by using Brown Eyed Girls as a showcase for local and not-so-local artists. 
Next time you're in Ozark, swing by Brown Eyed Girls and ask to see Vera, a colorful cow that's as memorable as Avery's stylish roster of jewelry, clothing and gifts. 
Q+A with Brown Eyed Girls owner Jan Avery
417 Magazine: Where do you go to get inspiration for new inventory?
Jan Avery: I love going back home to Tupelo and talking to local artists to learn what they're working on and why it's important to them. When I bring those items back to the store, I can share those stories with the customers.
417: What's one fashion staple every woman needs to have?
J.A.: A good pair of earrings. People will notice.
417: What's your favorite piece of clothing?
J.A.: Palazzo pants. I love the bohemian look. I wore these in 1992, and I still love them today.
417: What's one of your favorite memories surrounding fashion?
J.A.: My dad used to take me shopping to pick out a new outfit. Those were always good times.
417: What is your background in retail?
J.A.: I worked at a family business in Tupelo, Mississippi, that sold jewelry and clothing
Our Favorite Finds