Reviews
A Sweet Date
It might not sound like the perfect pair, but sweet Date Lady syrup goes great with all kinds of salty and savory treats. Get the scoop from 417-land foodies and chefs about how they're using these naturally sweet and oh-so-delicious syrups and sauces.
By Ettie Berneking | Photos by Brandon Alms, Kevin O'Riley
Aug 2014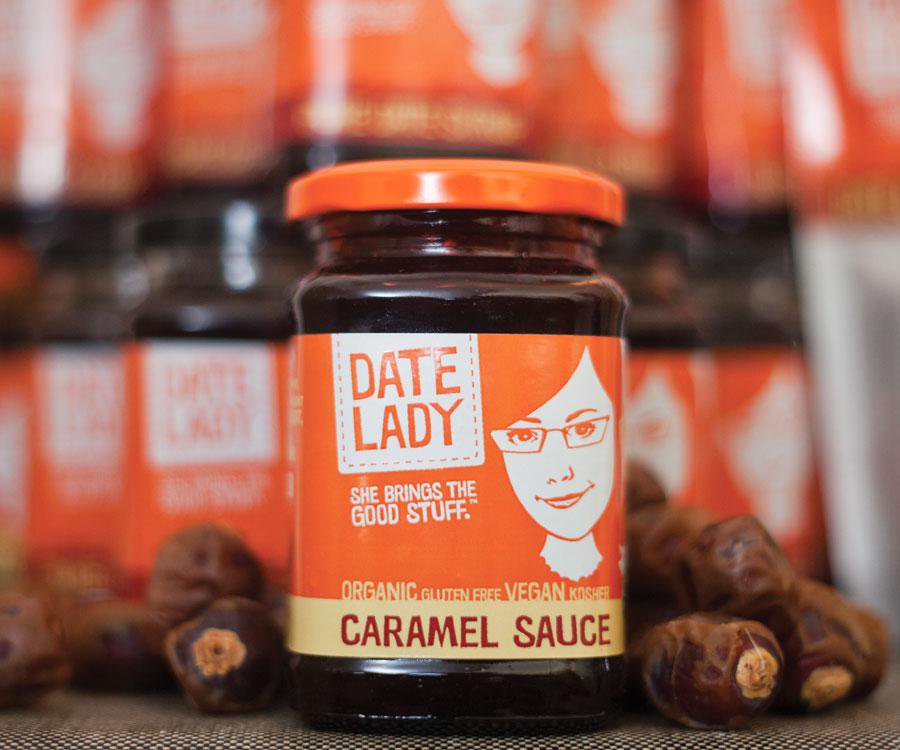 When Colleen Sundlie launched her line of Date Lady syrups and sauces back in 2012, there were several impromptu "taste tests" that went down at the 417 Magazine office. Popping open jars of the delectable caramel sauce and classic date syrup, we ate our fill using chunks of apples and cheese as the vehicle of choice. A couple years later, we've found that Date Lady syrups and sauces are making their way into 417-land kitchens in some pretty creative ways. 
After chatting with some culinary masterminds and trying out recipes of our own, we've rounded up our new favorite ways to enjoy Date Lady sauces. 
Cook it into sliced apples
We have a serious addiction to sautéed apples, but add a spoonful or two of Date Lady date syrup into the pan, and these sweet treats take any dessert to a whole new level.
Drizzle it on a bagel
When Legacy Bagelry & Bakery (3049 S. Fremont Ave., Springfield, 417-501-1345, legacybagelry.com) first started toasting its bagel sammies at Farmers Market of the Ozarks, it set up shop next to the Date Lady syrup stand. It wasn't long before bagel and date syrup experiments were under way, and a new bagel sandwich was born. The Date Lady bagel consists of sliced Granny Smith apples, cream cheese, a light drizzle of Date Lady caramel sauce and just a dash of cinnamon. Order this on one of Legacy's sweet bagels, and you'll be in foodie wonderland. It's sweet and tart and just plain amazing.  
Use it in pizza sauce
Pizza Nights at Millsap Farms (6593 Emu Ln., Springfield, 417-839-0847, millsapfarms.wordpress.com) are a great time to enjoy the outdoors while filling up on tasty brick-oven pizzas. One of our favorite pies at Millsap uses Date Lady date syrup in its sauce. You can find the recipe for Date Lady pizza sauce at ilovedatelady.com. It includes shallots and red pepper. Yum! Combine this sweet sauce with salty feta and sausage, and you've got yourself one delicious pizza pie. 
Toss it into granola
Next time you're whipping up a batch of granola, swap the honey for some Date Lady date syrup. This stuff works great as a binding agent, and it has a rich flavor you don't get with honey. Oh, and did we mention it's vegan? This is exactly what chef Daniel Stern uses when whipping up a batch of the popular Super Balls at MaMa Jean's Natural Market (multiple Springfield locations, mamajeansmarket.com).
 Hungry to try some of these Date Lady syrup ideas for yourself? 
Sautéed Apples
(from Assistant Editor Ettie Berneking)
Ingredients:
4 tablespoons unsalted butter
2 apples, sliced and peeled
1 tablespoon Date Lady date syrup
½ teaspoon cinnamon
Directions:
Melt the butter in a large pan. Toss in the apple slices, and turn the heat to low to let the apples cook down in the butter. Once the apples start to get soft, drizzle in the date syrup, and cinnamon. Continue to cook until the apples are soft enough that a fork goes through easily. Serve with vanilla ice cream or by themselves.
---
Chocolate-Blueberry Cake
(From Date Lady Syrup)
Servings: 8
Ingredients:
1 1/4 cup whole wheat flour
6 tablespoons unsweetened cocoa powder
1 teaspoon baking powder
1/2 teaspoon baking soda
1 teaspoon ground chia seeds or flax seeds
1/4 teaspoon salt
3/4 cup water
1/2 cup blueberries
1 teaspoon balsamic vinegar
1/2 cup Date Syrup
1 cup blueberries (for serving)
additional syrup or agave nectar to taste
Directions:
Preheat oven to 350°F. In a medium bowl, mix flour, cocoa powder, baking powder, baking soda, chia (or flax) and salt. In a blender, combine the water, blueberries and balsamic vinegar, and blend until smooth. Make a well in the dry ingredients. Add the date syrup and the blueberry mixture. Stir until completely mixed. Pour into an oiled 9-inch round cake pan. Bake for 30 minutes or until a toothpick inserted in center comes out clean. Cool completely before inverting onto a serving platter. Serve with blueberries on top, drizzled with additional syrup or agave.   
---
Berry and Lemon Scones
(From Date Lady Syrup)
Ingredients:
1 3/4 cups unbleached all-purpose flour
2 ½ teaspoons baking powder
1 teaspoon salt
Zest from one lemon
4 tablespoons butter
1/3 cup date syrup
½ teaspoon vanilla
½ cup milk
1 teaspoon lemon juice
1/3 cup frozen or fresh cherries, raspberries or blackberries
1/3 cup walnuts or pecans, chopped
Directions:
Preheat oven to 375°F. Combine the flour, baking powder, salt and lemon zest. Cut in butter. In a separate bowl, mix together the date syrup, vanilla, milk and lemon juice, and then combine with dry ingredients. Mix just until dough starts to hold together. Add berries and nuts, if desired. Press the dough into a disc. (The dough might be a little sticky, but don't let this scare you.) Cut into slices, and bake for 10 to 12 minutes.