Reviews
The Bruncheonette
One of Joplin's eateries is serving up brunch with some delicious twists.
By Ettie Berneking | Photos by Brandon Alms
Aug 2014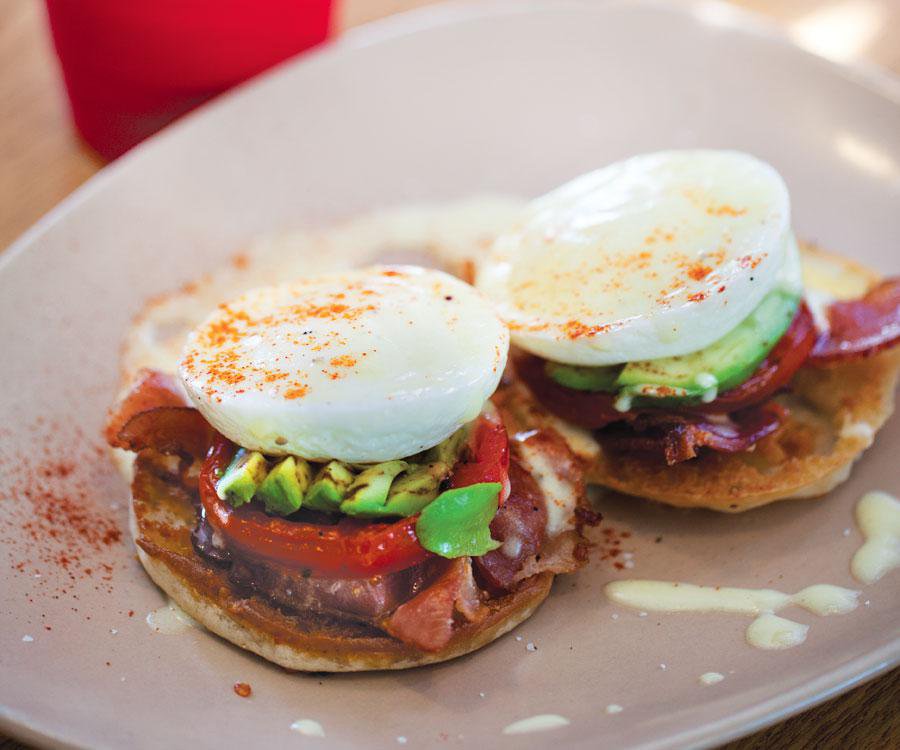 I love when people ask me what my favorite food is. It's breakfast! And, yes, I know breakfast isn't actually a food like, say, pizza. But it's one word that encompasses an entire genre of sweet, indulgent eats that I absolutely love. So when I heard that a diner in Joplin was dishing out delectable breakfast food past 11 a.m., I had to check it out.
For several weeks, I had Facebook stalked The Bruncheonette to get the scoop on daily specials, learn what dishes customers were raving about and revel in the beauty of their food photos. (Seriously, who doesn't love staring at a tower of pillowy pancakes slathered in sugary maple syrup?) When I couldn't stand the temptation any longer, I made the hour-and-a-half drive over to Joplin. 
If you're not already a regular at The Bruncheonette, it's easy to drive past this hole-in-the-wall. I did, twice, so don't feel bad when it happens to you. Located on the north end of Main Street just past the downtown drag, The Bruncheonette is an itty-bitty restaurant that quickly fills up with hungry patrons. Saddled up on one of the bar stools that line the wall with a full order of breakfast fare in front of me, I instantly became a Bruncheonette lifer. This stuff is delicious.
To start my meal off, I ordered a tall bloody mary that was poured and shaken right in front of me. A few gulps in, I realized I would have to be parked at that bar stool for longer than I had anticipated if I finished the whole thing, so I scooted the tomato juice concoction aside and dove fork-first into the towering eggs Benedict that sat in front of me.
I ordered the Benny Harper, which consists of an English muffin layered with crunchy bacon, thick slices of tomato and avocado and two perfectly poached eggs resting on top. The finishing touch was a generous amount of rich hollandaise sauce that dripped down over the sides. The eggs were soft and wiggly just like I love them. This way, when you gently sink your knife in, all that rich, egg-y goodness spills out and covers each bite. It makes the dish much more indulgent.
If, like me, you're a sucker for eggs Benedict, you'll be happy to know that the Benny Harper is just one of four different takes on the classic eggs Benedict. Others come stacked with fresh veggies and beet hollandaise or pulled pork and Gruyere cheese, while another tasty twist boasts mouthfuls of smoked salmon and asparagus. Mouthwatering creations like these are what has helped fill The Bruncheonette's already-limited seating. 
Looking around to peek at what dishes my dining companions had ordered, I saw piles of pulled pork nesting on top of buttery pancakes and something that looked remotely like a banh mi sandwich. (This is the much-lauded Abstract sandwich, which is hands-down the most popular item on the menu thanks to the mix of spicy pulled pork, charred spam, pickled veggies and ginger mayonnaise.) Completely stuffed and dreading my lengthy drive back home, I turned back to my plate and used the last remnants of toasted English muffin to sop up every last delicious morsel. It is safe to say that breakfast still reigns king in my mind.
Q&A with co-owner 
Sean Flanagan
417 Magazine: What's your go-to cookbook when looking for new ideas?
Sean Flanagan: The Flavor Bible. It confirms flavor profiles of new dishes I'm working on and helps me make sure I'm on the right track.
417: What's your favorite menu item?
S.F.: It's actually not on the menu, but my favorite is the green eggs and ham. The eggs are cooked to order and topped with arugula pesto and pork belly confit that's cooked overnight in duck fat.
417: Describe your cooking style.
S.F.: Rustic French. It's just good fun.
417: This place is pretty tiny. How do you guys manage back in the kitchen?
S.F.: The whole restaurant is no more than 20-by-25 feet. It's too small. We have to wash the dishes by hand, and there's no room for extra gadgets.
417: What's your inspiration for new dishes?
S.F.: A lot of times it's our friends and customers. The pulled pork pancakes came about after a friend wanted us to serve chicken and waffles. I don't have room for a waffle iron, so this was the compromise. 
417: How did you pick this location for the restaurant?
S.F.: This used to be a barber shop. This is where I got my hair cut.
417: What's your restaurant background?
S.F.: I've always worked in restaurants and started out washing dishes. I've worked at Crabbys, Red Oak Steakhouse and was the chef at Wilder's Steakhouse in Joplin.