Reviews
Derby Deli
Did you know you can grab lunch right in the middle of Brown Derby International Wine Center? The menu is pretty drool-worthy, too.
By Katie Pollock Estes | Photo by Brandon Alms
Aug 2014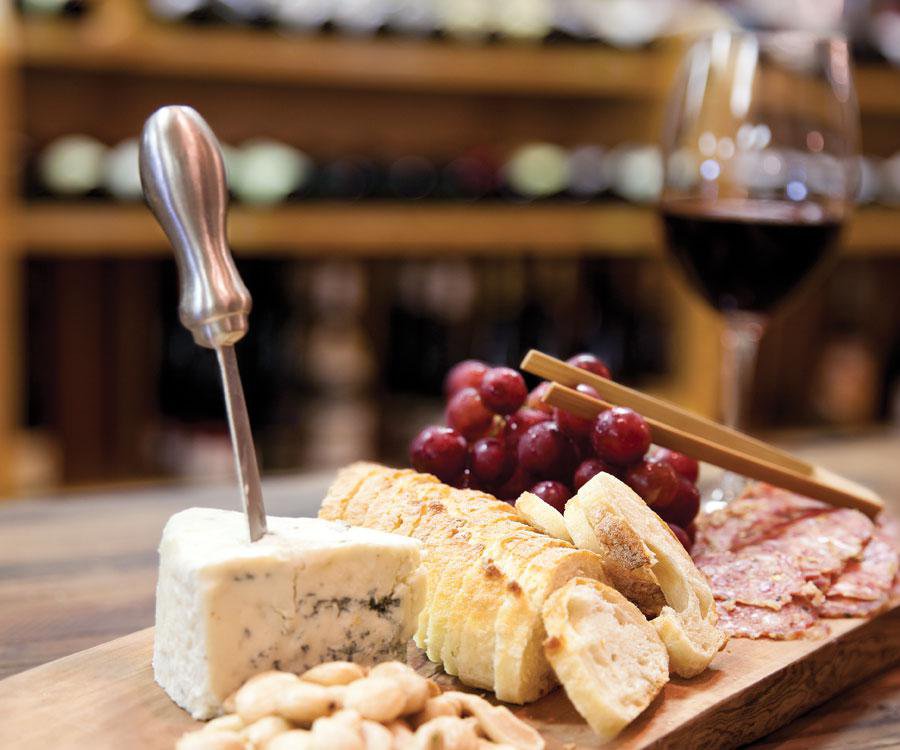 Derby Deli
2023 S. Glenstone Ave., Springfield, 417-883-4066
Open Tues.–Sat. 11 a.m.–3 p.m. for lunch; 11 a.m.– 7 p.m. for small plates

If you haven't been to Brown Derby International Wine Center lately, you'll be in for a little surprise when you walk through the shop's front doors. Just past the entry and right in the middle of the store is a cluster of dining tables. Not far from that is a chalkboard sign boasting a menu full of delectable delights. Yep, there's a hopping lunch spot right inside the liquor store. And on the afternoon when I popped in for lunch, nearly every table in the place was filled with chatting diners. If you think the atmosphere might seem a little odd since the tables are surrounded by shopping aisles, don't worry. You'll sink right into the menu and never look back at anything else. 
As you might expect in a shop full of wine experts and an expansive cheese counter, part of the menu features cheese plates and sausage plates, and you can enjoy your lunch with a glass of vino. 
Yep, there's a hopping lunch spot right inside the liquor store.
I was ravenous, and as much as a cheese plate sounded tasty, I wanted a sandwich. I opted for the restaurant's pulled pork banh mi. If you're familiar with the classic Vietnamese sandwich, you'll realize that the Derby Deli version is not exactly authentic. But it is downright delicious, and it puts a creative spin on every banh mi element.  Instead of pork tenderloin and pate, it features oh-so-tender and juicy shredded pulled pork. Instead of fresh jalapeños, it is topped with sweet and spicy locally made Float Trip jalapeños. There are fresh cucumbers, crunchy cabbage slaw, bits of cilantro and homemade pickled carrots that add a pop of bright freshness to the grilled ciabatta and hearty pork. And the already scrumptious sandwich is made even more irresistible by a little dash of Sriracha aioli. 


I inhaled that sandwich. It was simultaneously filling and refreshing since it had so many veggies. It was a little bit messy, but I barely noticed the juice running down the side of my hand. That's what napkins are for, right? 
On the side, I opted for the Billy Goat Chips. These crunchy potato treats are made in St. Louis and have a decidedly homemade flavor and texture. They were a great partner to my sandwich.
Later I also got a chance to try the Local Goat Salad, and it was (I'm not ashamed to say) inhaled just as quickly as the banh mi. A bed of tender greens and spicy arugula is topped with sweet dates, goat cheese from 417-land's Terrell Creek Farm, walnuts, applewood-smoked bacon and the sweet and thick Derby Deli vinaigrette. There are few joys in the world greater than eating dates and bacon at the same time, and the creamy locally made goat cheese just kicked it up a notch. Plus it comes with a couple of crisp little crostini that get along really well with the more tender bits of this salad. This sweet and salty dish thrives on contrasting flavors and textures, and I would order it again in a heartbeat.
Next time you're grabbing a bottle of wine to bring to your next get-together, plan your shopping trip around midday and bring along a buddy to spend a lazy lunch with you at the liquor store. 

Derby Deli in Brown Derby International Wine Center offers a menu of lunch items and small plates. Both owners and staff members are excited about the restaurant, which is located in the middle of the wine center.