Reviews
Early Bird Breakfast Pub
We visited Early Bird Breakfast Pub for a tasty breakfast cocktail and some one-of-a-kind, stick-to-your-ribs fare.
By Savannah Waszczuk | Photos by Kevin O'Riley
Aug 2015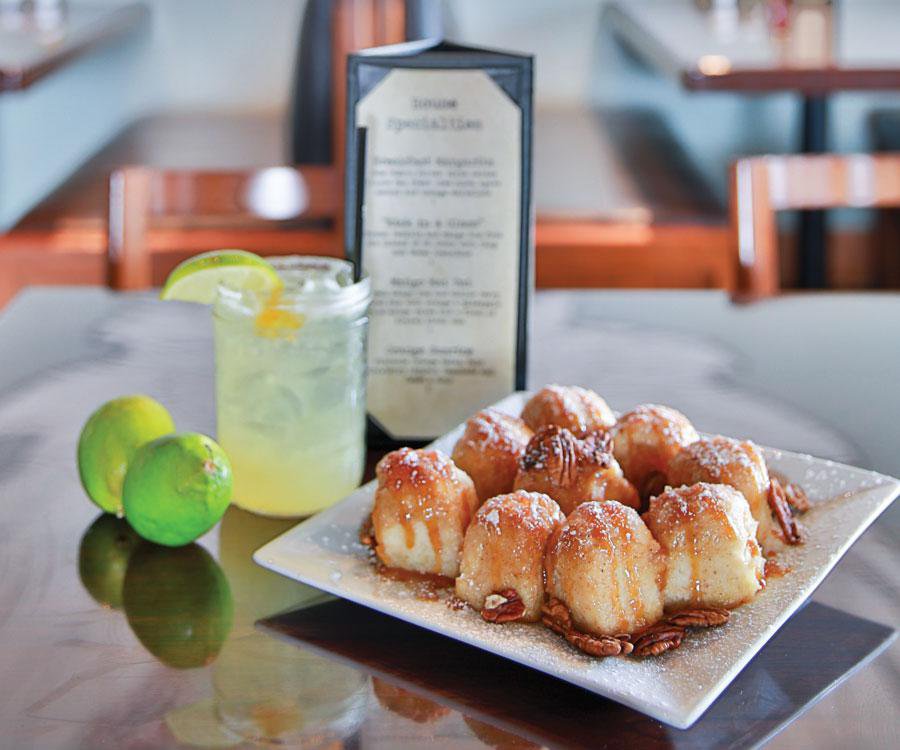 I typically prefer a light breakfast. A new morning means a new day, and fueling my body with a nutritious, healthful meal seems like the most important thing to do as a grown adult. But every now and then I'm in the mood for a major a.m. splurge. I recently had a late night out, and I was in need of one of those splurges the next day.
I grabbed my boyfriend, Dylan Gideon, and we headed to Early Bird Breakfast Pub on that sunny Sunday around 10 a.m. My grumbling belly was upset to learn of a 45-minute wait, but we actually ended up in a cozy corner booth with drinks in our hands only 30 minutes later. This spot is busy, and its location—the former home of Twilight Grille—isn't huge. But the service is fast, so people typically funnel in and out quickly.
Early Bird has plenty of options for those who prefer lighter meals in the a.m., and there's also an a la carte menu with pancakes, waffles, French toast and the other usual suspects. I looked through the meatier options, like the sandwiches and the noodles and the Southern-inspired dishes. There were reubens and clubs and pastas. I wanted it all.
While I weighed the many mouthwatering choices, we decided to start things off with the monkey bread, the only appetizer on the menu, and I ordered a breakfast margarita. The bread came with house-made yeast rolls that were covered in cinnamon, brown sugar and hot butter and were topped with caramel and pecans. It tasted like the gooey part of a cinnamon roll. The margarita was a perfect side: It had all the deliciousness of a traditional marg plus some orange marmalade. 




If you're in the mood to indulge, head to Early Bird Breakfast Pub for the Breakfast Mac (left) or the Gravy Train with Biscuit Wheels, a pile up made of many breakfast food favorites.

I finally decided on the Breakfast Mac for my entrée. This dish includes macaroni and cheese that's tossed with scrambled eggs, hashbrowns, ham, bacon and peppers and topped with corn flakes. I was a bit skeptical how this comfort food favorite would mix with a collection of breakfast goodies that are typically eaten alone, but I was sold after my very first bite. Meaty cuts of bacon and chunks of ham packed in a meaty flavor punch with every forkful of cheesy macaroni. The cheese sauce was a great accompaniment to the hashbrowns and the eggs, and a few peppers added a nice bit of fresh flavor. 
Dylan ordered the Gravy Train with Biscuit Wheels, which I would call Early Bird's version of a pile-up. And let me tell you, this dish is absolutely gigantic. The mountain of food includes three eggs on top of bacon, sausage, ham and hashbrowns or sweet potato nuggs (he went with the 'browns). It all came on a couple of pillowy biscuits, and it was blanketed with some heavy scoops of sausage gravy. I snuck in a few bites, and we both agreed that it was the perfect thing to eat after a night of revelry. Sausage? Good. Eggs? Good. Gravy? Gooooood! On that dish, the gravy made everything a bit better.
We left Early Bird with full bellies and plenty of leftovers, and we were already planning what we were going to try on our next visit.
---




Shawn (left) and Stephen Washburn own Early Bird Breakfast Pub.
Q&A with Shawn Washburn, 

co-owner of Early Bird Breakfast Pub

417 Magazine: What were some of your main goals in opening a restaurant?
Shawn Washburn: We wanted to make sure that we had something for everybody. We wanted to have the traditional breakfast items, and we wanted to put our own twist on some things, too. We wanted to have some things that people could only get here. 
 
417: What's one of the must-try dishes here?
S.W.: I'd say the Eggs Atlantis, which is our version of eggs Benedict. Instead of ham, we use smoked salmon with a poached egg, hollandaise and an English muffin. 


417: What's the atmosphere like?
S.W.: While we want the service to be good and fast-paced, we want the restaurant to be a place where people can sit down and relax.


417: Who developed the menu?
S.W.: My brother, Stephen, and I came up with every dish.  We originally had a nine-page menu, then cut it down to three pages and an a la carte page. 


417: What's your favorite menu item?
S.W.: My favorite is the chorizo tacos with black beans and sweet potato nuggets. I'm also a fan of the Eagle with bacon, fresh jalapeños, pico, avocado, pepperjack cheese and sour cream.