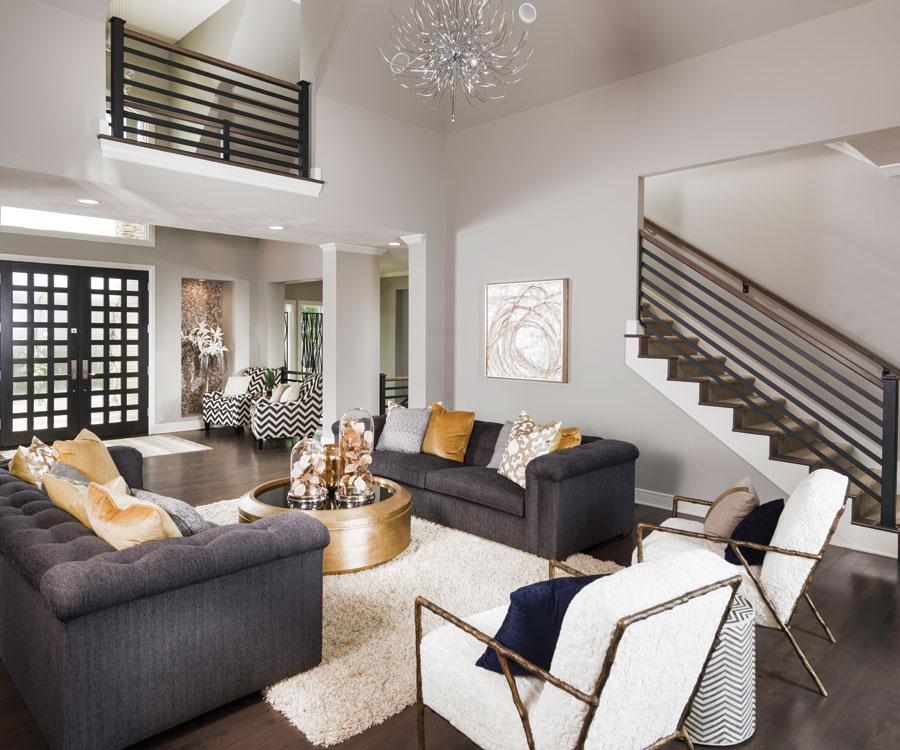 For a project two years in the making, Scott and Stacey Landrum made sure every inch of their Highland Springs home was exactly what they wanted. Scott owns Lifestyle Builders and Design, and being in the profession gave him valuable insight when he was designing his own dream home. 
As a builder, Scott gets a chance to see everything available in the world of building as he shares ideas with his clients."I could incorporate the best of everything when I was building our own house," he says.
Most of the houses Scott has built for clients have had an eclectic, country French cottage theme,  but that style felt too busy for the Landrums' own home. Instead, Scott and Stacey wanted to keep the Old World charm but move toward a more contemporary style. The Landrums kept the finishes in a neutral color palette of black, white and gray but used vibrant accent colors to pull each room together. 
"When you do simple design, you need fun details to catch your eye," Scott says.  
When Scott and Stacey were planning the home, it was really important for each of their two kids to have equal space, so the Landrums designed the layout so both their son and daughter could have their own bed and bath suites and individual play areas. 
The Landrums have an outdoor living area that serves as an outdoor escape. It houses a large pool great for cooling off in the summer, but Scott says it's still a peaceful spot even in the winter, especially with the warm stone fireplace. 
After moving in to their new home in June of 2014, Scott and Stacey say they love their home and know the several years of planning was worth it. They have built many homes together, but this one feels more special. "This is the first house that was ours from start to finish," Scott says. "It's our dream home minus the beach." 

Kitchen and Living room
The family spends most of their time in the everyday living room and kitchen and uses it as a central gathering area. Stacey says the kitchen is one of her favorite rooms because it's the go-to space. There is a walk-in pantry and butler kitchen off the main kitchen to help with entertaining, which creates space to work  while people are mingling and enjoying food in the main room. 

Downstairs Living
Scott didn't want a designated theater room, so he created a more integrated entertainment area downstairs that connects the living room to the kitchen, bar and dining area. It's one of Scott's favorite rooms in the house. He says he loves to hang out down there, and his office is in an adjacent room for convenience. 

Downstairs indoor gym
The Landrums used their son's interest in basketball to inspire an indoor court for him and his friends to play on. Along with practicing their jump shots, the kids can use it as a multi-purpose gym to play all sorts of games and run off some energy on cold or rainy days. 

Outdoor Living 
The family loves to use their outdoor living areas for escape and relaxation. "We spend a lot of time outside," Scott says. There are places to hang out all around their home, including a side deck where they can watch the kids play in the yard and on the basketball court, and a lower deck with a hot tub lounging area.