Life
5 Best Spots for Stand-Up Paddleboarding
Looking to explore local waterways? Float in style on a stand-up paddleboard. We spoke with Joe Alfafara, owner of Ozark Paddleboards, to create this list of the five best paddleboarding destinations in 417-land.
Written by Lillian Stone | Photo by Mandy L. McMurdo
Aug 2016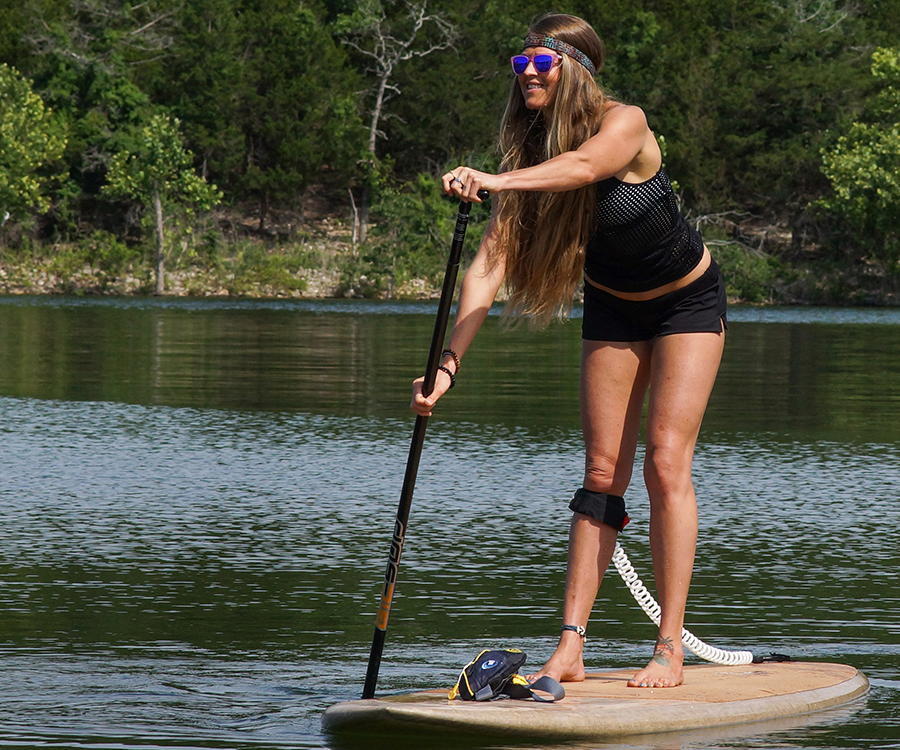 1. Table Rock Lake
Check out the peaceful far west side of the lake in Golden, Missouri.
Why We Love It: Table Rock Lake is a scenic option for intermediate paddlers. Testing out a new trick? The refreshing water welcomes wipeouts. Table Rock also offers miles of paddling possibilities, from a leisurely five-miler to a quick workout on the waves.
2. Bull Shoals Lake
It's easy to find a scenic spot to paddle on the far east side of the lake near the Bull Shoals Dam.
Why We Love It: Joe Alfafara, owner of Ozark Paddle Boards, loves Bull Shoals for its friendly boating community and scenic views. He appreciates the boaters' consideration for paddleboarders, especially when he brings his family along. Bull Shoals also offers stunning views and a less-crowded waterfront.
3. James River
Follow the gravel road past 160 Grand Prix (521 Guin Rd., Nixa) directly to a scenic hideaway perfect for paddleboarders.
Why We Love It: "It's like you're going back in time," Alfafara says. This largely private portion of the James River has a certain wild appeal—don't miss the natural caves on both sides of the bank.
4. Springfield Lake
Access the lake just behind the Missouri Veterans Cemetery (5201 S. Southwood Rd.).
Why We Love It: This quiet lake is perfect for beginner paddlers. The lake is home to an array of wildlife, including deer, otters and the occasional bald eagle. Boats over 10 horsepower are prohibited, ensuring that the water is calm for beginners.
5. Lake Taneycomo
Access the lake directly off of the Branson Landing (100 Branson Landing Blvd., Branson).
Why We Love It: Experienced paddlers can get in directly off of the Branson Landing to explore Taneycomo's cold, clean waters. This stretch isn't a great choice for beginners, as the area is a popular destination for high-speed boaters. According to Alfafara, it's worth it for those willing to brave the waves—you get the chance to enjoy a post-paddle meal on the Landing.