Features
Cooking with Abuela
We head to La Michoacana, a Mexican grocery store and restaurant in Monett, to share a bit of cooking and culture with the Jimenez family.
Written by Savannah Waszczuk | Photos by Brandon Alms
Aug 2016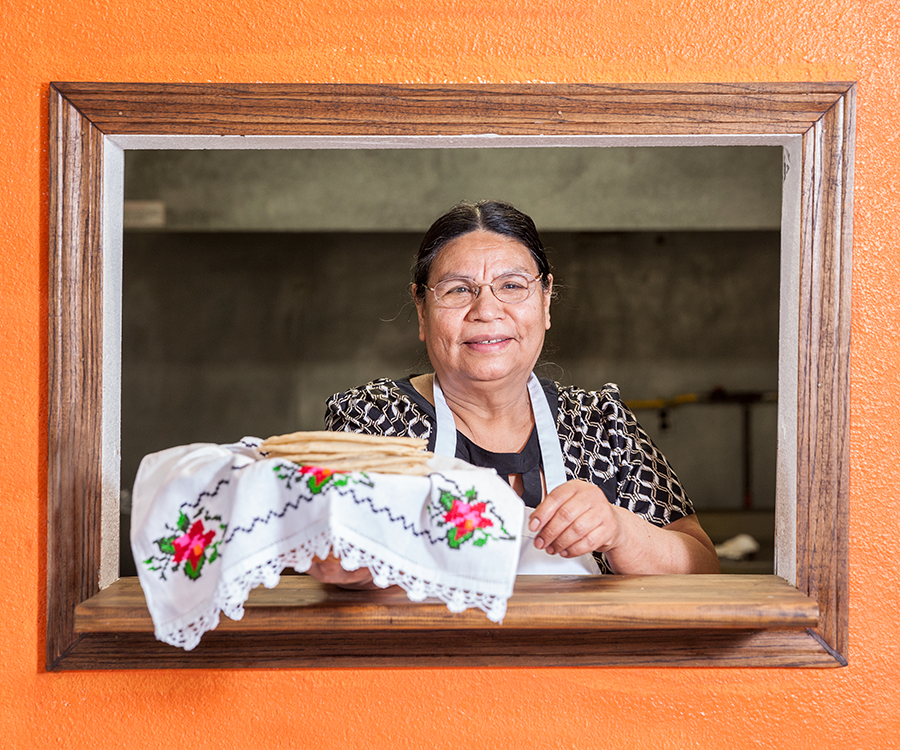 There's no sleeping in on the weekends for David and Gabby Jimenez.
Together with David's parents, Juan and Maria Jimenez, the two own and operate a hybrid Mexican grocery store and restaurant in Monett, La Michoacana (805 E. Broadway St., Monett, 417-236-0335). Weekends at the restaurant come with lots of cooking, which means David's out of bed long before the sun to season up hefty pork shoulders and start the low, slow cooking process of La Michoacana's famed carnitas. 
Maria heads in a couple of hours later and begins mixing up the dough for the restaurant's corn tortillas—of which they make at least 80 dozen every weekend. It all starts with a 50-pound bag of Maseca and a little water, and they go through about four of these 50-pound bags every weekend while crafting hundreds of tortillas. Each tortilla is hand rolled and hand pressed before it's heated on a flat skillet and transformed into a soft, heavenly blanket of perfection. "I think that what makes us different is that with everything we sell, we make it like we're making it for ourselves," David says. In addition to the homemade tortillas and carnitas, this also means barbacoa and menudo (tripe soup) on the weekends, and even made-to-order creations during the week.  
Staff photographer Brandon Alms and I got to see a bit of this quality cooking on a recent Friday morning when the Jimenez family graciously allowed us to join them in their restaurant kitchen for a behind-the-scenes glimpse. We were greeted in the parking lot by a smiling David, who then took us through the grocery store and back to the restaurant to meet his family. 




Maria Jimenez, aka abuela, mixes, kneads and rolls tortillas with recipes from her home state of Michoacán. 


We first met his mother, Maria, who cracked a smile and snuck a quick glance at us without losing focus of the tortilla mixture she was kneading with her hands. "She does it all by feel," David says. Maria doesn't speak English, but she's great at communicating with her smile and her eyes, even with her slightly bashful demeanor. After the Maseca and water mixture was the right weight, she began rolling it into small balls. Next we met Juan, an adorable little man with salt-and-pepper hair who was proudly wearing his bright red La Michoacana apron. "He can speak some English, but he's pretty quiet until he really knows someone," David says of his father. After I first looked at Juan, he just smiled and observed my conversation with David, providing dates, years and other information as needed. Gabby, David's wife, was as equally as chipper as David and excitedly piped in with a few facts on her sporadic trips in and out of the kitchen. "Our number one goal is great customer service," she says.  
As the family each did their part to prepare the day's food, they shared their story. Juan and Maria are originally from the Mexican state of Michoacán, which is where they acquired and perfected the many authentic recipes they prepare at the restaurant. They moved to the United States in the '70s, and they landed in L.A. for a while before eventually making their way to Arkansas and then Monett. "I grew up in Los Angeles," David says. But while the family has had several homes and jobs over the years, they all agree cooking has always been one of the constants in their lives. "That's what we do best," Gabby says with a laugh. "Cooking and eating." So when they opened La Michoacana three years ago, it was a perfect fit.
Next Gabby bragged about "Grandpa's Famous Molcajete." A Mexican version of a mortar and pestle, a molcajete is a stone tool that's carved from a single piece of basalt rock, and for the Jimenez kids and grandkids, it's also what they call the mouthwatering homemade salsa Juan creates inside of it. Juan offered to make us a batch of his special recipe, and we eagerly accepted. We were feasting on the fresh salsa of sorts about 20 minutes later, actually tasting some of the flavors that have given the restaurant a spot on the map over the last three years.




Juan Jimenez mashes up his "Grandpa's Famous Molcajete," a fresh salsa he makes by hand.


The tortillas were equally delicious, and the carnitas were arguably the most tender and flavorful that either of us had ever eaten. After just a few bites we determined the food here was well worth the hour-plus drive from Springfield to Monett on its own. But much more admirable than any meal and something that still makes me smile when I think about it was the love that the family has for preparing food and sharing their culture. As we talked about how much we liked the molcajete, a smile took over Juan's face, and it said much more than our words ever could. For him, that's all the evidence he needed to prove that what he and his family are doing at La Michoacana is all worthwhile. 




Tortillas, onions, Grandpa's Famous Molcajete, cilantro and carnitas come together to make mouthwatering tacos at La Michoacana.
Cook like a Pro
When it comes to preparing fresh quality food, the Jimenez family has plenty of tips. Read on for advice on how to select ingredients and prepare flavorful Mexican fare. 
Find the Perfect Avocado 
When selecting an avocado, try removing the bottom stem portion and checking out the color. "If you peel off that bottom piece and it's nice and green underneath, there's a really good chance it's going to be a beautiful avocado inside," David says. Another way to determine an avocado's ripeness is by the way it feels—you shouldn't have to squeeze it too tight to feel if it's firm or not. "Just lightly feel around on it to see how soft it is," Gabby says. "When it's slightly firm, it's perfect."
Carne Asada Secret
When you're preparing carne asada, there's one way to guarantee that it's tender and flavorful: After you put the seasoned meat in a hot skillet, add about a tablespoon of butter, then cover the entire thing with a lid and let it cook for a few minutes. Once the steak starts to change color, remove the cover and finish cooking. "This really helps make sure the steak is tender, and it adds flavor," David says.  
Slow Down
Much Mexican food takes time and patience. "It's important to be patient," David says. "For a lot of things like carnitas, barbacoa and even tortillas—it takes time." This also means cooking things low and slow. "You can turn the flame high at first to get your pan hot, but then you have to turn it way down," David says.