Health
The H.A.Y. Foundation
The H.A.Y. Foundation horsemanship program is designed not only to help local kids earn their spurs, but also to improve their well-being.
Written by Stephanie Towne Benoit | Photos by Brandon Alms
Aug 2016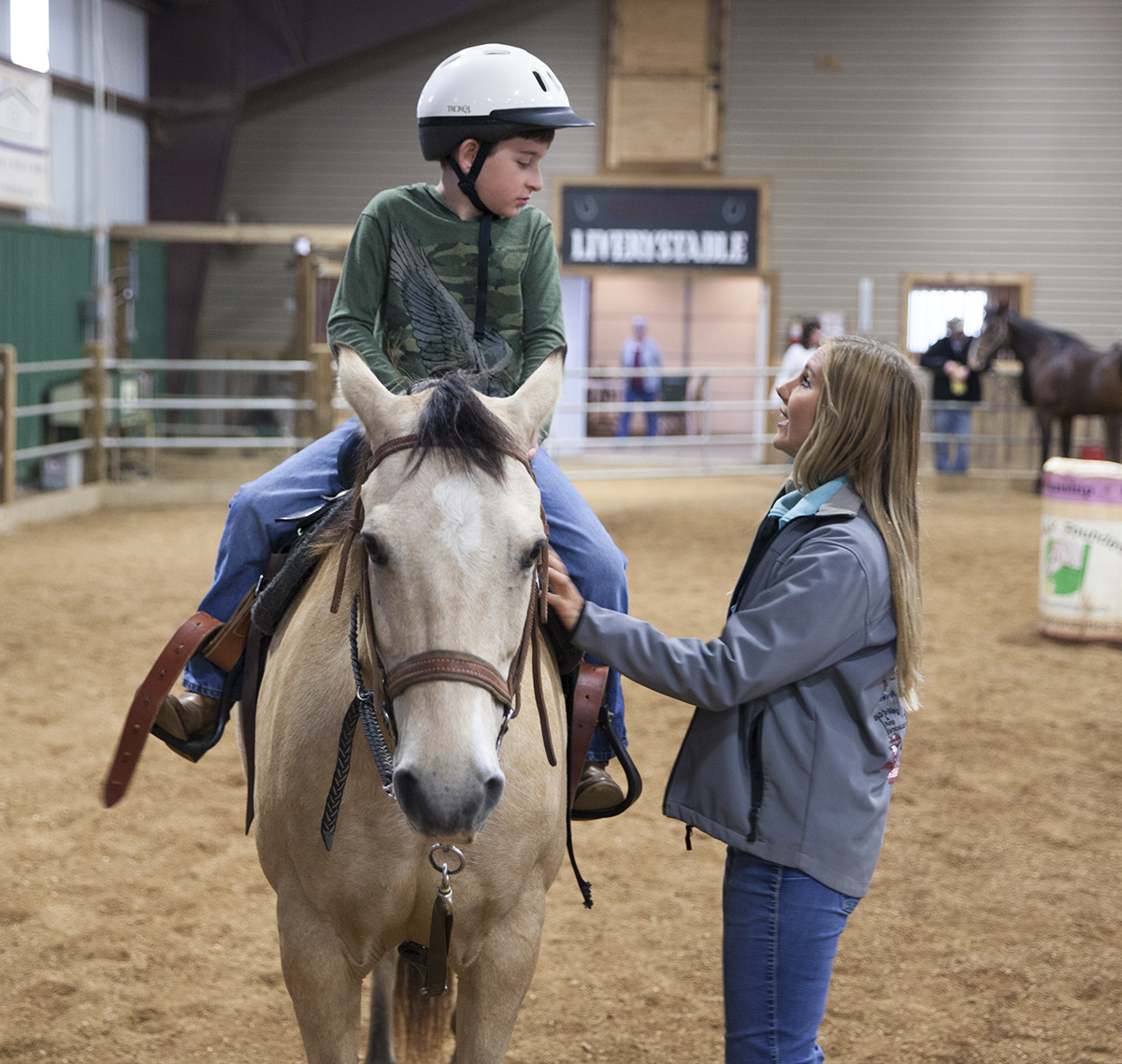 Each morning, Ty and Christy Heinrichs would walk Riley, their youngest daughter, from the High Pointe Elementary parking lot to her class. The shy, nervous 7-year-old struggled with anxiety and worried about weaving her way through campus on her own.
Amy Koenigsfeld, a former speech-language pathologist, began the H.A.Y. (Horses Assisting Youth) Foundation to reach kids like Riley. With the help of her husband, Dave, Koenigsfeld structured the H.A.Y. Foundation to offer horsemanship programming for children living with social and emotional concerns such as low self-esteem, anxiety, poor communication skills and more.
The Koenigsfelds bought an old farm in Nixa in 2011 and constructed a facility they originally intended for recreational riding, although its purpose morphed as their vision took shape. "I had worked in the public schools, and I had done a lot of work with PTAs in Nixa Public Schools and just saw a big need for kids that were having problems and falling between the cracks," Amy says. "There was really no program out there for these kids. So, the more we started talking, the more we decided we wanted to use this facility for a program like that."
Since its founding, about 235 children have completed the eight-week program, which incorporates 30 minutes of riding and 30 minutes of related education, such as grooming demonstrations or crossword puzzles teaching equine anatomy. Combined, these elements help students gain confidence and improve skills like coordination, communication and listening, all while bonding with the horse. "It is truly an emotional connection, a living, breathing emotional connection that they get with that animal," says Gena Wenger, a H.A.Y. Foundation founding board member and school counselor at Nixa's Espy Elementary. "They know that they have to approach it correctly, take care of it. They have to love it and nurture it. So those are all techniques that students have to learn to help within themselves. They notice that they have to love themselves and nurture themselves and take care of themselves just like they do this animal."  
As a board member, Wenger is part of the group determining which children are a good fit for the program. A teacher, counselor, social worker or other professional (and in some cases a parent, when accompanied by a letter or statement from a professional) refers a child to a program prior to the child reaching the board, followed by an interview between foundation staff and the child's parent.   
Once approved for the program, each child receives one-on-one attention that is individualized to address his or her needs. When it appears that a child's issues are deeper than what the Basic Horsemanship Program can address, the staff at the foundation loop in their community partners at Ozarks Equine Therapy Center, an organization offering equine-assisted psychotherapy. Certified by the Equine Assisted Growth and Learning Association (EGALA), the center's therapy model uses unmounted experiential activities incorporating the presence of horses because their behavior often helps the team tease out problems or issues the children may struggle to express to and approach with humans otherwise. 
"It's really interesting how the horses mirror what is going on in [the child's] life," says Sarah Fuller, an EGALA-certified equine specialist working in the sessions with licensed professional counselor Marcia Brewer, also EGALA certified. "They are very good at picking up on what's going on around them and what's going on with the people." 
Donations and sponsorships cover H.A.Y. Foundation lesson fees, which fund the direct costs of each lesson's staffing, and all other operating and administrative costs are paid by the Koenigsfelds, who donate their time. This allows the foundation to offer the Basic Horsemanship Program to families at no cost. Given this model, increased fundraising will be an essential component as the foundation—which achieved the second-largest sum overall at this year's annual Give Ozarks fundraising push in May—seeks to expand the number of kids they reach.  
In the meantime, the Koenigsfelds and their staff continue their work with as many children as they are able, including Riley, who in her final week of the program happily strolls into the organization's airy indoor arena. "When we get in here, she doesn't wait for us and hold on to us—she goes into the room," Christy says of her daughter's progress. 
Riley's instructor Michelle Michel witnessed Riley's growth week by week. "Throughout lessons, her confidence just grew," Michel says of Riley's improvement. "When she first was around the horse, she was afraid of it. She would show anxiety, wanting to hold on to the saddle horn. Every week her confidence grew. She did great!" 
Excited to hop aboard Peanut, the half quarter horse, half Welsh pony she's ridden throughout much of the program, Riley has learned to overcome some of her fears and has grown in self-confidence—and she had a blast doing it. "I feel smiley," she says.