Spaces
Steve and Pattie Hood's House Above Table Rock Lake
Steve and Pattie Hood's lake home, The House at Two Rivers, sits high above Table Rock Lake. Cindy Love Interiors designed a style that's a mix of travel-inspired vision and a love for natural beauty.
By Lillian Stone
Aug 2017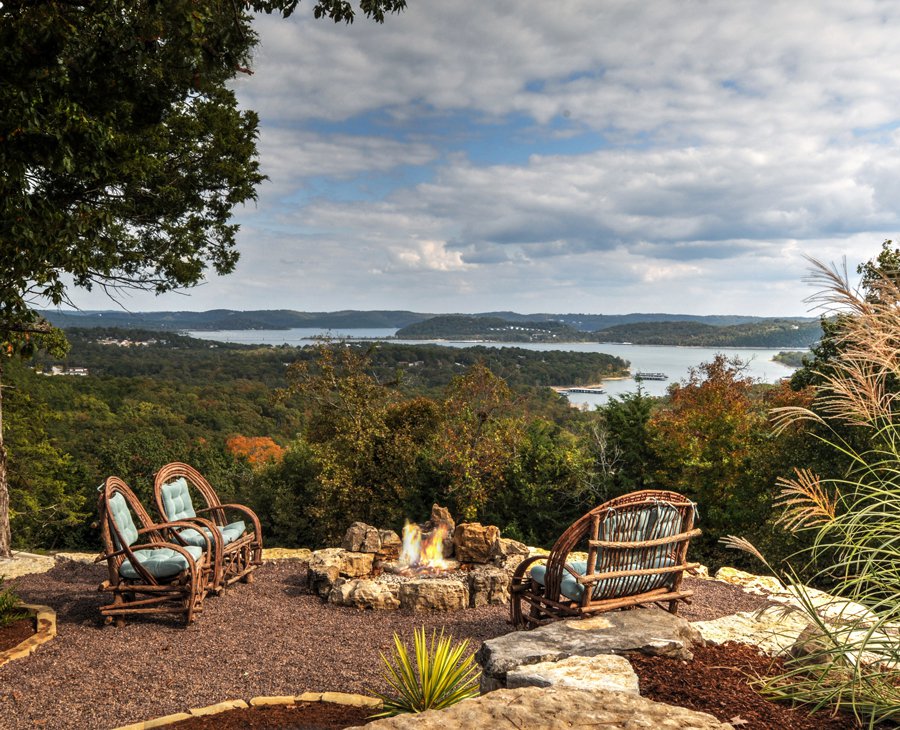 Steve and Pattie Hood wanted an escape. The Springfield-based couple travels regularly. They've stamped their passports in beautiful locales like Italy and Argentina, and they've visited 47 states. 
When building a vacation home became a possibility, Pattie immediately thought of New Mexico. She began collecting Native American artifacts during childhood trips to Oklahoma; then, upon visiting Santa Fe, her true passion for the American Southwest was born.
That passion sparked an idea: Why not bring the Southwest to the Ozark mountains? Pattie envisioned the perfect lakeside getaway with rustic touches inspired by her love of Santa Fe and Steve's love of Napa Valley. Most importantly, the home needed to be close enough to make every weekend feel like a vacation.
That's how The House at Two Rivers came to be. The home's back porch overlooks the point at which the White and James rivers meet, and everything about the home celebrates the beauty of the outdoors. It's the product of a strong vision, which Pattie executed with the help of Euro World Design, Schaeffer-Mitchell Construction and longtime friend and designer Cindy Love of Cindy Love Interiors. The collaboration resulted in a spectacular home away from home that combines the charm of the Southwest and the beauty of the Ozark mountains.