Reviews
5 Best Cinnamon Rolls 2011
Nothing tastes better during the cold of winter than a little warming cinnamon. We like to get our cinnamon fix in the form of an ooey-gooey, fresh-from-the-oven cinnamon roll. We found the five tastiest cinnamon rolls in 417-land to warm your heart.
By Katie Pollock Estes
Dec 2011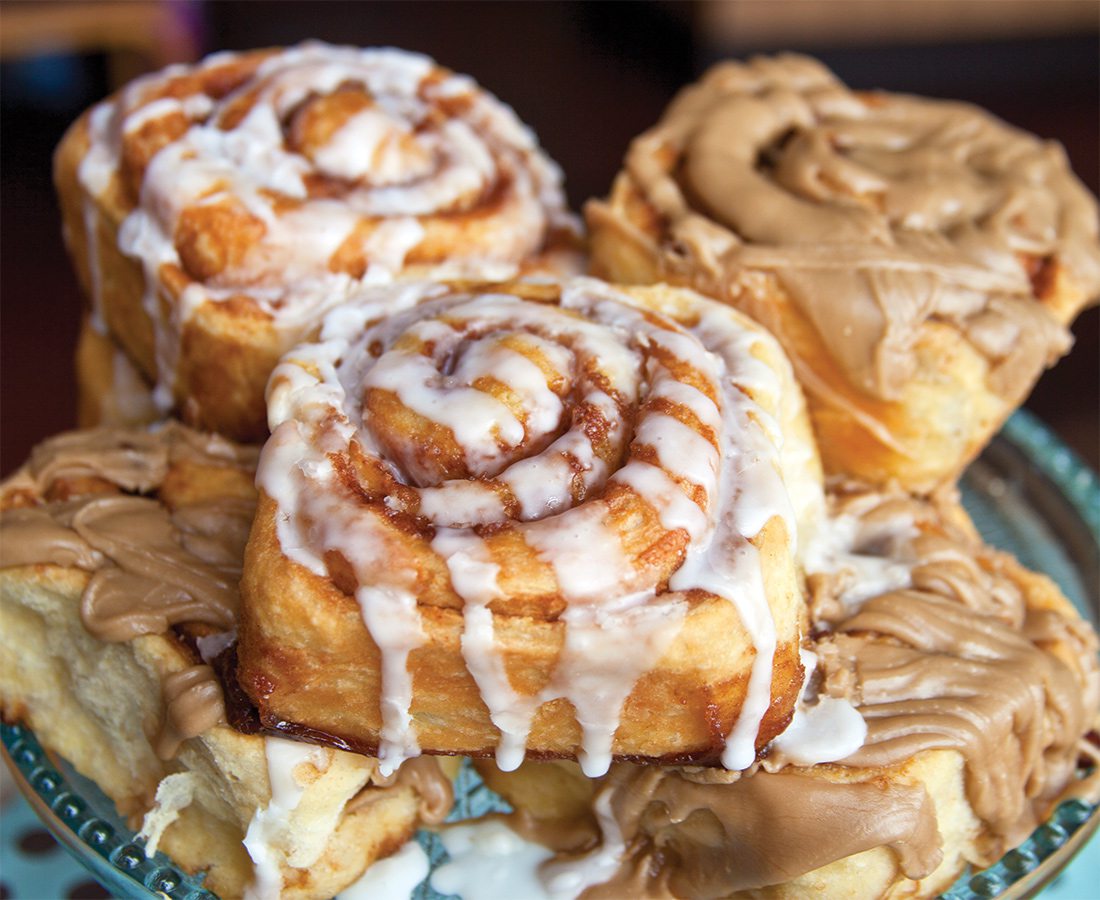 AmyCakes
$2.50-$2.98 1108 E. Walnut, Springfield, amycakesbakery.com
Why we love it: These are huge: Probably 2 inches tall and quite expansive. They have a great cinnamon flavor and are plenty sticky, but they aren't too gooey. And although they are quite sweet, the cinnamon roll dough has a nice yeasty, buttery flavor that adds a real homemade taste to the roll. These cinnamon rolls are big enough to share, but you'll want to unroll each soft layer and savor every single bite yourself.


Artisan's Oven
$2.75, 1832 S. Ingram Mill Rd., Springfield, facebook.com/the.artisans.oven
Why we love it:  These are a little smaller than some of the other cinnamon rolls on the list, and they are irregularly shaped in the most charming way. The cinnamon filling is liberally applied, making these extra-cinnamony. In fact, the dark cinnamon-sugar that rests between the soft layers of dough has an almost caramelized flavor. There's just the tiniest layer of sweet white icing on top, and the edges of the cinnamon roll have a satisfying crunchiness that adds a nice contrast to the soft center.


Old Mill Bagel Co.  
Available at multiple 417-land locations, oldmillbread.com
Why we love it:  These are just so stinking good. The roll is super-soft and slightly chewy. (Full disclosure: I poked every plastic-wrapped roll until I found the softest one.) The cinnamon filling is plentiful and incredibly, wonderfully, deliciously gooey. And it's not overly sugary. Rather, it's extra-cinnamony, making the ratio a more grown-up flavor. I ate it straight from the farmers' market table after I bought it, but I would imagine these are extra-good out of the oven or warmed up in the microwave. Based in Fair Grove, Old Mill Bagel Co. doesn't have a storefront. But the company's baked goods are sold at Bistro Market, Home Grown Food Store, MaMa Jean's, the Greater Springfield Farmers' Market and other local farmers' markets.


Elle's Patisserie
$2.50, 1454 E. Cherry St., Springfield, ellespatisserie.com (This business has closed since this article was first published)
Why we love it: It's big and round and beautifully brown. It's a pretty, perfect coil, with the center rising up higher than the edges. Those outer edge layers are a little bit flaky, and the center layers are moist and soft and chewy. The cinnamon between the layers, although not terribly thick, is delicious and full of flavor. Plus, there's sweet white icing that nearly covers the top but is applied thinly enough that it doesn't overwhelm the rest of the roll.


The Buzz
$2.15, 2810 E. Battlefield, Springfield (This business has closed since this article was first published)
Why we love it:  This cinnamon roll is one of the best-smelling on the list. It has a yeasty fresh-baked-bread aroma (the kind we want wafting though our homes every day forever), accented with sweetness. We love the icing, too, because it's super-gooey but not too sweet for the buttery cinnamon-y goodness in between each soft layer of the roll's coil.