Reviews
Local Flavor: Popcorn
Next time you need a quick holiday gift, ditch that drugstore tin of popcorn in favor of a gourmet blend from any of these local popcorn purveyors.
By Jennifer Adamson
Dec 2015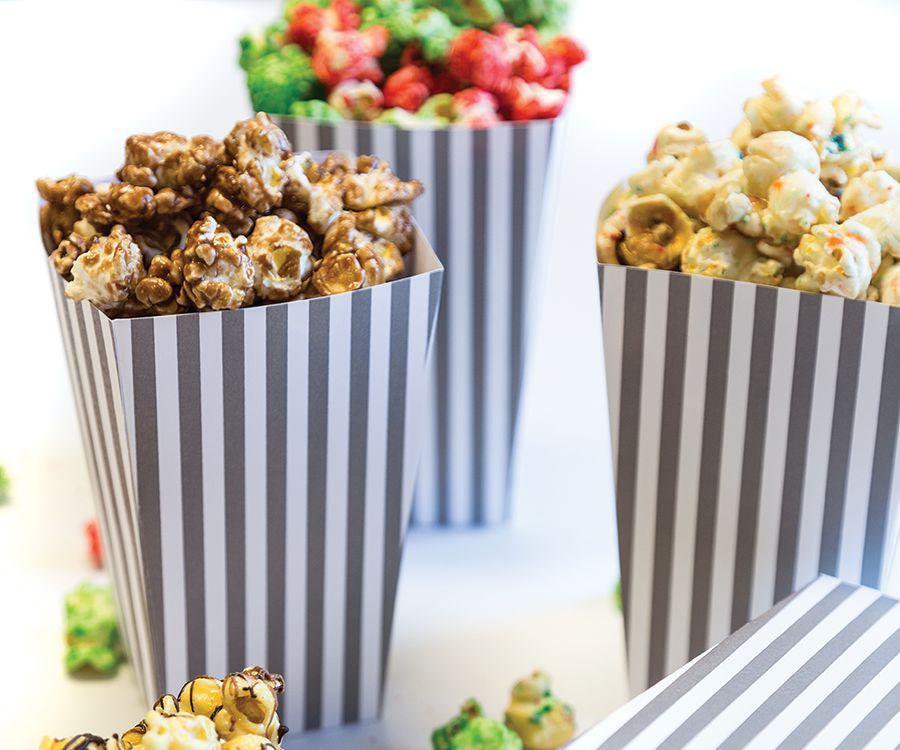 We have all been there: You glance at the calendar to plan ahead only to realize Christmas is in two weeks, and you still don't have a present for your neighbor. You should probably get her something because she always feeds your dog and waters your plants when you're out of town, but what? One hasty trip to the drugstore later, and all that's left to do is stick a holiday bow on top of a tin of popcorn. Everyone likes popcorn, right? 
This year, why don't you try something more thoughtful? Go gourmet with these local popcorn makers. From traditional varieties made with high-quality ingredients to unusual flavors guaranteed to make even Scrooge smile, you'll definitely be able to find a popcorn to suit every taste, even your neighbor's.   
A FLAVOR WONDERLAND
Ozark Mountain Popcorn (700 N. Benton Ave., Springfield, popcorninspringfieldmo.com, 417-866-5555) serves more than 50 flavors made on-site using Missouri-grown corn, and it's all cooked in small batches to guarantee freshness. You can fill a 4-cup paper sack with buttered popcorn ($1) or flavored popcorn ($2.25), or order a 23-gallon bag ($84) to share at your holiday soiree. For Christmas, a red-and-green, apple-cinnamon mix is sure to delight the popcorn junkie in your family. 
Root beer, maple bacon and dill pickle are just a few of the 56 outrageous popcorn flavors offered at DotPops Popcorn (1323 W. Sunshine St., Springfield, 417-501-8368, dotpops.com). DotPops doesn't just taste good, though. By using non-GMO corn, real cane sugar, organic cheeses and all-natural flavorings, you're getting a snack that's made from healthful ingredients and is affordable. Prices range from $4 for a 4-cup bag to $66 for a 6½-gallon tin. This month, come in to sample candy cane, eggnog and hot cocoa. 
COPPER KETTLE CONCOCTIONS
Using 45-year-old recipes passed down from the company's founders, Bon Bon's Candy House (3857 S. Campbell Ave., Springfield, 417-883-3900, candyhousesgf.com) is adding a pinch of nostalgia to its holiday goodies. The store's best seller, Chocolate Drizzle Caramel Nut Corn ($5.95 for 5 ounces) is made by hand in copper kettles, then combined with cashews, almonds and pecans, drizzled with milk chocolate and broken into clusters. Popcorn Petals ($4.95 for 4.5 ounces) are individual popcorn pieces coated in colored white chocolate and are always a favorite snack around Christmas, when the petals are red, green and white. If you want a mix, Candy House offers a seasonal tin ($25) filled with an assortment of each of their scrumptious varieties.  
ON THE LIGHTER SIDE
If heavy, candied popcorn doesn't tickle your tastebuds, try Kernel Peppers. Owned by Jeannie Russell and operated by Matt and Claire Ellerman, this family-run company specializes in peppered popcorn. It's made from simple ingredients: kernels, oil, salt and Russell's special pepper blend. Each batch is manufactured in a commercial-grade kitchen in Brookline, then packaged and sold to local retailers, including Harter House (1625 S. Eastgate Ave., Springfield, 417-883-1650, harterhouse.com), Brown Derby International Wine Center & Marketplace (2023 S. Glenstone Ave., Springfield, 417-883-4066, brownderby.com), Bag Lady Boutique (1111 E. Republic Rd., Springfield, 417-882-4438, bagladyboutique.com) and more.  Pick up a 2-ounce bag for $2.09 or a 7-ounce bag for $5.29.
DELIGHTFUL DELICACY 
For a truly gourmet experience, you must try truffle popcorn, available at Nicola's Ristorante (3631 E. Sunshine St., Springfield, 417-886-3700, nicolasristorante.com), Maso Kitchen Bar (3653 E. Sunshine St., Springfield, 417-720-1047), and Flo Eatery/Wine Bar (2925 E. Battlefield Road, Springfield, 417-886-0356, eatoceanzen.com/flo.php). At Nicola's and Maso, the treat is tossed with truffle oil and Parmesan cheese before being presented in a large bowl ($4). Flo serves it the same way, except they add truffle oil, butter and sea salt ($5). Order truffle popcorn as an appetizer on date night or in bulk as an unexpected addition to your next holiday party. 
TRADITIONAL CHOICE
The popularity of one sweet treat is turning a truck driver into a full-time farmers market vendor. Pete Sullivan, who used to spend his days behind the wheel of a big rig, now operates Nana's Kettle Korn (2144 E. Republic Road, Springfield, 417-848-1766) with Harvey and Lori Borntreger. From a cooking trailer in Billings, they pop 150 to 200 pounds every week to sell at Farmers Market of the Ozarks (2144 E. Republic Road, Springfield, 417-316-1557). Nana's Kettle Korn offers the well-known, salty-sweet variety, but other flavors go fast, including caramel, cheddar, spicy cheddar, cinnamon, lemon and vanilla. Pick up one bag for $6 or two for $10, then throw one in the freezer for a cold, late-night snack.