Reviews
Ocean Zen
Ocean Zen is in its third location, and it just keeps getting better.
by Vivian Wheeler
Dec 2015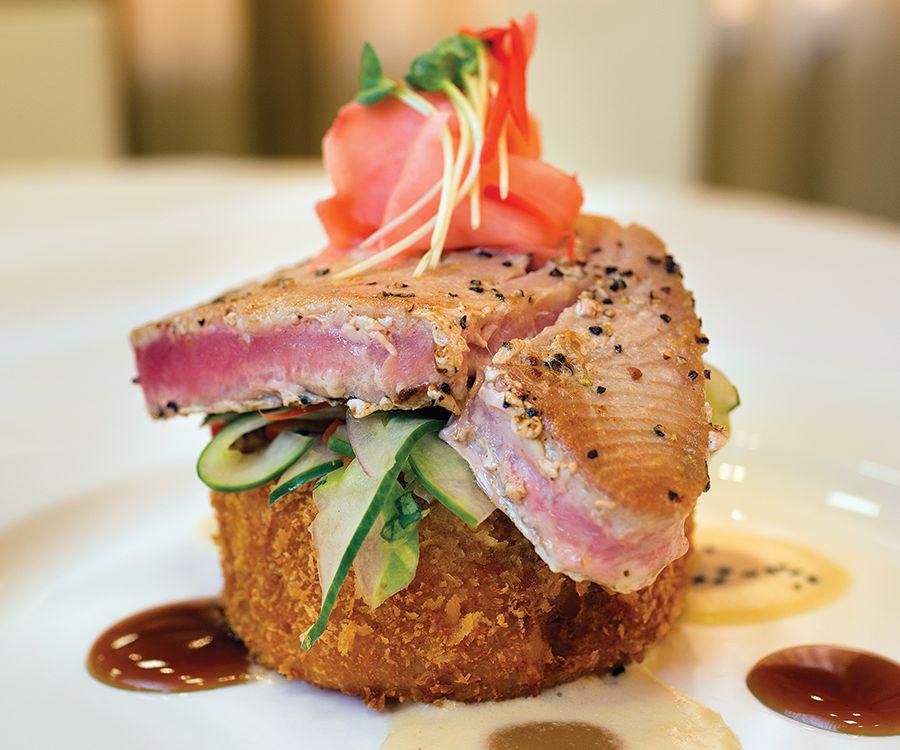 It might be my east coast childhood or the fact that I've always wanted to live in Europe, but I like to eat late. My ideal dinner time is 9 p.m. or later. I've often struggled to find local restaurants that accommodate my nocturnal eating inclinations. For this reason I've always loved Ocean Zen. For years my boyfriend, Chuck Travers, and I have turned to this Tan brothers establishment when we wanted a late meal in a real restaurant. We'd pull open those heavy metal doors, head into the bar and slide into a booth or high-top table. I appreciated that the sight of our expectant faces was never met with an eye roll from a weary server annoyed we're coming in to eat so late. 

Ocean Zen broils its filet mignon in a 1,600-degree oven to quickly sear the outside and lock in flavor. 


Ocean Zen moved locations and updated its menu in June, so when Chuck and I found ourselves hungry at 8:30 p.m. on a recent weekday night, it was the perfect excuse to finally check out Ocean Zen's new digs. 
Relocated to what used to be Mr. Yen's—a sprawling building done in the style that I can only characterize as what Americans think Asian buildings look like—off of Highway 60 and National Avenue, Ocean Zen's new spot is a sizeable upgrade. 
This is Ocean Zen's third location, and walking inside I was struck by the contrast between the new location and the old one. Where the old restaurant was decorated in shades of blue and black and felt cozy and intimate, the new spot is white and bright with high ceilings and lots of space. Johnson and John Tan often travel to Las Vegas and wanted to bring that glamorous feel to Springfield. One look at the interior, and it is easy to see the Tan brothers accomplished their goal. 

The Chipolte Paloma is a refreshing twist on the classic margarita. 


Ocean Zen has an extensive cocktail menu, and after reading over the options I landed on the Cranberry Yuzu Fizz. Made with Skyy Citron Vodka, SOHO lychee liqueur and cranberry juice, the drink is poured tableside from a Perlini cocktail shaker that infuses it with CO2. The cocktail struck a delicate balance between acerbic and sweet, and the carbonation produced a smooth, frothy mouthfeel. Chuck ordered the Chipotle Paloma: Milagro Reposado tequila, chipotle liqueur, fresh lime and grapefruit. Black lava salt rimmed the glass. Tart and refreshing, the drink was delicious. However, if you prefer sweet cocktails, steer clear of this one; it packs a sour punch. 

The smoked Gouda lobster macaroni and cheese is a gourmet take on a childhood favorite. 


I made a rule for the evening that we can only choose entrees that have been updated or added to the new menu. This was met with some resistance from Chuck. A lifelong 417-lander, his affinity for the Pineapple Citrus Glazed Crispy Wok Chicken runs deep. But once he spied the 1,600-degree fire-broiled filet mignon, his resolve softened. I had heard from a co-worker that Ocean Zen has, surprisingly, some of best steak in Springfield. After eating the filet, I have to disagree. It wasn't some of the best;  it was the best steak I've eaten in Springfield. It was that good. Ever my father's daughter, I adore steak.  But often, when I order it at restaurants, it lacks seasoning or is overcooked, but not here. Our server, Derek Weiner, explained the steak is seared in a 1,600-degree oven, which caramelizes the outside and locks in the flavor. This dish is served with a truffle cheese foam, portobello mushrooms, mushroom and veal demi-glace and smoked Gouda lobster macaroni and cheese. I ended up eating half of Chuck's plate.  It's moments like these when I'm thankful for a boyfriend who willingly shares his food when he orders the better dish.
Not that my dish wasn't tasty; it most definitely was. I opted for the tuna. The restaurant flies in fresh fish from Hawaii three times a week, and I figured it would be a crime to pass up a seafood dish when dining at Ocean Zen. Served rare on a crispy panko potato pancake with a Japanese cucumber salad and a soy-mustard-butter sauce, the tuna is sashimi-grade and was cooked perfectly. I could have used a tad more of the mustard sauce, or perhaps a bit of citrus,  to offset the richness of the fish, but overall the dish was delicious. Weiner tried to talk us into dessert. I couldn't take another bite, but next time I am saving room for the Chocolate Lava Souffle.