Style
Winter Whites and Nudes
The rule "don't wear white after Labor Day" is old news. Three local style experts share their tips on how to rock the neutral color palette this season.
Written by Rose Marthis | Photos by Brandon Alms
Dec 2016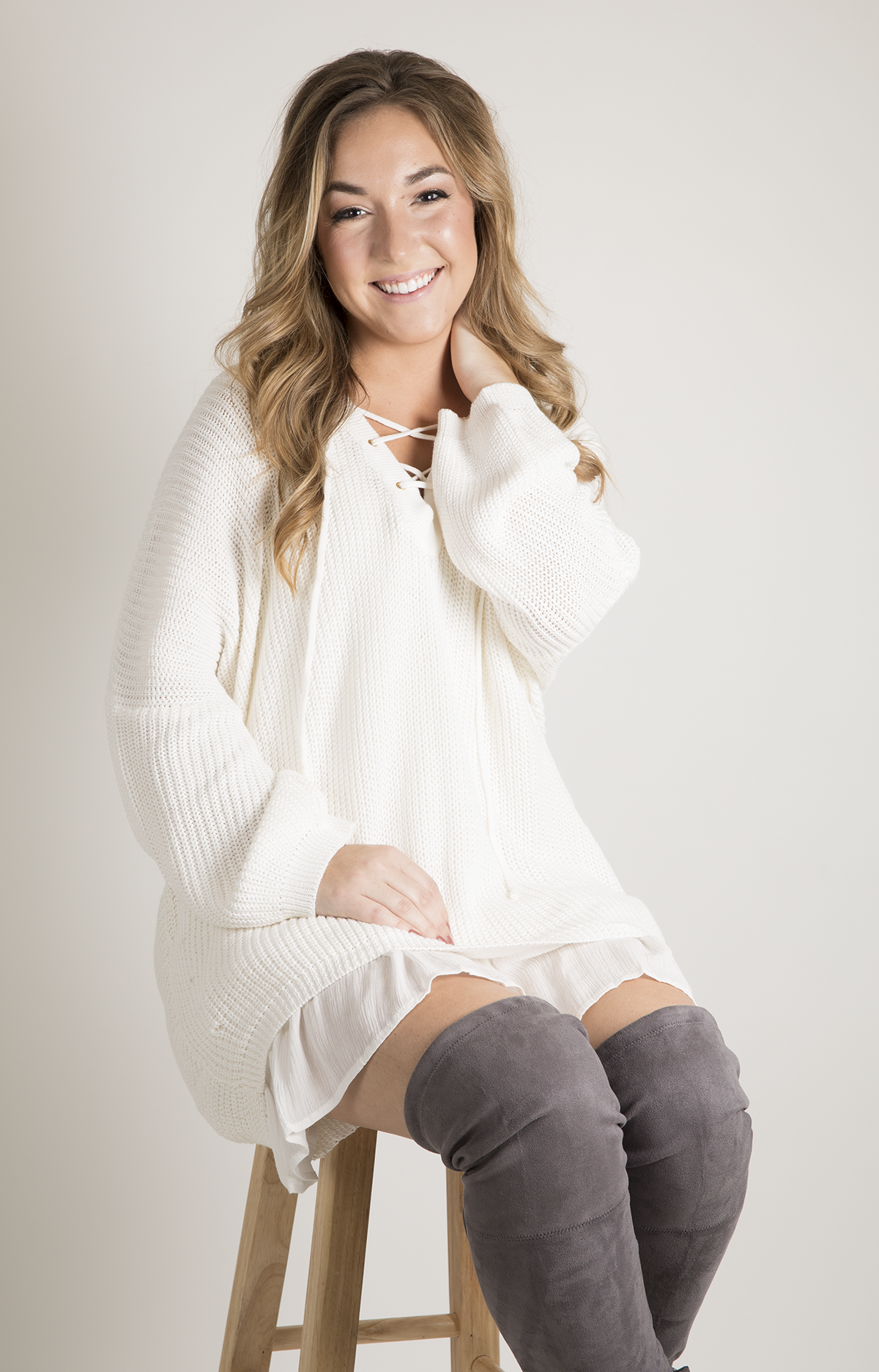 HYFVE Good Times sweater, $50 at Torn Boutique; Lost in Lunar Time After Time dress, $84 at MODERN Society; Gray suede over-the-knee boots, $70 at MODERN Society

Do: Go For Texture
It's all about the texture, fit and layers. Go for lots of texture when wearing white in the winter. Think chunky cable-knit sweaters and soft layering pieces like furry vests.—Carissa Greenlee, Torn Boutique 
Don't: Wear White Shoes 
Keep white shoes out of your winter wardrobe, and exchange them for more nude shades, instead.—Rachel Dillard, Lush BARtique 
Don't: Confuse Winter and Summer Whites 
The colors are essentially the same, but a winter white differs from your average white because it has a creamier undertone. It's a little bit more luxurious and rich.—Andrea Peña, MODERN Society 
Do: Make it Fit Your Style 
If you want to go for a monochromatic look, keep it simple and use various shades of white, beige, nude and cream. If you don't want to go all-out white, try some simple accessories like a winter white knit scarf or a tailored blazer.—C.G.
Fur trim sweater, $48 at Lush BARtique; Six Crisp Days Squared Away white tee, $28; Mind Code white denim, $32 at Lush BARtique; reversible ivory and black tote, $64 at Torn Boutique
Do: Pick the Right Materials 
Stay away from chiffon, linen or sheer white clothing, and trade it in for wool, cashmere and knit materials.—R.D. 
Do: Get the Right Size 
White trousers are a breath of fresh air in the middle of winter—just make sure you have the right fit. Remember, white shows everything, so don't try going down in size.—C.G. 
Do: Avoid White Accessories 
I tend to think white accessories look cheap, so I would go for more whites and nude apparel and pair it with gold accessories. If you're not comfortable wearing white denim or dresses, I would start with wearing those shades in sweaters and tops.—A.P. 
Do: Keep Wearing Staples 
Continue to wear your favorite white jeans into winter. Pair them with a chunky sweater or be daring and wear them with a matching white top. I particularly like this with a cream- or nude-colored scarf and a nude trench coat to break up the solid white.—R.D. 
Don't: Follow the "No White After Labor Day" Rule 
 I am all about breaking that rule. I am even one to say that a winter white denim is acceptable after Labor Day. I think a pair of them paired with a nude or beige sweater makes for a super chic look. A winter white dress with boots and a cardigan is another great look. A winter white jumpsuit will forever be elegant and chic.—A.P.
Do: Use it to Keep Warm 
Fur, faux or real, is great for winter months. Wear winter white and nude fur gloves, jackets, hats and scarves for the perfect accessory to any outfit, and it also keeps you warm. You can also never go wrong with a white or cream scarf. It pairs great with numerous colors.—R.D.