Spaces
How to Craft the Perfect Winter Dinner Table
Take a break from over-the-top holiday decor and instead use natural elements from your backyard to create a winter dinner table that is sophisticated and chic. Simple tips and DIY touches transform your ordinary table into a feast for the eyes.
Written and photographed by Vivian Wheeler
Dec 2017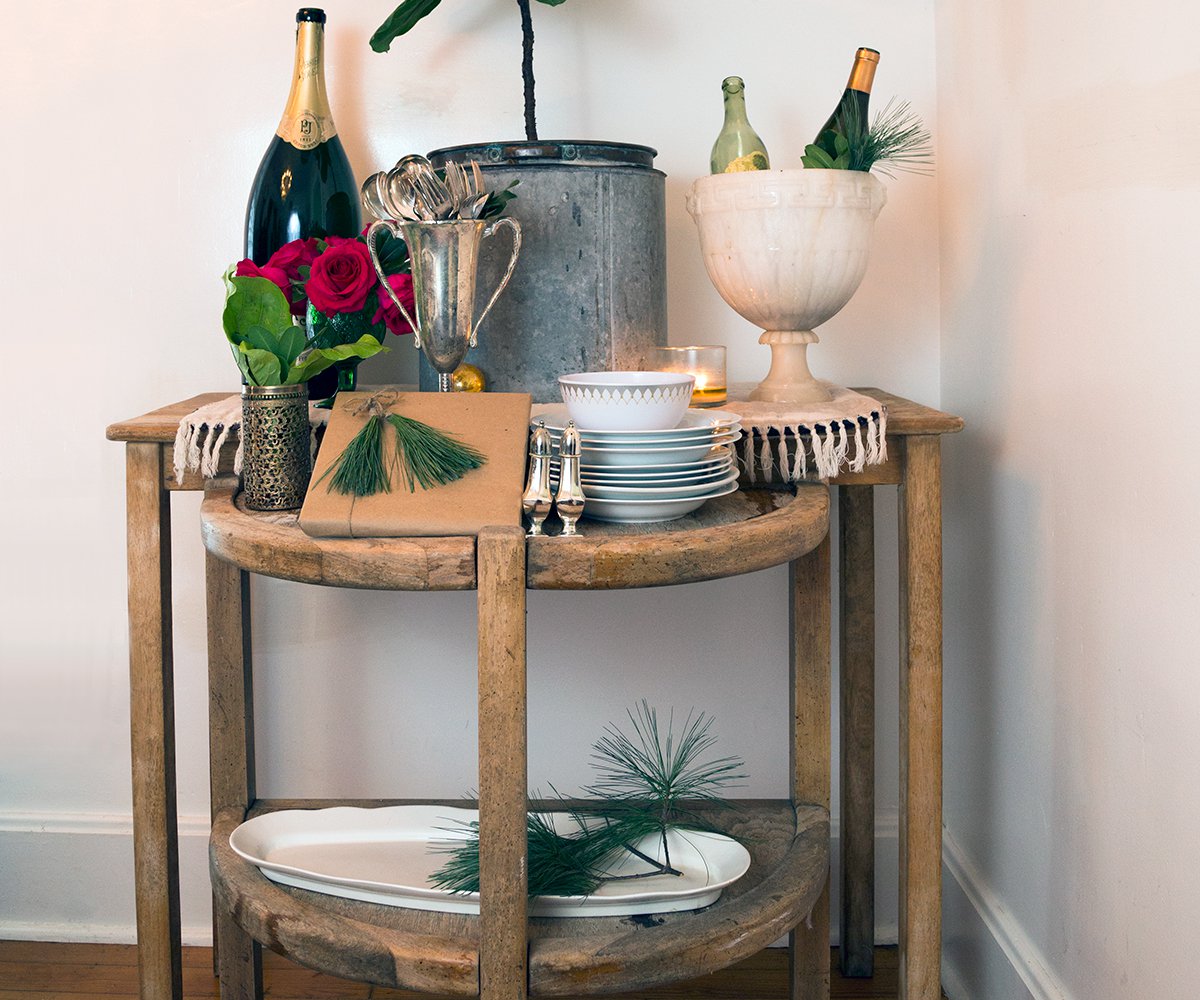 Nothing blows away the blues like a cozy dinner party with friends and family, and nothing sets the scene like a gorgeously styled table. If you're lacking inspiration for your next party, look no further than mother nature herself. Mixing natural elements with current design trends is an easy way to freshen up your next dinner party. To learn how to craft a perfectly styled winter table, we turned to three local pros, Sharon Taylor of Sharon Taylor Designs; Carley Joy of Carley Jeanne Events and Laura Conway of Provence Bridal. 
Southern Charm
The magnolia tree's waxy leaves are a lovely deep green and are beautiful on their own. Taylor likes to stack the leaves to create a simple garland or place the leaves in silver compotes for an old-school Southern touch. If you don't have access to a Magnolia tree, holly is another waxy-leafed plant that works well. 
Dish It Up
When it comes to dishes, simplicity is the name of the game. "The trend we've been seeing is just very simple, either cream or off-white dishes," Conway says. She's particularly fond of the Simon Pierce set currently at Provence. The set is stoneware and works well with neutrals and natural elements. Williams recommends keeping it simple with either gold-rimmed dishes or crystal plates. 
Color Me Impressed
According to Williams, creams, off-whites and beiges are big this season along with hunter green and shades of brown. Plaid is also huge this season in the design world, and Conway says it's a great way to hint at Christmas without going full-blown Mrs. Claus. For pops of color, go for metallic or red.  

Easy Breezy Cleanup
If you are hosting a casual affair or plan on having kiddos at the table, Williams suggests using butcher paper as a tablecloth. "It definitely goes with a rustic, natural theme," she says. Buy a roll of it at Walmart, and you're set for many future dinner parties to come. Add a personal touch by writing your guests' names in front of their seat with a white chalk pen. 
Rosemary and Spice and Everything Nice
"If you want to go really simple, take one sprig of rosemary or pine and lay it over your plate with a place setting card or menu," Conway says. "Or tie the rosemary to your napkin with some twine." Williams uses cinnamon sticks in similar ways. "They're so fun to garnish things with, and they smell amazing," she says. 
Linen Lessons
When working with natural elements, Conway likes to use a laundered linen tablecloth. "It's actual fabric, but it's laundered so it looks kind of lived in," she says. "It looks very welcoming and subtle, but you can dress it up." If you're not looking to invest in buying a tablecloth, Williams recommends renting one from Eventful Rentals, which she says can be done at a reasonable price. Bonus: You don't have to worry about washing it.  

Repurpose Your Plants
Use your existing plants to incorporate greenery into your table. Taylor suggests placing a few basic Christmas ornaments, like champagne-colored bulbs, on a potted plant. It's super simple, but the result is sophisticated. 
Material Girl
According to Taylor, bleached wood, dark walnut, fur, velvet, black-veined marble, brass, gold, tarnished silver and polished silver all work well with natural elements. 
Green Machine
Greenery is probably the simplest way to bring in a bit of the outdoors. Williams suggests laying down a bed of greens on a cake stand so that some is overflowing the edges. Then place candles varying in size and shape on top to create an elegant centerpiece.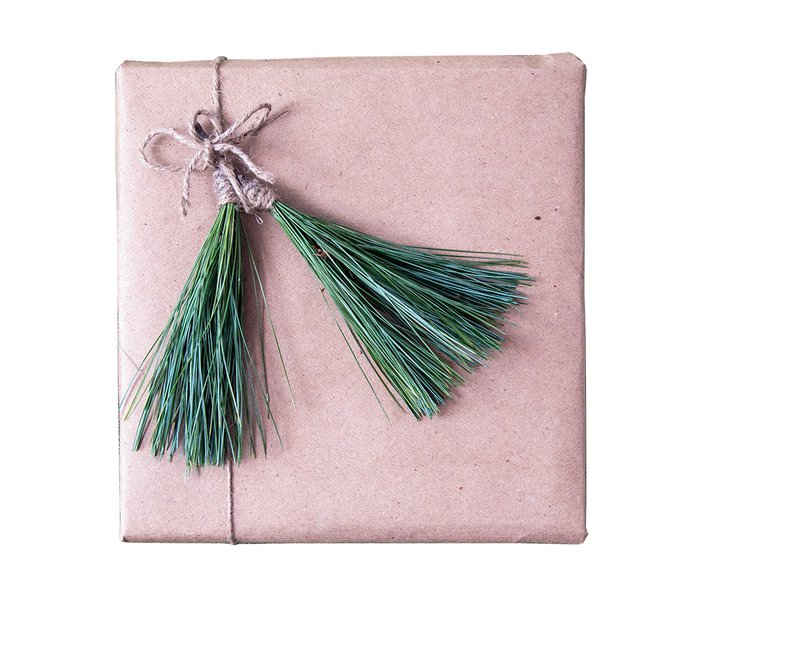 Pine Needle Tassel
Take a four or five inch long sprig of pine. Dab hot glue around the head of the stem and press the needles together. Wrap with twine and tie into a hook. Use them as gift toppers or goblet embellishments, or attach them to the back of chairs.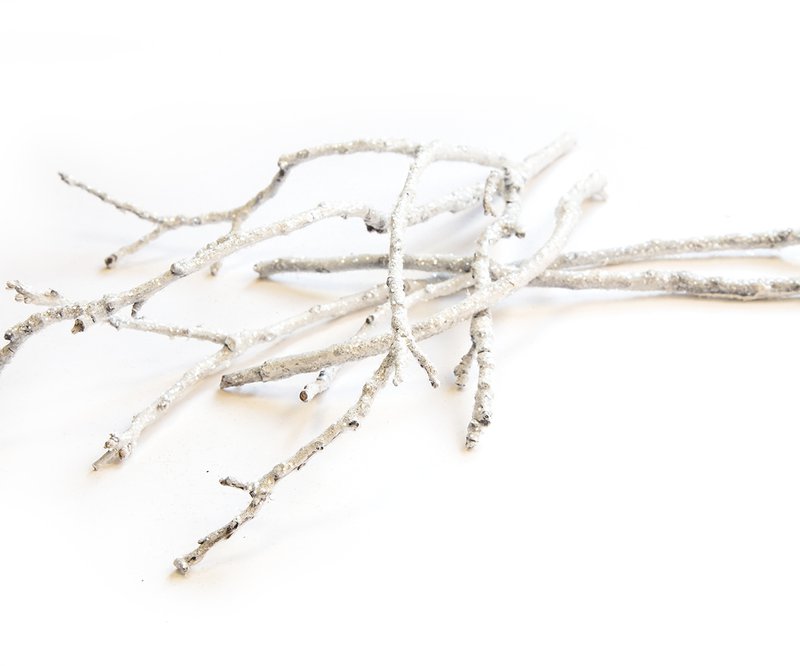 Glitter Branches
Take bare tree branches and spray paint them white. Once dry, coat with spray adhesive and white glitter. Place down the center of the table or stand upright in vases.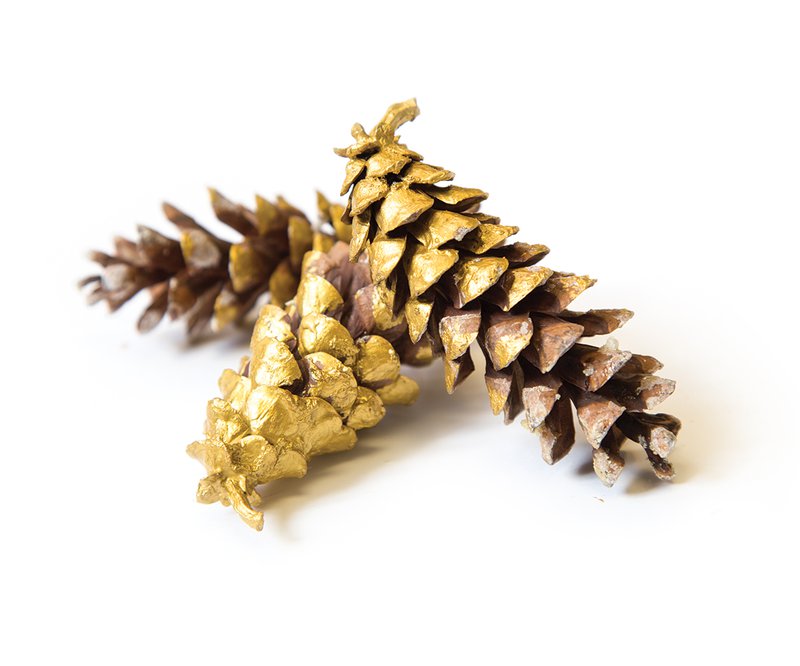 Metallic Pine Cones
Take a pine cone and lightly dip the bottom half of it into gold or silver acrylic paint, creating an ombre effect. Place in a garland or in a centerpiece of greenery.