Reviews
Healthful Eating Made Easy at The Press Coffee & Juice Bar
Healthful eats take on a flavorful and creative twist at The Press Coffee & Juice Bar.
By Ettie Berneking | Photos by Brandon Alms
Dec 2017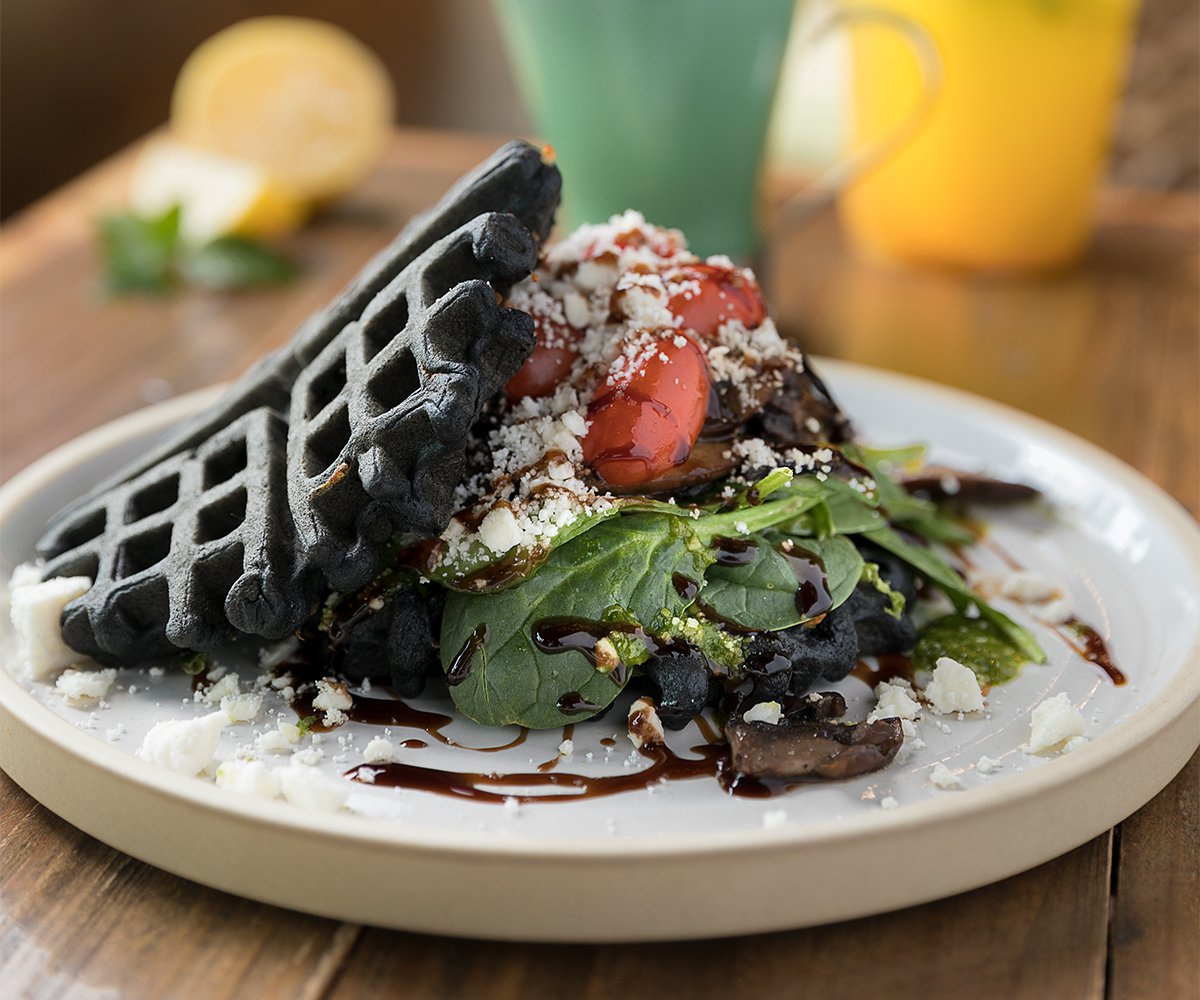 The next time someone asks you what you're in the mood for come lunchtime, suggest some activated charcoal and blue algae. Although it might sound crazy, it tastes delicious. No, I'm not one of those fanatics brushing her teeth with activated charcoal in hopes of brightening my pearly whites. I don't apply charcoal to mosquito bites or use it to filter my drinking water. I was actually an activated charcoal neophyte until this spring when I had lunch at The Press Coffee & Juice Bar (2144 E. Republic Road, Ste. A102, Springfield, 417-501-1014). 
The whole lunch was peppered with surprises. It wasn't just the blackened charcoal waffle sandwich placed in front of me. It was the cafe itself. For those who frequent Farmers Park, you've likely stopped in at The Press and not even known it. That's because before launching its natural, whole foods menu, The Press was known as Caffé Bene—a South Korean coffee franchise. When owner Alice Oh decided to take the menu in a different direction—one focused on more natural ingredients and homemade dishes—Oh parted ways with Bene and reopened as The Press in April.
Stuck in a hunger-induced stupor, it wasn't until I was face-to-face with the shop's new and improved menu that I realized the change. All plans of lunching on some salted almonds, a scone and a cup of coffee were happily tossed aside. Fresh cold-pressed lemonades and juices, homemade quiche, garden salads, raw apple pies and macchiato spiked with real maple syrup? I'll take one of everything!
If the cold case filled with freshly made juices, lemonades and immune boosters is any indication, dining at The Press is quite the holistic experience. Much of what Oh features on the menu is homemade, seasonally inspired, health-forward and even grown on-site—either in the indoor garden beds lining the cafe's windows or in the raised garden at Farmers Park by the Cloud House. For regulars who enjoy their daily routine, Oh has a core menu of sandwiches, salads, baked goods and coffees customers can count on each visit, but it's her regularly changing specials board that's most enticing. She's made sushi, spring rolls, turmeric tea eggs, vegetable-packed cabbage bowls, quiche laced with roasted cauliflower and kale and a whole assortment of gluten-free muffins and breads. She even makes her own nut milks ranging in flavor from vanilla-almond and matcha-cashew to Brazilian chai.
One visit had me guzzling a ginger-turmeric lemonade where the tart, fresh-pressed lemons were artfully balanced with fresh ginger and organic turmeric. The float of sparkling water and near handful of mint made for a refreshing treat during this summer's sweltering temperatures. Oh's blue algae lattes with their creamy almond milk, spirulina, honey, ginger and powdered cranberry garnish have become a favorite on those mornings when I need a jolt but can't handle much more caffeine. And then there are Oh's activated charcoal waffle sandwiches. The first time one of these blackened beauties arrived at my table, I wasn't sure what to think. Questions piled up in my mind as I prepared for the first bite. Was I about to suffer through a mouthful of ash? Would the waffle be gritty? Would it taste burned? Could I get a non-charcoal waffle if this went terribly wrong? Then I took the first bite, and all questions were drowned out by the explosion of fresh flavors taking form in my mouth. Waves of pesto swirled with acidic tomato and the rich, earthy flavor of sauteed portobello mushrooms. In terms of flavor, the blackened waffle bun offers little accompaniment to the crescendo of freshness hugged inside. But that might be a bonus in this instance. The chewy waffle runs no risk of drowning out the bright flavors layered between its black shell, which means it plays well with others and can be a versatile addition to Oh's menu.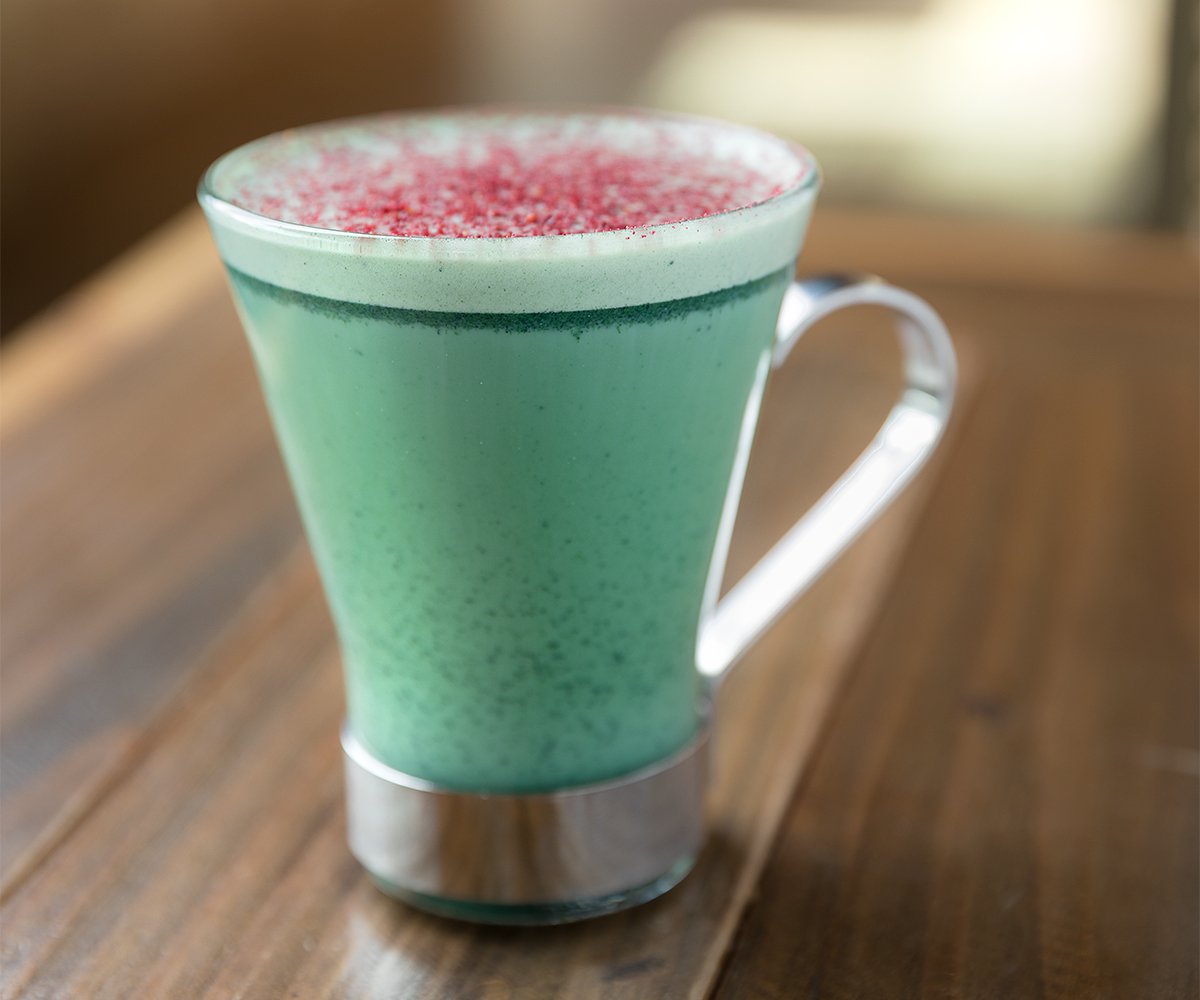 Although Oh's offerings for breakfast and lunch have changed drastically since her days of running Caffé Bene, the interior of The Press has largely remained the same. Expansive windows still let in plenty of natural light, which gives the cafe a calm, welcoming atmosphere that plays well off of Oh's more health-conscious menu. The two-top and four-top wooden tables used at Caffé Benne have stuck around, but they don't detract from the sense that dining at The Press is an inherently different experience. 
The menu is creative; the food is fresh and affordable ringing in below $12 across the board; and the focus on healthful fare makes it easy to treat yo' self guilt-free. And if activated charcoal becomes the next kale smoothie of the culinary world, I'll give some credit to Oh.