Reviews
The Backlot at Alamo Drafthouse Cinema
The Backlot at Alamo Drafthouse Cinema has tons of freshly made dishes and drinks on its menu. Sit back, relax and dig in.
By Adrienne Donica | Photos by Brandon Alms, courtesy John Martin
Dec 2017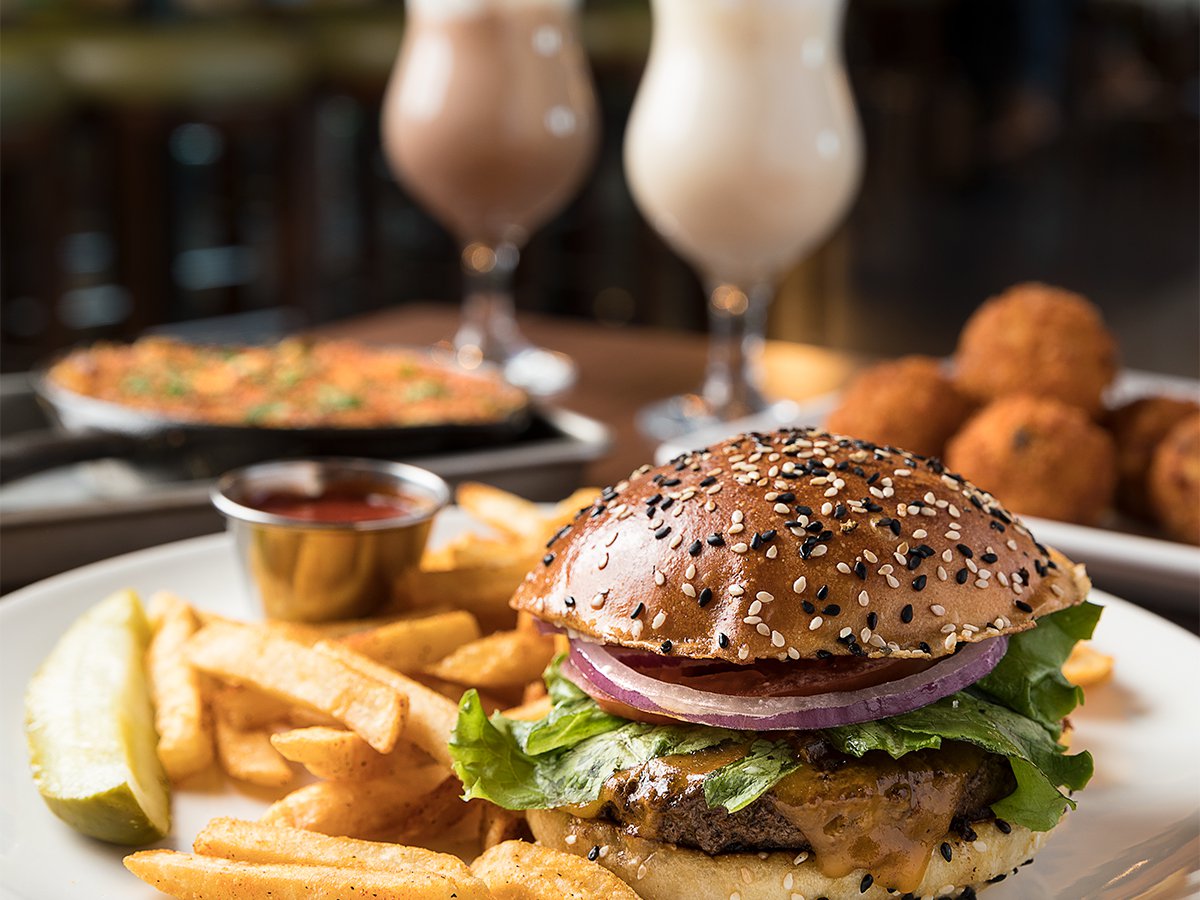 There are many iconic duos in the world, but dinner and a movie might just take the cake. That's why I was dying to hit up Alamo Drafthouse Cinema, where you can order food and drink from the comfort of your reclining chair while watching the flick of your choice. My first visit to the theater was strictly film-related, but after hearing a lot of buzz about the food, I knew I needed to make a return visit. 
The Backlot boasts an enormous selection of draft beer thanks to its 48 taps, and the rest of the drink menu is just as broad with dozens of wines, spirits and cocktails. If you plan to eat in front of a screen, I recommend stopping by The Backlot before or after your film because some cocktails, including seasonal potables, and all of the flights are only served there.
It took Claire and me a while to decide on drinks, so we ended up ordering after finding our seats in the theater. Claire tried the brown sugar lemonade, and I opted for the Rio Star, a delicious, tangy yet sweet mix of vodka, elderflower liqueur, grapefruit shrub, honey and Peychaud's Bitters. It reminded me of warm, summer nights at my favorite rooftop bar atop a cushy Cincinnati hotel, which is to say it was far fancier than what you'd expect to find at a movie theater. Then again, nothing about Alamo is run-of-the-mill.
From the locally sourced ingredients and popcorn served with real clarified butter to the black graphic wallpaper and leather seating, Alamo Drafthouse Springfield, MO is luxe. Frequents of the old Campbell 16 will recognize the chandeliers in The Backlot, but otherwise co-owner John Martin and his team have transformed the space into a place cinephiles and casual moviegoers can appreciate in all its 2001: A Space Odyssey–themed glory. Even the second time around, I couldn't help but think how cool Alamo is, which is probably not a word I've associated with movie theaters since I was 9.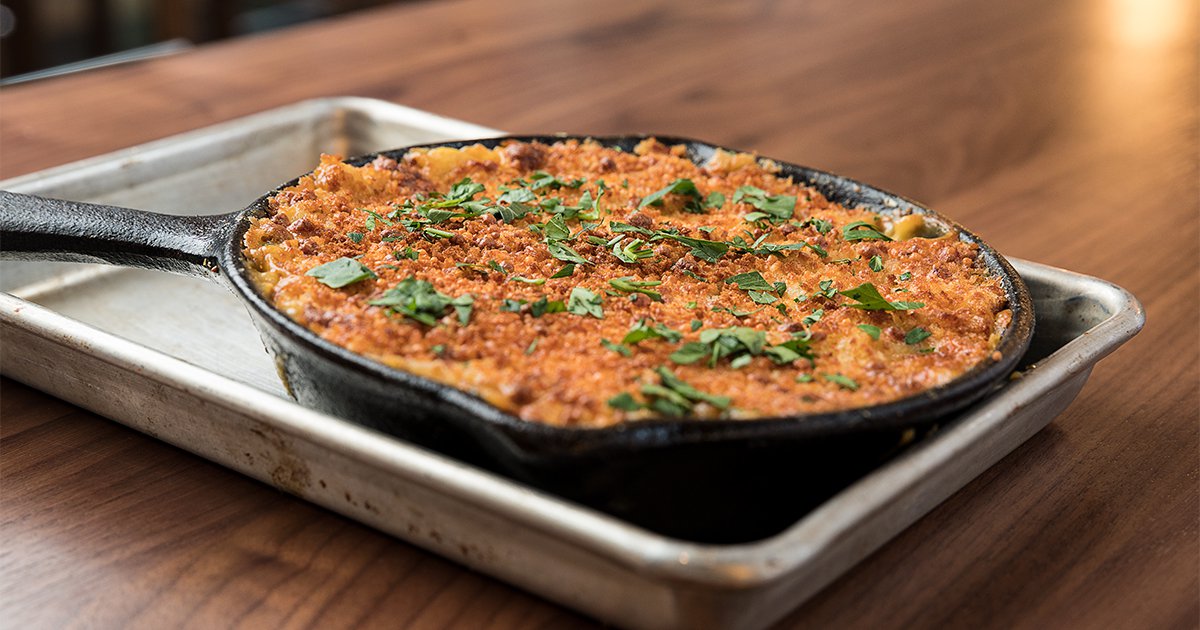 With our movie underway and our stomachs beginning to grumble, Claire and I scoured the menu. I saw some healthy options, but did I really want to forgo the green chile mac and cheese croquettes for the roasted garlic hummus dip? Considering that I'm a diehard mac and cheese fan, the answer was obvious. Luckily, I didn't have to do much arm-twisting to convince Claire that this was the appetizer we were born to try, and we weren't disappointed. The green chiles added a nice twist, and the crispy, fried breading was a perfect complement to the creamy noodles inside. 
Next came the main course. We both ordered a Royale with Cheese burger, which came with a side of seasoned fries, and paired the entrees with alcoholic milkshakes: Irish coffee for me and chocolate-covered cherry for Claire. The star of the burger was the smoked bacon. The thick-cut strips were chewy and full of flavor. Honorable mention goes to the burger bun, which held its own under the substantial patty, aforementioned bacon, cheddar cheese, red onion, lettuce, tomato and aioli. The fries were nothing to write home about, but both of the milkshakes were tasty. Claire's—with Cherry Heering and Ghirardelli Chocolate—was far richer and boozier than mine, but that was fine by me. After that meal, I realized I was kind of glad swimsuit season was quickly coming to an end.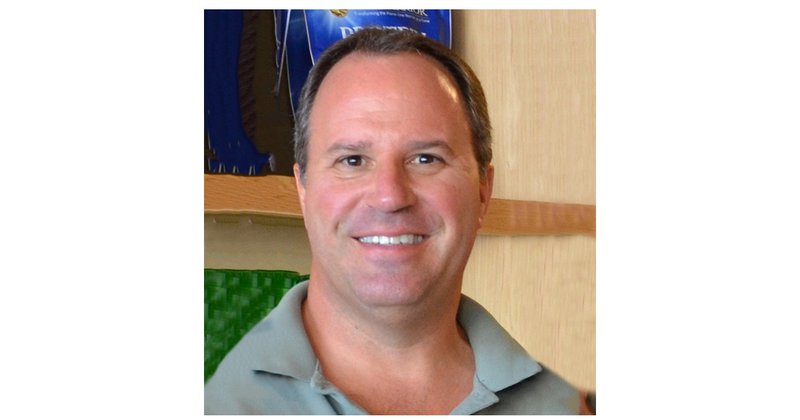 Q&A with co-owner and managing partner, John Martin

417 Magazine: Tim and Karrie League founded Alamo Drafthouse in 1997. Where did the idea come from?
John Martin: The concept began as a one-screen theater in downtown Austin, Texas. The founders had been on their honeymoon up in the Pacific Northwest. They were in a bed and breakfast that showed movies in the auditorium, but [it] also had pizzas and draft beer. And that was, I think, the seed, if you will.


417: Both the drink and dinner menus are full of local vendors, including White River Brewing Co., Horrmann Meats and Askinosie Chocolate. Why is this a priority?
J.M.: We do try to do that in all the locations. By wrapping our arms around the community and giving the love back to our guests, it just shows that we are part of the neighborhood. We try to carry as much as we can.


417: Tell us about the process of creating the menu.
J.M.: Well, there are some tried-and-true Alamo favorites, like the Royale with Cheese. However, about 20 percent, we wanted to hyper-focus on what we believe Springfield would want. And we know that it's the birthplace of cashew chicken, right? So let's try it. We went through I don't know how many iterations, perfecting the recipe for the cashew chicken, and we knew that we'd be under the microscope when we offered that. 
 
417: What's your favorite drink on the menu?
J.M.: The Colonel Rickey's. I'd say that's my favorite of the cocktails, and my favorite beer—well, I better stay away from that. But I will say as a group of beer, I love our IPA selection. 


417: And your favorite dish?
J.M.: I would say my favorite is the [Fried] Pork Loin Sandwich. It's big. It's on Texas toast. It's oversized. It's just a great taste, and the sauce that comes with it is, I think, awesome.