Dishes
Osso Bucco at Mikaylas Grill at Millwood Golf & Racquet Club
Plus six other things that passed the test of our taste buds.
By The Editors
Feb 2012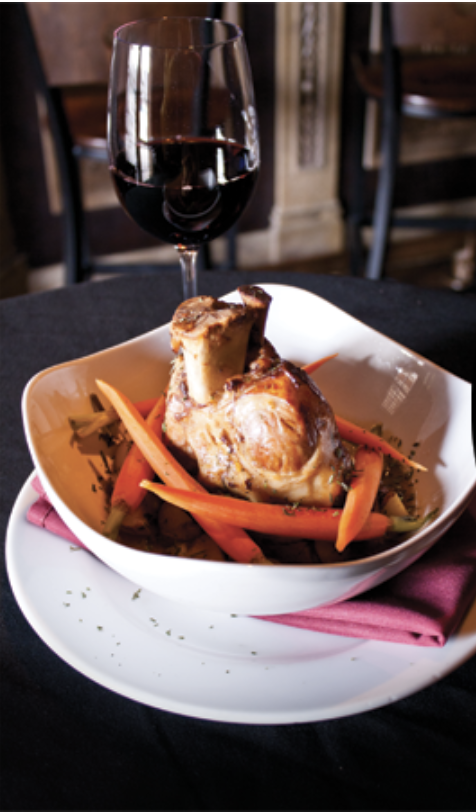 1. The osso bucco at Mikaylas Grill at Millwood Golf & Racquet Club (417-889-4200, millwoodgolf.com/dining) is a delicious braised veal shank that's served with baby carrots and roasted red potatoes with a veal demi-glace. Bonus: The portion is enormous!

2. For a change of pace in the world of fried calamari, we like the calamari appetizer at Ocean Zen (417-889-9596, eatoceanzen.com). Tender strips of breaded calamari are fried to perfection—not a bit chewy.
3. Bleu cheese fans on staff adore the stilton burger at Farmers Gastropub (417-864-6994, farmersgastropub.com). A patty of locally raised beef is topped with stilton cheese and—the yummiest part—a sweet onion marmalade. It's all on a dense brioche bun with fries on the side.
4. We can't get enough of the Aviary Signature Blintz at Aviary Café and Creperie (417-866-6378, aviarycafe.com). It's a crepe filled with mascarpone cheese, ricotta cheese and lemon with a choice of filling. We opted for raspberry. With the ricotta and raspberry inside, the flavor is a savory and sweet combo. Super delish.
5. Our newest addiction is the jajang myeon at Soo's Korean Restaurant (417-889-2220, sooskr.com). Fat, chewy noodles are topped with pork and stir-fried veggies that are mixed into a thick sauce made with black soybean paste. The flavor is mild: Not sweet. Not spicy. Just rich and satisfying. It's a great starter dish for Korean-food virgins, and it's a hearty meal for a cold winter.
6. We really like the chips and salsa at Big Whiskey's (multiple Springfield locations, bigwhiskeys.com). Sure, chips and salsa might just sound like basic bar food. But the salsa always tastes extra fresh here.
7. The honey ham and Fuji apple sandwich at Lola's Pastries & Eatery (417-725-9225, lolaspastriesandeatery.com) is a delicious combination of ham and bright, crunchy fruit on a soft pretzel bun. Salty? Sweet? Pretzel-y? It's a perfect combo.