Boozy Brownies
This month we chose a chocolate theme, and the winning reader recipe fits the bill with luscious brownies that are spiked with Irish cream.
By Savannah Waszczuk, Photo by Jessica Kennon
Feb 2013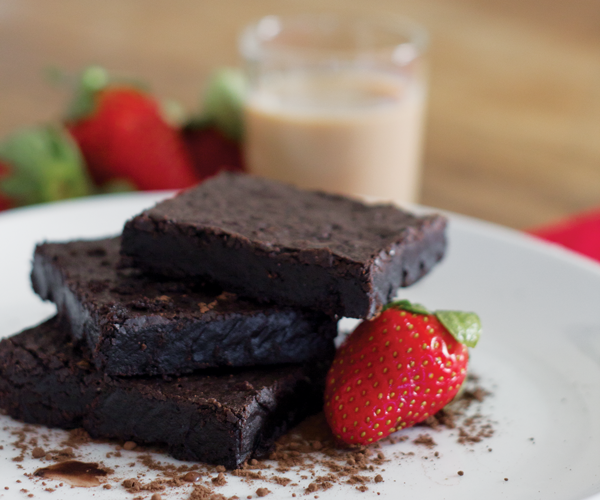 It's February, and you know what that means—it's time for Valentine's Day, and more importantly, chocolate. We asked readers to submit their favorite recipes made with this tasty sweet treat, and our favorite was Debbi Bryant's chocolaty brownies that are spiked with a bit of booze. Bryant says she's been making them for at least 10 years, and while there isn't enough booze in there to get you tipsy, there's plenty to add a tasty kick. Bryant writes: "I have made these countless times for my co-workers, and they always disappear by the end of the day."
Ingredients
1 stick unsalted butter
6 tablespoons unsweetened 
cocoa powder
1 cup granulated sugar
1 to 2 teaspoons Irish cream  liqueur (Add more if you  want brownies with anextra boozy flavor)
2 large eggs
3/4 cup all-purpose flour
1/4 teaspoon salt
Instructions
1. Preheat oven to 325°F degrees.
2. Line an 8-by-8 or 9-by-9 brownie pan with non-stick foil (or spray with non-stick spray).
3. Melt butter over medium-low heat in a saucepan. When butter is nearly melted, add cocoa powder. Mix together until butter is completely melted and mixture is smooth. Remove from heat, and allow to cool to lukewarm.
4. Add sugar, and mix well. Add Irish cream liqueur, and mix well. Add eggs, one at a time, mixing well after each. 
5. Mix flour and salt, and mix thoroughly. If mixture seems dry, add another splash of Irish cream liqueur.
6. Pour mixture into prepared pan, spreading evenly.
7. Bake for 20 to 25 minutes, or until a toothpick inserted in the center comes out clean. (Moist crumbs are good; you don't want to over-bake these.)
8. Let cool, and cut into squares. Then stand back, and watch them disappear. Yields approximately 20 brownies.
---
Web Exclusive Recipe
Springpatch Float by Kris Bullard
Ingredients:
Winter Grind Coffee Stout from Mother's Brewing Company
Vanilla Custard from Andy's Frozen Custard
Chocolate of your choice from Askinosie Chocolate, shaved
Directions:
1. Place desired amount of Andy's vanilla custard in a glass. 
2. Pour the Winter Grind Coffee Stout over the top until desired fill level.
3. Sprinkle with preferred chocolate.