Meet Tim O'Reilly
Meet Tim O'Reilly. He's a husband, a father of four, an attorney and the CEO of O'Reilly Hospitality Management, LLC, a growing hotel and restaurant management company that recently gained a few key members from the former John Q. Hammons team.
By Savannah Waszczuk | Photos by Amy Pennington
Feb 2013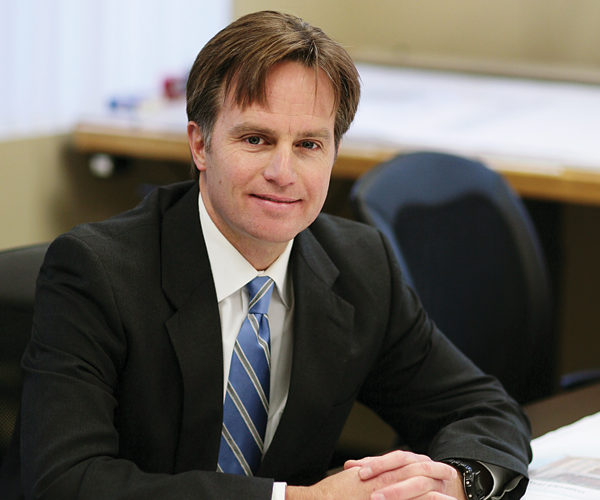 LEARNING THE ART OF JUGGLING: Tim O'Reilly's O'Reilly Hospitality Management, LLC office is conveniently located in the same office complex as his law firm, O'Reilly Jensen & Preston, Attorneys at Law, LLC, making his double-career lifestyle a bit easier to manage. 

Sitting in an extra meeting room in his law office, Tim O'Reilly casually leans back in his chair, deep in thought. His button-up oxford appears freshly ironed, and each and every hair on his head is in place. But just for a second, the well-polished lawyer and entrepreneur forgets his non-stop life of back-to-back meetings, jam-packed inboxes and never-ending phone calls, and he thinks back to his childhood. 

"I was about 6 years old, and my dad was president of the Rotary Club," O'Reilly says. "We went down to New Orleans for a yearly conference, and we stayed in several hotels. One was a Holidome."
Suddenly, O'Reilly gets a glimmer of excitement in his eyes. He takes a breath, then eagerly sits up in his chair. "The big thing I remember was the excitement, the ambiance and the opportunity to meet and talk with people from different places, along with swimming, video games, room service and movie channels," O'Reilly says. He says he remembers being amazed at how someone could create such wonderful away-from-home experiences for people to enjoy. 
Fast-forward almost 40 years, and now O'Reilly is the founder, managing member and chief executive officer of O'Reilly Hospitality Management, LLC (OHM), a growing, full-service hotel and restaurant management company that develops, designs, builds, operates and owns upscale hotels, resorts, conference centers and restaurants all over the country. He's also an attorney of 18 years, a husband and a father of four. Where does he get his drive? We sat down with him to find out.
Getting Started
When your last name is O'Reilly and you live in Springfield, people know who you are. O'Reilly Automotive, Inc. was started as a single auto parts store in Springfield by Tim O'Reilly's grandfather and great-grandfather. "I was born in Joplin when my dad was sent there to open the second O'Reilly Auto Parts store," O'Reilly says. "When my little brother, Ryan, was born in 1978, there were 10 stores." Over the next 35 years, that number grew to almost 4,000 stores. But even though his family name is the headliner of a company that was estimated to do $6.6 billion in sales volume last year, O'Reilly was never handed a free ride or a fancy title. "I worked there growing up, and throughout law school," O'Reilly says. "But all the way going through, my family had a philosophy that you would have to start where everybody else starts. You wouldn't get any preferential treatment. I think that was a wise decision on their part. I think that maybe it put up a mental obstacle, more than anything, that steered a lot of us in the direction of being entrepreneurs." For Tim, this led him to opening his own law firm and, later, a hotel and restaurant management company. 
O'Reilly's first taste of hard work started in grade school when his dad coached him in basketball. He continued playing through high school, acquiring skills that earned him a spot on the team at Westminster College, where he was captain his senior year. After graduating from Westminster and spending a year working odd jobs in the Virgin Islands and backpacking across Europe, O'Reilly returned to Missouri, where he spent three years in law school at the University of Missouri—Kansas City. "I come from a family of people that are pretty driven," O'Reilly says. "I just don't know that I had the capacity to stay down in the Virgin Islands. Although it was tempting." 
In 1995, O'Reilly returned to Springfield and started practicing law. After working at a couple of firms and gaining experience, he branched off and opened the Law Offices of Tim O'Reilly in late 1999. This was also the year that Tim married his wife, Brooke, who he first met through a teammate (Brooke's brother, John Bigler) during his time at Westminster. By late 2000, O'Reilly partnered with attorney Eric Jensen, and later the two joined forces with Craig Preston. Today, the three operate O'Reilly Jensen & Preston, Attorneys at Law, LLC.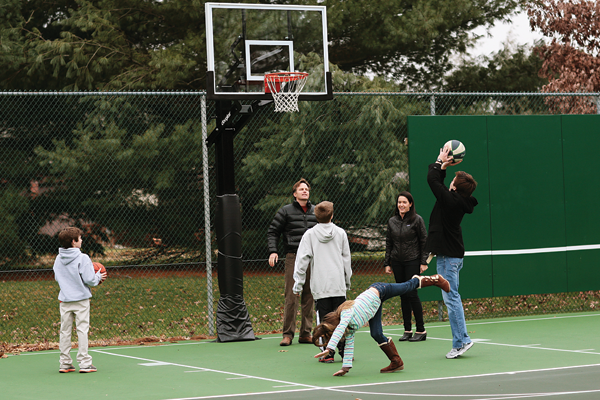 Building on Passion
In addition to his law practice, O'Reilly soon started looking for an investment in his other passion—the world of hotel and restaurant management. "I was looking, at that time, for more of a passive investment," O'Reilly says. In 2006, he purchased the Hawthorn Park Hotel. "It was a little bigger than what I had envisioned, but it was here in my backyard, and I thought that Springfield really needed a little bit of an upscale environment in the hotel industry," O'Reilly says. After an extensive remodel, the hotel reopened as the DoubleTree Hotel in March 2008. In August of that year, and after a bit of convincing with the parent company, O'Reilly was able to bring Houlihan's Restaurant to Springfield, connecting its first location to the DoubleTree Hotel.  
At first, O'Reilly had an outside company manage the DoubleTree and Houlihan's. "I learned very quickly that, in my opinion, you cannot expect someone else to manage your hospitality property like you would manage it if you're very particular and you want excellence," O'Reilly says. "I figured out, in this industry, you're either in 100 percent, or you're not in at all." O'Reilly chose to go all in, which led to the birth of OHM in 2007. The company slowly took on more projects, becoming owner and operator of eight restaurant and hotel properties in the next four years. 
In 2011, OHM gained a few key players. "About a year and a half ago, Scott Tarwater and I sat on a couple of boards together," O'Reilly says. Tarwater formerly served as the Executive Vice President of Development, Senior Vice President of Development and Senior Vice President of Sales and Marketing for John Q. Hammons Hotels and Resorts. "I got to know Scott, hear the Hammons' story and learn about a lot of the properties in their pipeline," O'Reilly says. "It made sense to us that we team up." OHM's Chief Operating Officer Brian Sims, Architect and Chief Project Director Steve Minton, Architect and Project Manager David Horst, Senior Architectural Designer Scott Schultz and Project Manager John Phinney also all formerly worked for John Q. Hammons Hotels and Resorts, and when the team joined OHM, they brought experience that helped OHM build quite an impressive resumé: the company now has a team that has experience constructing 80 hotels and convention centers across the country, a total of $2.6 billion in total project costs over 25 years and 17,337 hotel rooms in 24 states, with many more on the way. OHM currently has 550 employees, and it continues to grow. "In the next three to five years, with the deals that are 100 percent in my mind, we'll probably double or triple in size," O'Reilly says. 
Members of the OHM team who were formerly with JQH, particularly Scott Tarwater, say Tim's work ethic is comparable to Mr. Hammons.  "Tim's background, being raised in the environment of O'Reilly Auto Parts, gave him a great core value of how to build an award-winning business model," Tarwater says. And by having O'Reilly as the main man, Tarwater expects great things for OHM and expects the company will grow even quicker than O'Reilly predicts. "I could see us doubling in the next 24 months, and very possibly, doubling again after that," he says. "The opportunities are there right now."
But to O'Reilly, the lives of OHM's 550 employees, and the experiences it's creating for literally millions of people across the country, is much more important than the number of hotels they build. "My goal for the hospitality company isn't rapid, quick growth and building tons of nice, shiny new properties," O'Reilly says. "I want to grow in a conservative, competent manner. I don't want to over extend, and I don't want to make ourselves uncomfortable." To O'Reilly, it's more about creating a company modeled after O'Reilly Auto Parts. "O'Reilly Auto Parts has personality," O'Reilly says. "It's all about hard work, dedication and loyalty. These are great characteristics to try and emulate in a business model. That's what I try to make my company like. I try to make it similar to O'Reilly Auto Parts." So far, it seems as if OHM is on the right track. "It's been extremely rewarding and enjoyable to build a company that has a personality like ours does, that is philanthropic," O'Reilly says. "I think our people genuinely like where they work, and they're proud of where they work."   
Outside of the Office
Although O'Reilly's two careers keep him busy almost all of the time, he spends almost every free second he has with his family. "I have a wonderful family, and I'm very lucky," O'Reilly says. He and Brooke have four children: 16-year-old Alec, 12-year-old Charlie, 9-year-old Liam and 7-year-old Grace. "All of them are a joy to be around," he says. O'Reilly coaches his younger two sons in basketball. "I grew up with my dad coaching, and that's the same thing I do with my kids now," O'Reilly says. "Unfortunately my little girl doesn't want to be a basketball player, which is sad, because she's the tallest out of everybody." In addition to playing sports with the boys, the family enjoys cycling together and spending time on the family farm in Ozark.