Reviews
5 Best Spinach Dips
We searched local restaurants to find the creamiest, yummiest, most indulgent spinach dips, served with everything from warm and pillowy pita to garlic bread. There's no tastier way to start a meal.
By Savannah Waszczuk
Feb 2013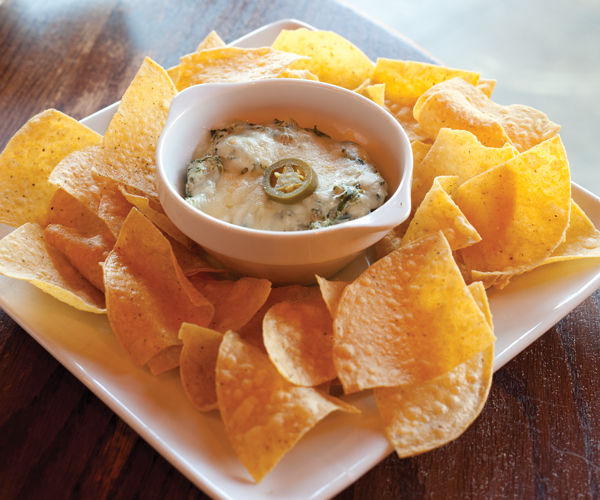 1.
Texas Land & Cattle
915 Branson Landing, Branson, 417-337-8200, texaslandandcattle.com
Cost: $7.99
Served with: Freshly made tortilla chips
Why We Love It: The one thing that makes this dip stand out is the bits of freshly chopped jalapeño, which add a little spicy kick every few bites. There's also chopped spinach, diced artichoke hearts and garlic, plus Monterey Jack, cream and Parmesan cheeses. The Parmesan adds a rich, nutty depth, and the Monterey Jack gives this starter that extra-cheesy goodness we all know and love. The dip is served with fresh tortilla chips sprinkled with the spot's fry seasoning, adding another level of flavor to the already delicious combo.


2. Bambinos Café 
1141 E. Delmar St., Springfield, 417-862-9999, bambinoscafe.com
Cost: $6.99
Served with: Warm garlic bread
Why We Love It: If traditional spinach dip and white queso had a baby, it would taste like the spinach and artichoke dip at Bambinos Café. The dip is the cheesiest on this list, looking like a creamy pool of indulgence. There is cream, diced onions, artichoke hearts and a few cheeses in here, including provel. And the fresh spinach leaves are tossed in whole, packing in nice punches of flavor. It's served with house-made garlic bread, which provides plenty of craters and crevices for absorbing the cheesy goodness.


3. Springfield Brewing Company
305 S. Market Ave., Springfield, 417-832-8277, springfieldbrewingco.com
Cost: $6.95
Served with: Warm pita bread
Why We Love It:  This cheesy, veggie-packed concoction is exactly what dip lovers dream of when they think of spinach and artichoke dip. It's creamy, cheesy and just plain delicious. It's made with fresh chopped spinach, which provides a robust spinach flavor, plus Parmesan and cream cheeses, artichoke hearts and some special seasonings. These magical ingredients are combined and baked to a slight crisp, sprinkled with more Parmesan and garnished with grape tomatoes.


4. Arris' Pizza
1332 E. Republic Rd., Springfield, 417-881-7260, arrispizzaonline.com
Cost: $7.50
Served with: French sourdough bread
Why We Love It: Unlike all the other dips on this list, this dip is served cold and doesn't include any cheese, but it's just as much a party for the taste buds. Spinach is the star in this freshly made veggie dip, and it's combined with green onions, seasonings, sour cream and water chestnuts that add a welcome crunch to every bite. It's served in a warm sourdough bread bowl.


5. Big Whiskey's
Multiple 417-land locations, bigwhiskeys.com
Cost: $7.69
Served with: Freshly made tortilla chips
Why We Love It:  Heavy cream is paired with jalapeño jack cheese to create Big Whiskey's White Queso Spin Dip, so it packs a teensy bit of heat. The heat is subdued with a whole lot of creamy-cheesiness, making it a tasty, magical way to start off a meal. Spinach and a little onion provide the veggie portion of this dip, and it's topped with freshly diced tomatoes.