Reviews
Review: Iguana Roja
Iguana Roja on the square in Ozark puts its own spin on everything from its tortilla chips to the sour mix in its tasty margaritas.
By Katie Pollock Estes
Feb 2014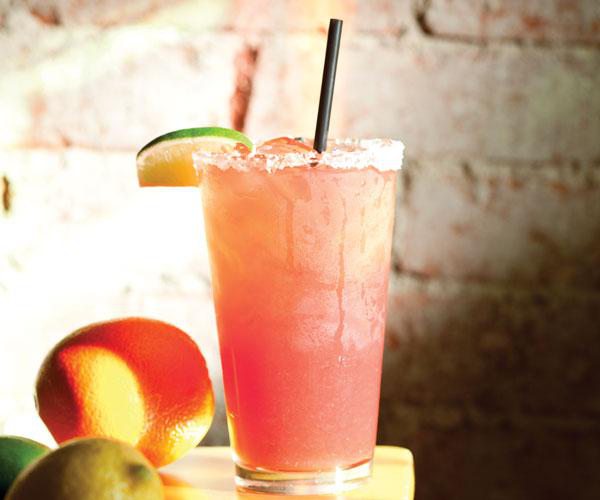 Iguana Roja
107 W. Church St., Ozark, 417-485-8585, iguanaroja.net
PRICE RANGE: $–$$
MUST TRY: Hand-crafted margaritas
On a recent Saturday night, my husband, Eli, our friend Aaron Lambert and I headed to Iguana Roja on the square in Ozark for our first taste of the restaurant's Mexican fare. We grabbed a cozy booth and dove into the menu. There was a little slip of paper on the table for creating a one-of-a-kind guacamole order, so we grabbed a pen to take advantage of the options. The list of potential ingredients wasn't huge, but it had some nice variety. We ordered our guac with jalapeño, roasted garlic, onions, roasted corn and salt and pepper. It was delicious when we scooped it up with some of the restaurant's house-seasoned chips that are topped with a mild spice mixture that adds a little zip to the crunch. 
Next we ordered margaritas—because the drinks menu sucked us in before we ever got a chance to peruse the food. The drinks all look amazing, so I had a little trouble choosing one. Ultimately, I ordered the Tijuana Panther made with prickly pear–infused tequila, Cointreau and house-made sour mix—on the rocks with salt, of course. The sour mix is made with fresh orange, lime and lemon juices, and the prickly pears are flown in for the infused tequila. I'm usually not a fan of fruity margaritas, but this one is so mildly sweet that I couldn't resist taking sip after sip from the salty rim. 
Eli and Aaron both ordered the Iguana Roja margarita made with pineapple-infused tequila, jalapeño slices, Gran Marnier and the house sour mix. All three of us agreed this was our favorite part of the meal. It's a drink with a hint of sweetness but an overall savory flavor with lots of real jalapeño taste without too much overpowering spicy heat. 

The blackened shrimp chimichanga


For dinner, I opted for the blackened shrimp chimichanga. I don't indulge in chimis very often, but I am a sucker for a fried tortilla. This one didn't disappoint. It was a huge burrito filled with fat shrimp, black beans, caramelized onions, roasted peppers, rice and a three-cheese blend, deep fried and then smothered in hot queso sauce. It was so huge I barely ate a quarter of it before having to throw in the towel.
Eli ordered the Iguana's Enchiladas. Two enchiladas that are filled with seasoned chicken, a three-cheese blend, roasted peppers and corn, then topped with fire-roasted tomato enchilada sauce and cotija cheese. On the side were black beans and white rice. At first we were surprised our dishes came with white rice instead of Mexican rice, but the rice was fluffy and not a bit dry, and we wound up enjoying the change of pace.

Located on the square in Ozark, the atmosphere at Iguana Roja is bright and welcoming with  exposed brick walls, wood floors and cozy booths. 
Aaron tried the tamales, which are filled with pork and topped with salsa verde and cilantro-lime cream. They were a little on the dry side and not our favorite part of the meal, but the guac and margaritas made up for it.
Seriously, people. Those margaritas. We couldn't get enough of them, especially the jalapeno one. In fact, I'm already thinking about how I can work in a happy hour in Ozark to get my hands on this drink again.