Reviews
Ophelia's
With plenty of tiny tapas and big cheese plates perfect for sharing with your dinner date, Ophelia's is the perfect spot for diners who like to try a little bit of everything.
By Katie Pollock Estes | Photo by Brandon Alms
Feb 2015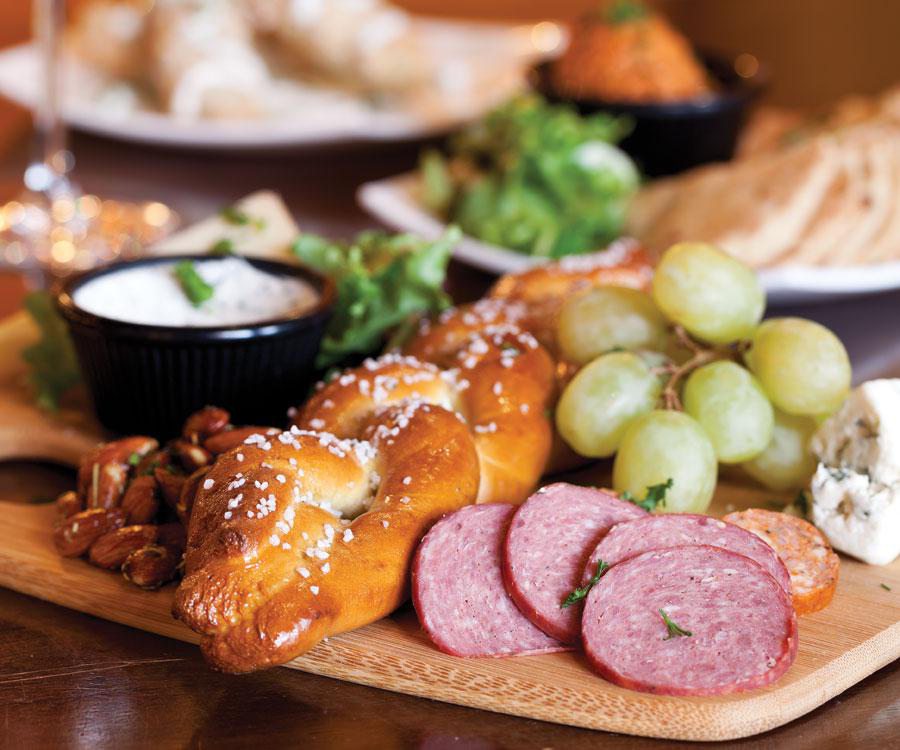 Ophelia's
216 E. Walnut St., Springfield, 417-368-9970
Open Tues.–Sat., 5 p.m.–bar close
My husband, Eli, and I don't get many grown-up dates these days. If my parents come to town, we tend to take advantage of the built-in grandparent time to run errands instead of go out. It's nice to take a leisurely stroll through Target without rushing to make sure we get to the check-out line before our toddler's mood shifts from "I'm so giddy about riding in a shopping cart!" to "Holy cow get me out of this cart right now or I'll thrash!"
So when we found out that our friend wanted to play with Oliver for a few hours on a Saturday afternoon, we jumped at the chance for a day date. Yep, a day date. That's where we drink wine in the afternoon and pretend we're out late like normal adults.
This day date took us to Ophelia's right when it opened, and it was perfect. The atmosphere was relaxed and romantic, and it felt like we were out for the night even though sunlight streamed in through the front windows. We grabbed a table near the bar and settled in to peruse the menu. It's packed with cheese plates and lots of lovely sounding appetizers and tapas, not to mention plenty of wine options. We each ordered a glass of something red and dry to sip while we decided on what food to order.
Unable to pick one or two cheeses to taste, we decided to go with a cheese platter, each of which comes in either a half or full size. Because we knew we'd also want to sample from the appetizer side of the menu, we went with a half-size portion of the Sancho Panza platter. It came with Parmesan cheese, Italian gorgonzola, Boursin custard, manchego, venison sausage, Andouille sausage, a giant braided garlic pretzel, roasted rosemary and sea salt almonds, grapes and crackers. Whew! That's a lot. We had so much fun trying different combinations of cheese and sausage, and we loved that this particular platter erred on the side of strong, bold cheeses full of serious flavor. In between bites of cheese, we nibbled on the grapes for a little fresh taste. The rosemary and sea salt almonds were a real treat, too. And the perfect crunch.
Because there's nothing better than ordering way too much food (Eli and I like to try everything), we also ordered the Syrian roasted red pepper and walnut spread and the roasted salmon skewers with mustard tarragon cream. The red pepper spread was bright and nutty with a spicy kick, and it was served with soft, warm pita for dipping. Every time I thought, "This is my last bite of the spread," I'd go right back for another taste. It was so delicious.
The salmon skewers were fantastic, too. I wasn't sure what to expect when we ordered them, but I was pleasantly surprised. Inside a light and crispy breading, the salmon was perfectly cooked to medium. The mustard-tarragon cream had a Dijon zip. If it had been socially acceptable, I would have licked it off the plate. It was that good.
Although we only tried two items from the appetizer and tapas menu, there were at least a dozen others that we wanted to taste. Brie and pear galette with balsamic drizzle… pan-seared garlic-sherry beef tenderloin… cherry tomatoes stuffed with goat cheese and basil… They all sounded dreamy. If you haven't given Ophelia's a try in the years it has been sitting pretty on South Walnut Street, then gather up your favorite friends—the ones who don't mind if you take a nibble from their plate—and work your way through the luscious menu. You won't be disappointed.