Drinks
Inside Chabom Teas + Spices on C-Street
Chabom Teas + Spices on Commercial Street brings 417-landers a wide variety of products from all over the world.
By Savannah Waszczuk | Photos by Kevin O'Riley
Feb 2016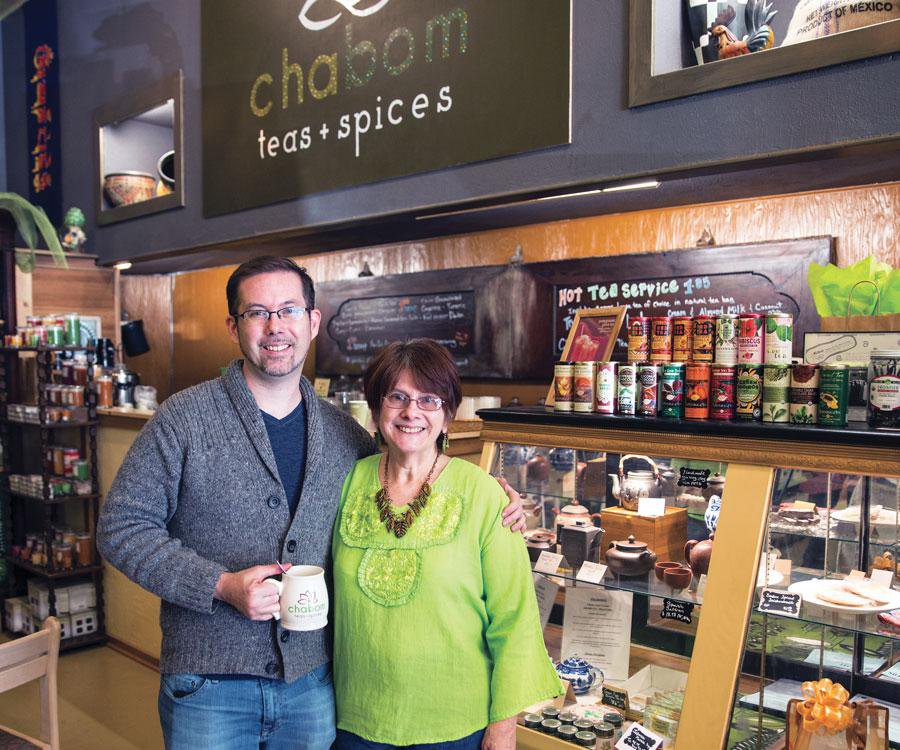 Head to Springfield's Commercial Street, and you'll likely find Joseph Gidman in one of two places: restaurant Cafe Cusco or store Chabom Teas + Spices. Gidman co-owns the two businesses with his mother, Claire. "The two spots are very yin-yangish," Gidman says. "When I'm not busy running around doing things at the restaurant, I come here to escape. This is my little piece of Zen." Gidman is referring to Chabom Teas + Spices, which is a tea, spice and specialty food store that he and his mother opened in June 2015. 
Thanks to his love of cooking, Gidman has always been interested in working with a variety of spices. He is also a lover of hot tea, which made him passionate about that as well. And he wanted to share his vast knowledge of the two with all of southwest Missouri. "I had a vision for the store long before we opened," he says. His goal is to bring a bit of culture and experience to 417-landers by selling spices and teas from all over the world. "You can pick the items up and smell all of them," Gidman says. "You can sample the teas in the store." If you want to sample a particular variety, you simply take it over to the bar area, where someone will prepare it for you, hot or iced. And you can even blend flavors together, if you wish. While you're there, you can munch on some locally made baked goods for sale.
All the teas and spices sold at Chabom are displayed individually in their own little picturesque jars and containers, and they go far beyond the norm. Of course you'll find every kind of green tea, black tea and lemon tea imaginable, but you'll also find items you have likely never even heard of. "We've had some customers tell us that the only other place they've been able to find some of our teas is in China," Gidman says. "We have more than 150 teas available." And the spice selection is even more expansive. "We have close to 400 herbs and spices," Gidman says. This includes fun things like gourmet sugars and finishing salts, as well as a variety of curries and unknown spices from around the globe. And the best part is, there is no minimum purchase. Since the items are displayed in bulk, you purchase it by weight, and you can buy as little as half an ounce of something if you want to try it out. Teas average around $2 an ounce (an ounce makes anywhere from 8 to 10 cups).
You'll also find a variety of other specialty food items for sale, many that are sourced locally. There are also teapots and candles and body products for sale, as well as some hand-made clothing up for grabs. And the best part is, all items were chosen with a purpose, and they all have a bit of a story that comes with them. Just ask the person behind the counter. Head in to Chabom for your daily dose of culture, perfectly packaged up in this cute little storefront on Commercial Street.


Q&A
with Chabom Teas + Spices co-owner Joseph Gidman
417 Magazine: What's your favorite tea in the store, and why?
Joseph Gidman: That changes like the weather for me. It depends on my mood. Currently I like the lemon souffle rooibos tea. It almost tastes like creme brulee. 


417: What's the most important thing that your shoppers feel? 
J.G.: Peaceful. I want them to come in and feel relaxed. I think we have a lot of customers that, this is their break. We never rush them through their shopping experience.  


417: What are a few key words that describe your merchandise?
J.G.: It's very wholesome. I would say wholesome, simple, nurturing and inspiring.