Reviews
Harvest Restaurant in Rogersville
After years of working as an executive chef and hosting gourmet farm-to-table dinners, Craig von Foerster, along with his wife Tamara, has finally opened a restaurant of his own, and it's like nothing 417-land has seen.
By Vivian Wheeler | Photos by Kyle Davis
Feb 2016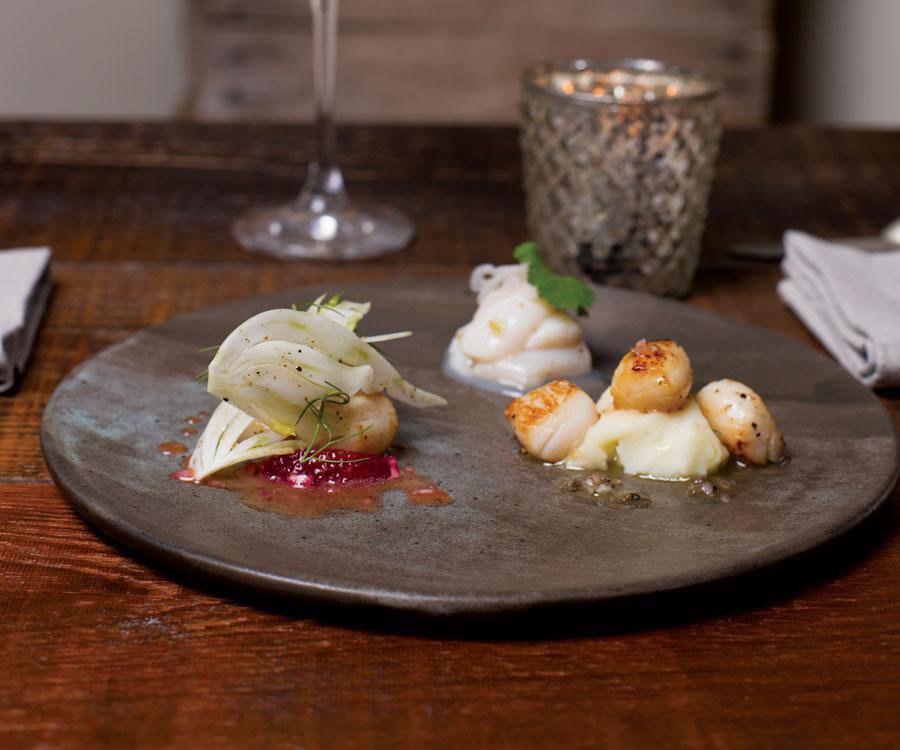 Craig von Foerster began his cooking career at the Burger King in the Glendale Mall in Indianapolis, Indiana when he was 14. After his freshman year of college he took a road trip with a buddy that would alter the course of his life. "I completely ran out of money in some town called Monterey in California and had too much pride to call home and ask for money to get back," von Foerster says. "So I found a job in a Greek restaurant and never found bus money home." He eventually worked his way up to be named executive chef at the esteemed Sierra Mar of Post Ranch Inn. While there he racked up a slew of impressive awards for the restaurant. Three years ago, he and his wife Tamara moved to Rogersville and began hosting farm-to-table dinners at a variety of local venues. Now they have opened their own place, Harvest Restaurant (8011 E. Missouri AD, Rogersville, 417-830-3656.) How lucky for us.
Harvest is located on Sunshine Valley Farms, nine minutes from Highway 65 and Sunshine Street. The building is simple. The servers wear plain black clothing. There is nothing that would make you think this was fine dining, until you look at the faces of the guests. This is a restaurant filled with people who are falling in love with their food. The gentle sound of a well-timed dinner service hums in the background, and everyone is happy.  
The menu is a la carte and organized by courses. The idea is to order one item from each of the four courses to make a full meal. Each week the menu changes according to what products are perfectly ripe. Von Foerster is adamant about sourcing seasonal produce, and every one of his dishes is better for it. "You will never see me put asparagus on a menu in December or January—never, ever in a million years," von Foerster says. "Just won't do it." Everything has its season, and that is law around Harvest.

The Swiss chard ravioli strikes a delicate balance between earthy and sweet.


 Everything I ate at Harvest was delicious, but the biggest surprise of the night was that, of the seven dishes I tried, my two favorites were vegetarian. They also both featured mushrooms. Mushroom risotto is one of von Foerster's signature dishes. Years of fine tuning have culminated in a plate that sings with a rich and meaty flavor. The ravioli was also excellent. Stuffed with Swiss chard, Green Dirt Farm nettle cheese, yellow raisins, and pine nuts. The ravioli were served in a light, clear mushroom broth. Sautéed chanterelles and braised Swiss chard stems topped the dish. Each bite was filled with earthy, cheesy goodness, and the raisins provided a subtle and sporadic balance of sweetness.  
At Sierra Mar, von Foerster was required to make 20 percent of the menu vegetarian. He compensated for the absence of meat by cooking with a lot of mushrooms, a habit that followed him to Missouri, so he was ecstatic to find a local source for quality mushrooms in Willow Mountain Mushrooms.   
Other highlights of the evening included the lamb dish and the scallop trio. The lamb was perfectly cooked, and it was seasoned with subtle hints of North Africa. Garbanzo beans provided a smart textural contrast to the almost butter-like consistency of the lamb. The scallop trio is another von Foerster dish that migrated with him from California. Every time he creates the dish he uses three different preparations. My favorite was the salsa verde.
While von Foerster is in the kitchen making sure each plate is perfect, Tamara is out front running the show. It is clear that the secret to Harvest lies in how well they work as a team, something not every couple can do. Together they've added something special to 417-land. 

Everything at Harvest Restaurant is made from scratch including the Swiss chard ravioli.  


Four Questions with Craig von Foerster
417 Magazine: What's one ingredient you've found locally that has been inspiring? 
Craig von Foerster: There is a place that produces very good caviar in Missouri. It's paddlefish caviar. They sell 98 percent of what they raise to Russia and China. It's hard to get from them; you have to time it right because he sells so much of it. 
417: What is one ingredient you miss?
C.V.: Live dungeness crab. They don't even have that in California because the entire season got shut down due to some contaminate.  Nobody gets them, so I don't feel as bad.
417: What's your favorite meal you've ever eaten?
C.V.: We ate at Le Bernadin in New York.  We had the chef's tasting menu with wine pairings. It was amazing. That, and way back when the French Laundry first opened I ate there with a group. I would say they were great meals, but they were meals where I walked away going "I need to work harder. I need to be better." This set a new standard that I want to meet.
417: Who have you cooked for that made you the most nervous?
C.V.: Charlie Trotter scared the heck out of me. He was there for five nights, and I cooked for him for five nights.