Reviews
A Visit to Lindberg's, Springfield's Oldest Tavern
We head to Commercial Street for dinner at Lindberg's, Springfield's oldest tavern, and indulge in the newest food menu.
By Savannah Waszczuk | Photos by Vivian Wheeler
Feb 2016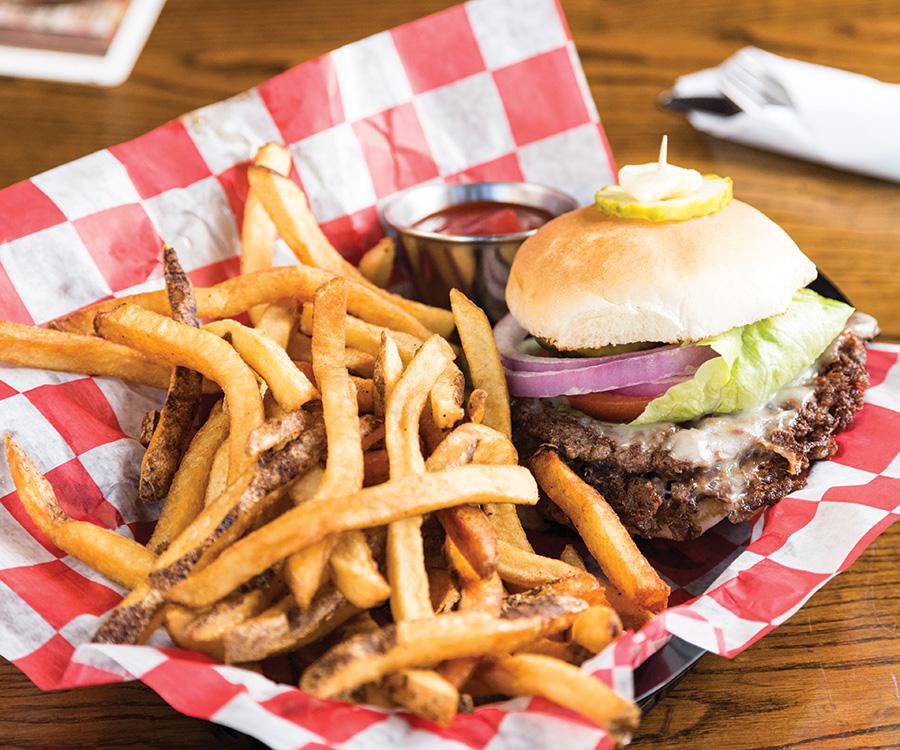 I like to describe myself as a cool chick. To me, that means I can talk to guys about sports, I'm okay with occasionally leaving the house without makeup and I'm fine with eating dinner at a bar, so long as that bar serves up some good quality eats that can keep up with the number of old fashioneds I order. Despite the amount of whiskey I sip, I can spot a soggy pre-frozen fry or a flexible chicken strip from a mile away, and I want nothing to do with it.

Lindberg's makes seasonal cocktails like the apple cider mimosa (left) and the Harvest mojito.
That's why when I got assigned this food review, I was a tad skeptical. Lindberg's? On Commercial Street? I knew it was a great spot for live music and has been around Springfield since forever, but I couldn't imagine the dimly lit tavern as a place for a quality meal. But it started serving food so, of course, we had to give it a shot.
I visited Lindberg's with a few coworkers on a recent Friday when Wild Bob's Musical Bookclub was playing. Despite the crazy amount of people there—I'm talking standing room only about 30 minutes after we were seated—our server was top-notch. Just as I prefer, she made sure I had a hand-crafted old fashioned in hand before I even knew what to order. Quality drinks that come out quickly are always a win in my book, and she served them up fast. In fact, she stayed up with our drink orders throughout the entire evening. 

Tart and tangy green tomatoes are breaded and fried alongside onion straws to create this indulgent starter dish. It's great for sharing!
A friend joined us and ordered the fried green tomatoes and onion straws appetizer, and I snuck a hefty tomato slice a while after they were delivered. The breading was a bit heavy and just a touch greasy, which I think was extra obvious since they'd been sitting a while, but the app was still delicious. The tart, tangy tomato tasted great dipped in Lindberg's cool and creamy ranch dressing. What person indulging in bar food doesn't want to further indulge in a side of homemade ranch? 
Burgers make up a large section of the bar's rather-small menu, and after I sunk my teeth into one of the well-crafted wonders, I realized why. These things are so good that they don't really need to do anything else here. The burgers are all seared in duck fat and smothered with provel, and they're topped off with homemade mayonnaise. Yes, I just said duck fat, provel and homemade mayonnaise in the same sentence. Divine! 
I tried the Lindburger, which is a double-patty burger. I would recommend this if you're hungry, because each patty is on the thin side. Two provided just enough meat to make sure the true burger flavor shined through with each bite. The duck fat helped get the edges of the patties nice and crispy, and the provel oozed and melted all around the meat and sealed in all the flavorful juices—I got a bit of oozy goodness with each mouthful. I added onion jam to the creation, and I highly recommend this extra if you are okay with the combo of sweet and meat. The jam added a sweet little finish to the masterpiece, comparable to the cherry on top of an already-perfect cupcake. And the goodies were all loaded on a soft, pillowy bun that provided a satisfactory smush every time I picked it up. Along with a side of hot and crispy fresh-cut fries, this burger made a meal that I never wanted to end.
After enjoying food and a couple hours of live entertainment, I was shocked to see my tab for an appetizer and entree wasn't even $15. Now that's a date night I wouldn't mind covering. Just imagine what a cool chick I would be then.