Dishes
Making Candy at Bon Bon's Candy House
We join Bonnie Nolen of Bon Bon's Candy House in the kitchen for tips, tricks and a couple of hours of candy-making fun.
By Savannah Waszczuk | Photo by Vivian Wheeler
Feb 2017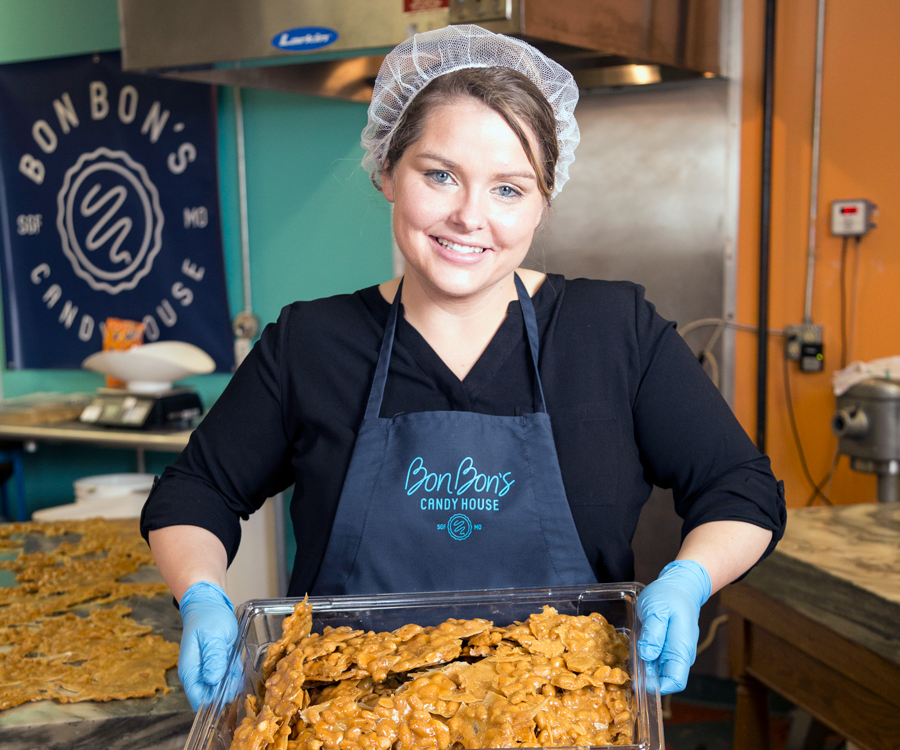 I may live and work in 417-land, but most of my dreaming is in another world—a magical place where sugary treats abound. Everyone lives in gingerbread houses with gumdrop doorknobs and shingles of freshly piped buttercream. And this magical spot looks just like the inside of Bon Bon's Candy House (located in the Parkcrest Center, 3857 S. Campbell Ave., Springfield; 417-883-3900). 
Stepping inside of this south Springfield staple is something extraordinary for a candy-obsessive like me. A rainbow of jelly beans lines the wall. Everywhere you turn there are glass cases of perfectly rolled truffles, cubes of homemade fudge and row after row of all things dipped, dunked and drizzled in chocolate. It's like Willy Wonka in real life.
Bon Bon's Candy House, formerly known as Candy House Gourmet Chocolates, has been one of Springfield's most-treasured sweet spots since 2002. It was opened by Pat and Terry Hicklin, but their daughter, Bonnie, ran the candy shop. This was perfect prep for 2015 when Bonnie and her husband, Adam Nolen, purchased the business from the Hicklins. Today Bonnie still makes the magic happen behind the scenes using her own two hands.
I joined Bonnie in the kitchen to learn about professional candy making. On my visit we made a batch of peanut brittle—in fact, we made more than 20 pounds of it. And Bonnie and her assistant, Rose Dye, offered a very important tip: When making brittle, weigh or measure out all of your ingredients before you start. This candy in particular cooks super quickly, so there's no time to mess around. 
After tying on my apron, slipping on some gloves and putting on an oh-so-attractive hair net, I got to work. Bon Bon's uses a large copper kettle for a lot of its candy making, and we spent the majority of our time around it, constantly monitoring the temperature. We didn't have to stir it ourselves because this large kettle had an electric paddle built in, but Bonnie warns that at-home cooks need to constantly stir the cooking candy to prevent burning.
Things got more intense once everything was blended. Bonnie and Rose used a rolling cart to move the large, extremely hot kettle from the cooker to a massive marble table, then they quickly poured the mixture onto the table and spread it into a thin, flat blanket using large metal spatulas. They ran the spatulas under the mixture around the perimeter to keep it from sticking, then they cut the brittle blanket in half and flipped it before pulling it with curry combs. Many at-home recipes don't call for pulling brittle, but traditional recipes used at candy shops like Bon Bon's include this step for stretching the treat. We let the brittle cool, and I sucked up my drool as I waited to crack off a piece to try.
As we took a few minutes to nibble on our creation, I found myself admiring the rich, buttery flavor packed into each bite. I may not live in that magical little dream world, but that's okay—Bon Bon's makes life in 417-land pretty darn sweet.