Profiles
9 Q's with the MSU Ice Bears Head Coach
This year, Missouri State Ice Bears have been heating up the ice with a season for the books. We sat down with Head Coach Jeremy Law to talk hockey fights and brotherhood on and off the rink.
By Lillian Stone
Jan 2018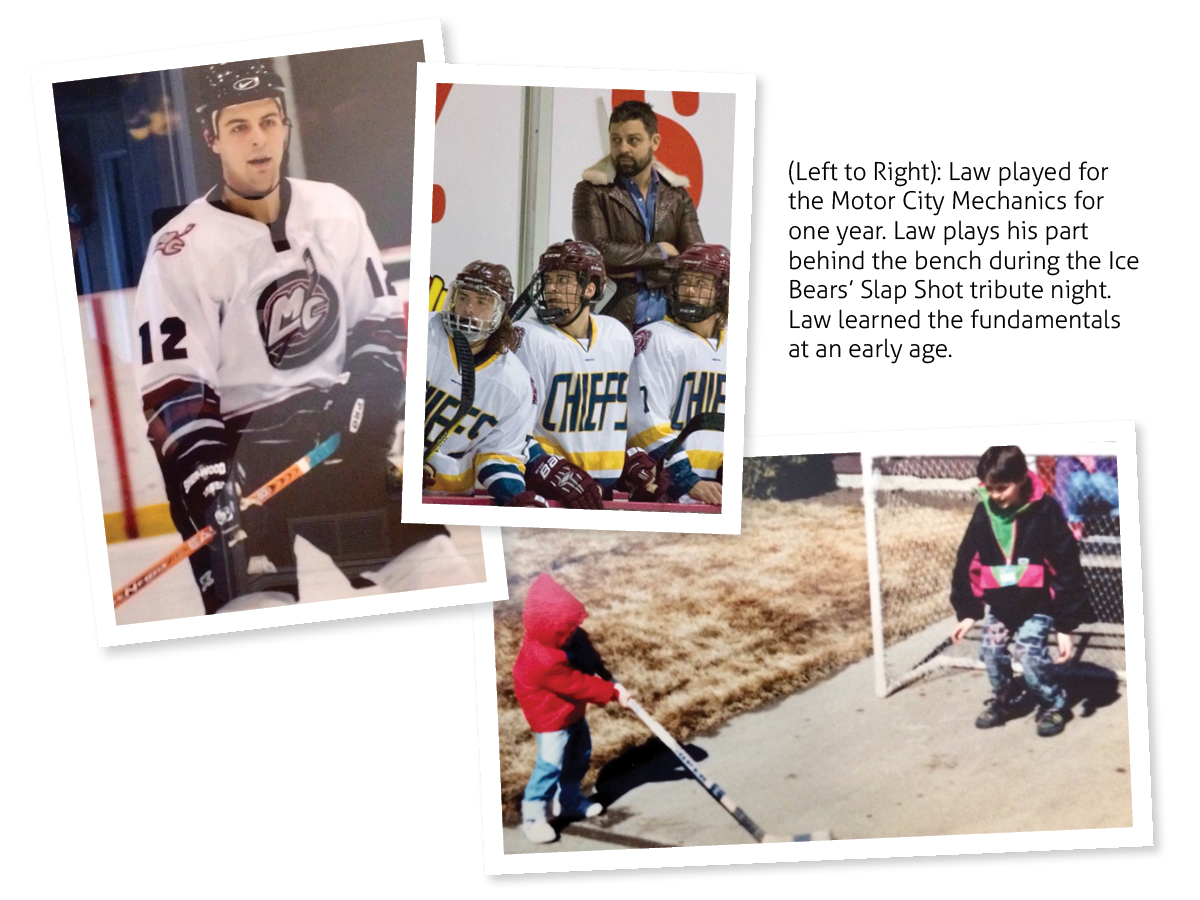 For Jeremy Law, hockey is more than a sport: It's a lifestyle. Law, the head coach for the Missouri State Ice Bears Division 1 team, was "born with skates on" in Saskatchewan, Canada. He learned to play hockey shortly after learning to walk, and he's been on the ice ever since. Law joined the Ice Bears as head coach last spring after 13 years of coaching junior hockey, including three years with Springfield's junior team, the Springfield Express. Since Law came onboard, the Ice Bears have enjoyed a stellar season—so stellar, in fact, that they have a good chance of skating into the ACHA Division 1 National Tournament in March. 


417 Magazine: What is your hockey background?
Jeremy Law: When I was 15, I left Canada and came to the United States to play hockey. I played in Alaska one year, in Florida one year; I've also played in New Mexico and Michigan. I played four years of junior hockey and then four years of college hockey at Concordia College in Minnesota. Then, I played two years in the minors: one year in Detroit for the Motor City Mechanics, and one year in Huntsville, Alabama, for the Huntsville Havoc. After that, I wasn't getting much better—I was reaching my peak. I knew I always wanted to coach, and I wanted to start my coaching career as early as I could.


417: The Ice Bears are a club team. What makes the team different from other collegiate teams?
J.L.: We're not sanctioned by the NCAA [National Collegiate Athletic Association]. Instead, we're part of the American College Hockey Association, or ACHA. We're in the Western Collegiate Hockey League. In that league, it's based on travel partners. We travel with the team out of Arkansas, and that's how we make it feasible financially—so we don't have to travel twice to play both teams in, say, Arizona.


417: So, how do standings work?
J.L.: We play our Western Collegiate Hockey League teams, and we have standings for that. The whole goal at the end of the year is to be ranked in the top 20, so the team can go to Nationals. We finished last season 30th; we've climbed up to 19, so we're having a good year. (Editor's note: At press time, the Ice Bears were ranked No. 4.)


417: Where does your funding come from?
J.L.: Being a club team means we're not funded by the school, so our players pay their tuition for school—we're not allowed to give out scholarships—and the players also pay tuition to play on the team. We also get a lot of our funding from sponsorships and ticket sales. 


417: What's the difference between the junior league and the collegiate league?
J.L.: The juniors are younger kids—usually 16 to 20 year olds—who leave home to prepare for collegiate hockey. They stay with host families, which we call billet families, and play with the juniors until they're around 20. For that reason, most of our college players are a little older— typically 20 to 25. Kids can skip playing juniors and come straight to college, but it's not the norm. 


417: What makes ice hockey fun to watch? 
J.L.: It's the hardest-hitting game around. You have guys skating 30 miles an hour and running full speed into players. It's much faster-paced than basketball or baseball. The goals are exciting, and there's back-and-forth action the entire time. It's almost artistic when you're watching it.


417: Do you have to break up a lot of those infamous hockey fights?
J.L.: Hockey fights are a thing, but not in college. We wear full cages to protect from concussions. If you do fight, it's a three-game suspension. You'll see lots of hitting and maybe some cage punching, but fights aren't the norm in college.


417: What makes a great team?
J.L.: I look for hard-working players that are coachable. Team chemistry is also so important. We have a very tight-knit group; everyone acts like brothers and best friends. We're not looking for individual success; we're looking for doing the best you can for the guy sitting next to you in the locker room. For hockey, you need 20 guys on the ice that are playing as a team. One guy's not going to win you a game.  


417: What are some lessons hockey has taught you about life outside of the rink?
J.L.: Hockey teaches you to be accountable on and off the ice. You show up on time and you practice hard. It teaches hard work, determination, dedication… It also teaches you structure. We show up for practices an hour before. For games, two hours before. It's full of life lessons that prepare you for, say, a job.