Life
The 5 Best Local Book-Worm Nooks
We found the five best comfy, cozy spots that are book-worm friendly and offer a little something extra for your reading pleasure.
By Ettie Berneking
Jan 2013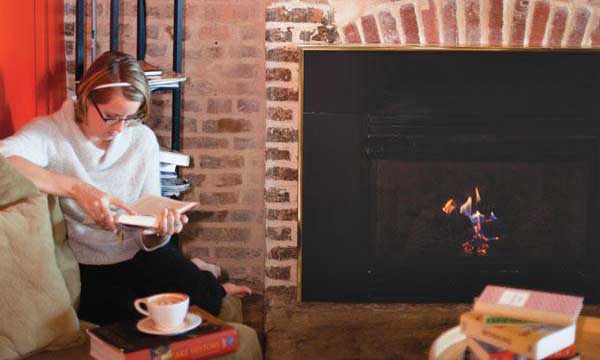 Editors Note: Since the publication of this article, The Hub has closed.
1. The Fireplace at The Hub
811 N. Boonville Ave., Springfield, 417-862-0670, insidethehub.com.
Why We Love It: Far enough from the excitement of downtown to be quiet but close enough to the charm of Commercial Street to still feel included, The Hub is a laid back coffee shop with most of the sitting room here taken up by tables and chairs. But there is an incredibly soft and comfy couch that's right next to the store's fireplace. A relaxing afternoon with a good book, warm drink and hot fire can help melt away the winter blues. 
Bonus: The Hub also repairs bikes next door, so if that two-wheeler of yours is looking a little rusty, bring her in for her annual tune up. 
2. The Red Cubbies at Park Central Branch Library
128 Park Central Square, Springfield, 417-831-1342, parkcentrallibrary.blogspot.com
Why We Love It: This branch of the Springfield-Greene County Library District is within walking distance to several of our favorite downtown hotspots. But our hearts melt most over the cozy, walled-off reading cubbies that make for the perfect afternoon reading nook.
Bonus: Before you dive into that last chapter of Fifty Shades of Grey, walk next door to Coffee Ethic and grab a steamy cup of something chocolaty and delicious.
3. The Couches at MudHouse
323 South Ave., Springfield, 417-865-6964, mudhousecoffee.com
Why We Love It:  This dimly lit coffee shop lends itself well to an afternoon of reading, but the comfy, cozy leather couches that are as old as they are worn seal the deal for book worms. It's easy to slide onto one of these couches, book and coffee in hand, and get stuck between the cushions for a few hours. 
Bonus:  A hot caramel apple cider is just a few feet away, and the small bites and soup menu keep you fueled up for a day-long veg. 
4. The Quiet Nook at Vintage Paris
260 Birdcage Walk, Hollister, 417-593-7952
Why We Love It: You've got to love a coffee shop that also spoils its patrons with beer, wine and great food. And while the café is a perfect place to stop for a mid-afternoon wine tasting, the quiet back room with couches and tables is a nice place to steal some all-alone reading time. 
Bonus:  If you're tired of coffee, splurge on a glass of wine while thumbing through your winter must-read collection.
5. The Sunny Windows at Joplin Avenue Coffee Company
506 S. Joplin Ave., 417-529-9285
Why We Love It:  Hiding away for an afternoon of a little lit and relaxation doesn't always have to include actually secluding yourself from the rest of the world. And the massive windows at Joplin Avenue Coffee Company let all that bright sunlight in and allow for some opportune people watching when you come up for air every now and then.
Bonus:  The baristas at this café are always experimenting with tasty new coffee concoctions, so check their specialty drink menu to see what they've come up with now. The Cinnamon Bun latte is a staff favorite.