Life
Conservation Education
At WOLF School, nature-loving Springfield fifth graders experience a school year filled with field trips and all things conservation.
By Julie Sedenko Davis Photos By Kevin O'Riley
Jan 2013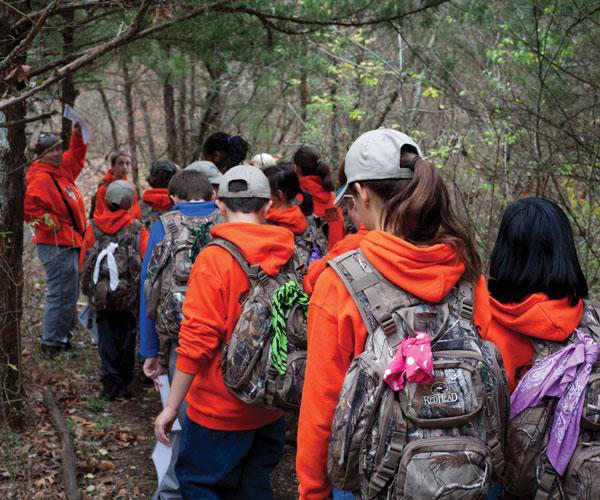 Choice isn't a big part of the typical fifth grade experience. Except at WOLF school, where nothing is typical. WOLF (Wonders of the Ozarks Learning Facility) is a "choice school," meaning students choose to attend because of their love for the outdoors. If you have a nature-loving kid in your own household, the time to apply for WOLF School is coming up next month.
Springfield is leading the way in this radical new approach to education: building curriculum around a child's interest. Springfield School District Associate Superintendent, Justin Herrell, says that connecting with a student on a personal level with something that they have a passion for is critical. 
WOLF students are passionate about the outdoors. Their school, located at the White River Conference Center next to Bass Pro Shops and Wonders of Wildlife, is about as outdoorsy as it gets. Cubbies are filled with camouflage backpacks, bug spray and hiking boots. The school's floor has impressions from critters that call Missouri home. The school's two classrooms are themed after Missouri ecosystems, and handmade desks are carved with each child's name.
Students learn the same fifth grade curriculum as every child in the Springfield school district, only they learn through the lens of conservation science. WOLF School teacher Sue Dyle says they take kids who enjoy the outdoors and simply give them more of it. "That's the philosophy of choice," she says. "It leads to more engagement, more motivation and academic excellence." In fact, WOLF students do experience higher performance test scores than their counterparts in traditional schools. 
WOLF kids study six Missouri ecosystems: water, forests, prairies, caves, glades and wetlands. Within each ecosystem students learn the habitat, classification and adaptation of the plants and animals as well as the food chains within each system. But this is far from traditional book and lecture learning.
Dyle and fellow teacher Becky Ash lead students on field trips every week. While studying water, they visit rivers and streams, performing water-quality testing and bio-monitoring. They also go canoeing, kayaking and snorkeling. Forest study includes hiking trips, utilizing map and compass training, outdoor cooking, wilderness first aid and other primitive skills. Throughout the year kids explore caves and learn trapping, rock climbing, gardening, shooting, archery and even wild game cooking.
Dyle says WOLF students gain more than knowledge. "One of the great and wonderful surprises continues to be the self confidence these kids gain throughout the year," she says.