Travel
A Foodie's Tour of London
A food-focused traveler gives London cuisine a second chance. Read about her culinary adventure, and plan a getaway of your own.
BY Anne Roderique-Jones | Photo by David Loftus
Jan 2014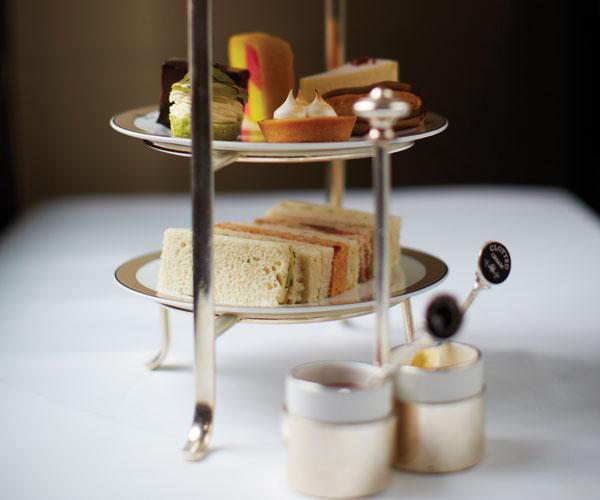 I first visited London in 2004 when my husband and I were traveling through Europe. We had zero itinerary for our London escapade—only a headstrong intention to eat our way though this charming capital. We lasted three days and hopped the Chunnel to Paris for cheap wine and crusty baguettes. Our budget was busted and our appetites craved something more—London grub was mediocre at best.
But times are changing, and this capital is in the throes of a major foodie revolution. London's reputation for soggy, overcooked cuisine is gone, and now this city boasts top-notch culinary accolades. Famed French chef Joël Robuchon recently said, "London is very possibly the gastronomic capital of the world." 
Luckily, I had a second chance to find out. Last April I ventured back to London, skipped Buckingham Palace, and focused on the new foods and drinks to be had. With pop-up restaurants galore, locally focused ingredients and a burgeoning cocktail scene, this city is a hot spot for food lovers. Here's what not to miss on your trip across the pond. 

Rise and shine: The eggs benedict from Wolseley's is one of the breakfast items on this brasserie's menu.


A Proper Full English Breakfast
Londoners have one-upped ho-hum pancakes and sausage with an iconic full English breakfast. This hearty meal consists of a heaping plate of eggs, bacon, sausage, black pudding, tomatoes, mushrooms, baked beans and bread; what's added is up to the chef, and many present this morning staple in a new framework. But a first-timer's English breakfast can't be outdone at the highly traditional establishments, and The Wolseley's (thewolseley.com/breakfast) classic brasserie is a safe bet. Smartly dressed Londoners and tourists can be found feasting on thick bacon, blistered tomatoes and fried eggs bursting with a bright, yellow center. You'd be hard-pressed to find a better way to start your morning. 

Pinkies Up: No tea time is complete without a stop at The Goring for afternoon scones and tea.


Afternoon Tea
It would be a crime to visit London without the pleasure of sampling a traditional afternoon tea. A tower of dainty scones with rich, clotted cream, crisp cucumber tea sandwiches and earthy, steaming teas are presented with plenty of pomp. The Goring (thegoring.com/afternoontea.aspx) has been serving afternoon tea in its gilded lounge for more than 100 years. Sipping these luscious brews while munching on a mélange of delicate pastries is an absolute luxury. Be sure to keep your eye out for Kate Middleton; this spot is a favorite of the royal family. 
Another solid option is afternoon tea at Brown's Hotel (brownshotel.com/dining/the-english-tea-room) where this indulgent experience allows you to take your tea in the first hotel in London. Pinkies up!

Would you look at that: Enjoy dinner and a view at OXO Tower Brasserie.  


Food With a View
An abundance of rooftop restaurants pepper the city of London—many with panoramic views of the most popular sites. Interestingly enough, a gin and tonic (or G&T as locals call it) tastes even better with a birds-eye view of the heart of London. The Terrace Grill & Bar (terracegrillandbar.com) in Piccadilly churns out modern British cuisine with its very own G&T bar. The love for this drink runs deep in London, and this restaurant serves it with afternoon tea.
The OXO Tower Brasserie (harveynichols.com/oxo-tower-london-brasserie) is another fine option. This rooftop oasis is where vegetarians and vegans can easily indulge in fine dining. Even the most carnivorous forgo the rare breed pork cutlet with chorizo to enjoy a silky burrata cheese, sweetly laced with truffle honey. The brasserie's adjacent bar serves thoughtfully made cocktails that are destination-worthy on their own. For the most refreshing of tipples, I'd recommend the Southbank Cocktail that comes shaken with Belvedere pink grapefruit vodka, local Beefeater 24 gin, lychee liqueur and a splash of tart, fresh grapefruit juice to top it off. 
Meat-Centric Meals
Tramshed (chickenandsteak.co.uk) leads this category with the most inspiring homage to the animal—specifically the cow and chicken. In Mark Hix's supremely hip Shoreditch eatery, you're greeted by the duo who rest in a formaldehyde tank at the entrance of the restaurant—just one of the quirks of Tramshed. 
London has spent the last few years getting keenly focused on using locally inspired ingredients, so naturally the beef at Tramshed is from British-raised cattle, and their birds hail from Wooley Park Farm. The tender, fat-studded beef and succulent, roast chicken is cut tableside onto a tray of crispy, golden French fries that absorb the meat's savory juices. For a meat-lover, this is pretty much mind-blowing.
I'd also advise a meal at Meat Liquor (meatliquor.com/London)—another one of London's hip local haunts. While the line wrapping around the building is daunting, you'll be handsomely rewarded with a satisfying hunk of beef once you're seated. This joint has a reputation for serving one of the best burgers in town thanks to owners Yianni Papoutsis and Scott Collins. The duo humbly spent years driving around their Meat Wagon mobile grill before opening this brick-and-mortar outpost. The burgers are thick, juicy and laced with fat—just like a good burger should be. A side of chili cheese fries might be the gluttonous cherry on top, but it's definitely worth the splurge. 

SOUPS ON: The Baghare Baigan at Chor Bizarre is sauteed eggplant in peanuts, tamarind and sesame sauce.


Indian Cuisine
You can't walk a block without stumbling upon an Indian restaurant in London. You'll know you're nearby once the punchy aromas of curry come wafting down the streets. London has a heavy Southern Asian population, so Indian cuisine is a must-try when visiting this city. My favorite spots are the unfussy joints that serve satisfying, inexpensive meals in a less-than-glamorous setting. Café Spice Namasté (cafespice.co.uk) fits the bill nicely, dishing out Goa-inspired plates in a '70s-esque atmosphere. 
There's also Chor Bizarre (chorbizarre.com), which showcases a magical Baghare Baingan: A sautéed eggplant that's lovingly simmered in piquant peanuts and tamarind and smothered in a succulent sesame sauce. 
In 2001, London's Zaika (zaika-restaurant.com) and Tamarind became the first Indian kitchens in the world to earn Michelin stars and took this cuisine's experience to a whole new level. There, white tablecloths, high-end service and extensive wine lists will accompany a tender lamb masala that's dotted with freshly toasted coriander seeds.

Rose Petal Gimlet: Enjoy this floral cocktail made with Beefeater gin and a homemade rose petals at Zetter Townhouse hotel. 


The New Cocktail Scene
Along with a growing assortment of delectable restaurants, there are monumental innovations happening within the cocktail scene in London. While the classic gin and tonic reigns as royalty in this city, several new cocktail dens have been stealing the spotlight for the last decade. 
Here's where you'll find stealthy mixologists who craft cocktails that rival any speakeasy tinctures back in the states. My favorite of the bunch is the Cocktail Lounge at the Townhouse in the Zetter Townhouse hotel (thezettertownhouse.com/cocktail-lounge), where drinks are designed by the booze genius and mad drink scientist, Tony Conigliario. This kitschy hotel bar is filled with a mismatch of antiques and taxidermy (think, a kangaroo donning boxing gloves) along with a roaring fireplace that's perfect for enjoying a Rose Petal Gimlet. This floral cocktail is made with Beefeater gin and a soft, homemade rose petal cordial. The subtle flavors make this libation a smooth and easy drink to sip. 
There's also Happiness Forgets (happinessforgets.com)—an underground cocktail den that serves high-end cocktails in a low-rent basement. The Kampaloma Soda that comes swirled with Kamm and Sons Ginseng Spirit, blanco tequila, cane sugar syrup, lime and grapefruit is described as being "a quick vacation in a long glass." After trying one myself, I most certainly agree.
Finally, there's the quirky Callooh Callay (calloohcallaybar.com). This London favorite is known for its ever-changing menu of cocktails (mixed with house-made syrups and bitters) and a drink menu that's filled with puns.
If you're with a group, I would suggest indulging with an If You Don't Gnome Me By Now. This massive gnome punch bowl is crafted with Martini Bianco and Beefeater Gin, fresh lemon juice and pineapple juice and warmed with homemade smoked cinnamon syrup, a slug of Cherry Heering and topped off with bubbly Prosecco. Cheers, mate! 
Side Trips From London
While you're in London, you might want to do something besides eat. Plan a side trip to a nearby destination that's worth an addition to your itinerary.

Bath time: The city of Bath makes for a great side trip when visiting London. The ancient city is the only place where you can bathe in hot natural springs.
Bath
A 90-minute train ride from London, this limestone city is the only place in Britain where you can bathe in hot, natural springs. The town square is host to a bevy of tourist landmarks, including the Abbey, the Roman and medieval baths and the royal "Pump Room." Find trip-planning info at visitbath.co.uk.
Highclere Castle
The estate of Earl and Countess Carnarvon is the home to Downton Abbey and lies just west of London (easily accessible by bus, taxi or train). Tickets sell out quickly, but if you're a fan of the Crawley family and their staff, this palatial home and its exquisite gardens is a must-see. Find visitor information at highclerecastle.co.uk.
Plymouth
Just a quick three-hour jaunt from London, this cozy fishing town is a gem of a day trip. With plenty of quaint shops, crispy fish and chips and the Plymouth Distillery (to make your own gin) to draw in tourists and UK city slickers, this quiet town makes for the perfect one-night getaway. Find tourist resources at visitplymouth.co.uk.
Windsor
A swift 30-minute train ride from Paddington station, Windsor is an ancient town that makes a terrific day trip for royal history buffs. The Windsor Castle in Berkshire was built in the 11th century, occupies more than 13 acres and is where the queen spends most of her weekends. Find info at windsor.gov.uk.