Dishes
Spicy Shrimp Ramen at Koriya
Plus six other things that passed the test of our taste buds.
By The Editors
Jan 2014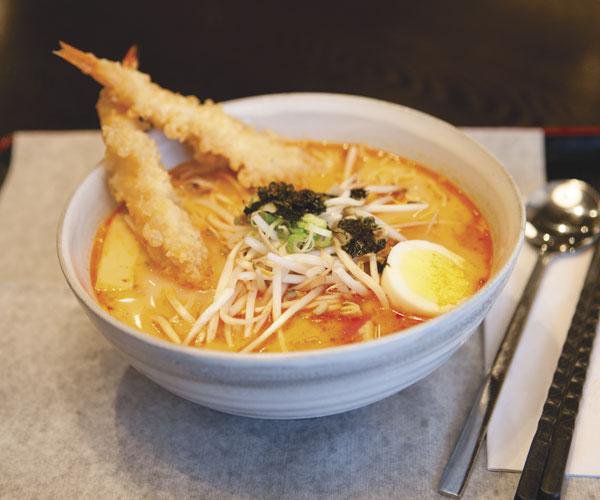 1. One of our favorite hot bites is the
spicy shrimp ramen
at
Koriya
(
4121 S. Fremont Ave., Ste. 128, Springfield, 417-882-0077
). This warm-you-from-the-inside soup features a bright red and pretty-darn-spicy broth that's peppered with tender shrimp, green onions, sprouts, boiled egg and plenty of yummy noodles. It's impossible not to slurp    
2. We are loving the
chocolate cake donuts topped with Andes mint bits
 from
Hurts Donuts
 (
301 Park Central West, Springfield, 417-300-6106
). The mint flavor is strong and pairs perfectly with the moist chocolate donut.    
3.
The drunken noodle
at
Thai Peppers
(
1411 E. Sunshine St., Springfield, 417-882-1979
) is a favorite when we're hungry for stir fried goodness. In addition to tender wide rice noodles and plenty of veggies, it's packed with tons of fresh basil—big pieces of it in every bite.    
4. We can't get enough of the
Black & Bleu Bruschetta
 at
The Tower Club
 (
901 E. Saint Louis St., Springfield, 417-866-4466
). French bread is served with blackened beef tenderloin slices, spinach, tomatoes and bleu cheese.    
5. You have to try the
Tuscan Veggie sandwich
 from
Sugar Leaf Bakery
 (
2800 W. 76 Country Blvd., Suite 211, Branson, 417-336-6618
). Spinach, roasted red peppers, marinated artichoke hearts and fresh mozzarella are piled on homemade pepper and fig bread and served with oil and balsamic vinegar.     
6. A true indulgence, the
garlic cheese bread
 from
Imo's Pizza
 (
600 S. Pickwick Ave., Springfield, 417-862-1222; 363 W. Republic Rd., Springfield, 417-886-4667
) is a must-try for anyone who loves the ooey-gooey goodness of provel cheese. This garlicky wonder has tons of it on top.    
7. When it's available, be sure to nab the
sweet potato bisque
 from
Vintage Veranda Tea Room
 (
724 S. Scenic Ave., Springfield, 417-866-1145
). The silky soup comes topped with hand-battered crispy fried onions and is served in a dainty little tea cup.