Spaces
5 Best Cozy Warm-Up Spots
Even on the coldest of winter days, there are a handful of 417-land restaurants that are ready and waiting to keep you warm. Next time you're heading out for a meal, check out these spots, where the fires are hot, ready and waiting.
By Savannah Waszczuk
Jan 2015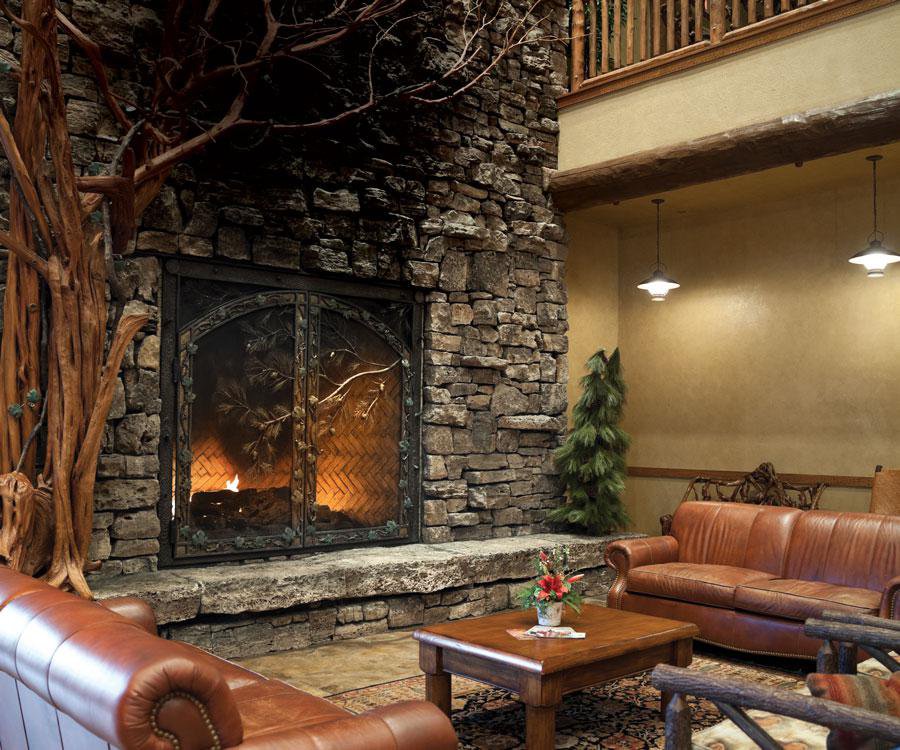 1.
The McKibben Great Room at The Keeter Center 
College of the Ozarks, 1 Opportunity Ave., Point Lookout, 417-239-1900, keetercenter.edu
Appropriately named the Grand Fireplace, this stacked-stone beauty is located in the McKibben Great Room at College of the Ozarks. While it's not located in the dining room, this massive fireplace is surrounded by couches and can be enjoyed by all visitors. 
Fireside Treat: Buy a cinnamon roll at the bakery, and plop down on the sofa while chowing down.
2. 
The Sofas at Parlor 88
1111 E. Republic Rd., Suite 180, Springfield, 417-882-8882, parlor88.com
When it's time to enjoy an after-dinner drink, Parlor 88 is the ultimate hangout thanks to a blazing fireplace surrounded by three plush red sofas. The fire is sure to keep you extra-warm on a chilly night out.
Fireside Treat: Warm up from the inside out with the Irish Fusion drink: coffee, Jameson Irish whiskey, whipped cream and crème de menthe.
3. 
The Round Room at Osage Restaurant
Top of the Rock, 150 Top of the Rock Rd., Ridgedale; 417-339-5320, topoftherock.com
Located in the eatery's Round Room, a handcrafted fireplace is the star of the show, and the surrounding stone completes the rustic ambiance. The perimeter of the room is lined with windows that showcase an incredible view of Table Rock Lake. 
Fireside Treat: Complete your warm and cozy experience with a meal of braised short ribs.
4. 
The Dining Room at Red Oak Steakhouse
Downstream Casino Resort, 69300 E. Nee Rd., Quapaw, Oklahoma, 918-919-6141, downstreamcasino.com
A large stone fireplace reaches all the way to the ceiling in the main dining room at Red Oak Steakhouse. The fire is always burning during the cold winter months, so you're sure to enjoy the fiery flames along with your meal.  
Fireside Treat: Order one of the restaurant's dry-aged prime steaks for the ultimate indulgence. 
5. 
Any hibachi grill table at Nakato Japanese Restaurant
2615 S. Glenstone Ave., Springfield, 417-881-7171, nakato.com
While a hibachi grill is not a true fireplace, the interactive dining experience at Nakato Japanese Restaurant gets you up close and personal with some red-hot flames. The kiddos will absolutely love the onion tower fire trick that shoots flames several feet in the air. 
Fireside Treat: Hibachi-grilled steak, chicken or shrimp. The choice is yours!