Reviews
Market House Café & Bake Shop
Homemade pies, cakes, muffins, scones and breads are flying off the shelves at this charming café in Ozark.
by Ettie Berneking
Jan 2015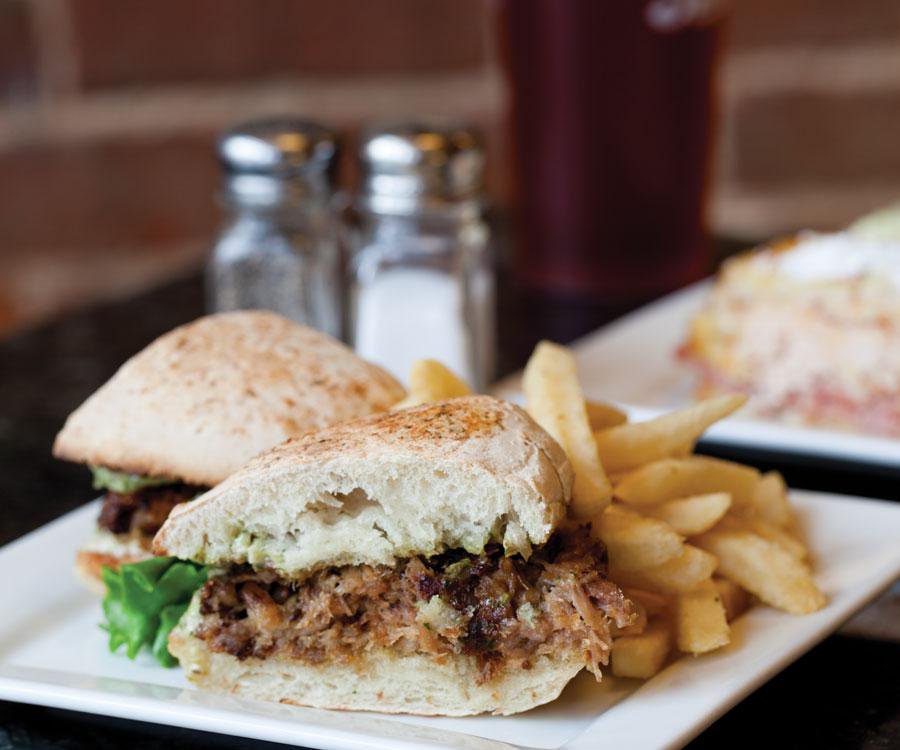 It doesn't take much to make me happy. Plop some homemade sweets in front of me, and I'll be your best friend for life. So when my attention was drawn to three mini homemade apple pies flying past me at Market House Café & Bake Shop in Ozark, I knew I was about to become a regular at this cozy, shabby chic café. 
I had only stopped by Market House Café & Bake Shop in Ozark once since it opened in July 2014. Sadly, the café was closed for the day, but that didn't stop me from smushing my face against the window and scoping out what awaited inside. Painted tin ceilings, exposed brick walls, an open-style kitchen and plush forest green booths filled the attractive café and a large glass display case filled with cakes glistened near the front cash register. My mouth was watering just looking at all that deliciousness.
Needless to say, I made plans with Senior Editor Savannah Waszczuk a few days later to head back to Ozark for lunch. Seated at a comfy booth just before the lunch rush hit, we decided to try a little of everything, including the alluring desserts. I was in the mood for something sweet, so I ordered the Monte Cristo. Savannah ordered the porchetta sandwich. As we mulled over the dessert options—pie or cake, chocolate or lemon—owner Barbara Heinrichs-Hardy breezed by carrying mini apple pies fresh from the oven. I must have been obviously ogling the pies, because Heinrichs-Hardy stopped so I could get a closer look. The aroma was enough to make me ditch my plan to order the chocolate cake. 
With a claim laid on a pie, I turned my attention to my Monte Cristo. Battered and buttered with a tart raspberry preserve to slather on each bite, this was more like a meaty French toast sandwich. Hugged between slices of homemade Amish white bread were slices of black forest ham, mesquite turkey and baby Swiss. Instead of battering and deep-frying this puppy, Heinrichs-Hardy grills it, which makes it melty and slightly crunchy. 
Savannah's porchetta sandwich was just as delicious, but instead of sweet, it was rich and savory. The tender roasted pork is marinated and slow-roasted in-house before it's slathered with homemade gremolata sauce and a caper aioli and piled on toasted rosemary-garlic ciabatta bread.
All the sauces, breads and desserts are made in-house by Heinrichs-Hardy. The Amish white bread used for my Monte Cristo was pillow-y with a chewiness that helped it sop up the sweet, buttery batter. And the rosemary-garlic ciabatta used for Savannah's sandwich was herbaceous and just plain amazing.
But even as much as I enjoyed my Monte Cristo, it was that homemade apple pie that had me carving my BFF status into the table. Instead of gooey slices of apple pie, Heinrichs-Hardy assembles individual pies that could easily satisfy two grumbling stomachs. The crust was perfectly flaky and rich with that wonderful melt-in-your-mouth texture, and the warm apple filling that spilled out was packed with cinnamon and sugar. 
After devouring every last bite of my sandwich, two bites of Savannah's meal, plus half of my apple pie and a few bites of the lemon-blueberry cake that Savannah ordered, I was stuffed. But my appetite perked up when Heinrichs-Hardy started talking about the breakfast she preps each morning including omelets, pastries, cheesy black bean tortillas, biscuits and gravy and Nassau grits. I told her she could count on us being back in to give it a try.

A subtle lemon-flavored cake loaded with plump blueberries is one of the many dessert options at Market House Café & Bake Shop.

The tables at Market House Café & Bake Shop are adorned with small chalkboards that list the day's offerings of pies, cakes and more.
Q&A with owner Barbara Heinrichs-Hardy
417 Magazine: How did you go from being a registered nurse to owning a restaurant?
Barbara Heinrichs-Hardy: I planned this even before I left the nursing field. I've always cooked and would go home from work and just start cooking. 
417: What was the first thing you made?
B.H.H.: I made puff pastry and things from Julia Child's cook book. 
417: How did you plan the menu at Market House?
B.H.H.:  I've traveled a little bit, and when I found a dish I liked, I'd go home and replicate it. I made Nassau grits from a recipe I got from a friend of mine in Florida. There's lots of cheese, sausage and bacon in it. 
417: Does baking run in your family?
B.H.H.: We're German, so all the girls in our family make homemade strudel before Christmas.