Life
The Social Easel
A new mobile paint business brings girls' night and fine art to your table.
By Ren Bishop
Jan 2015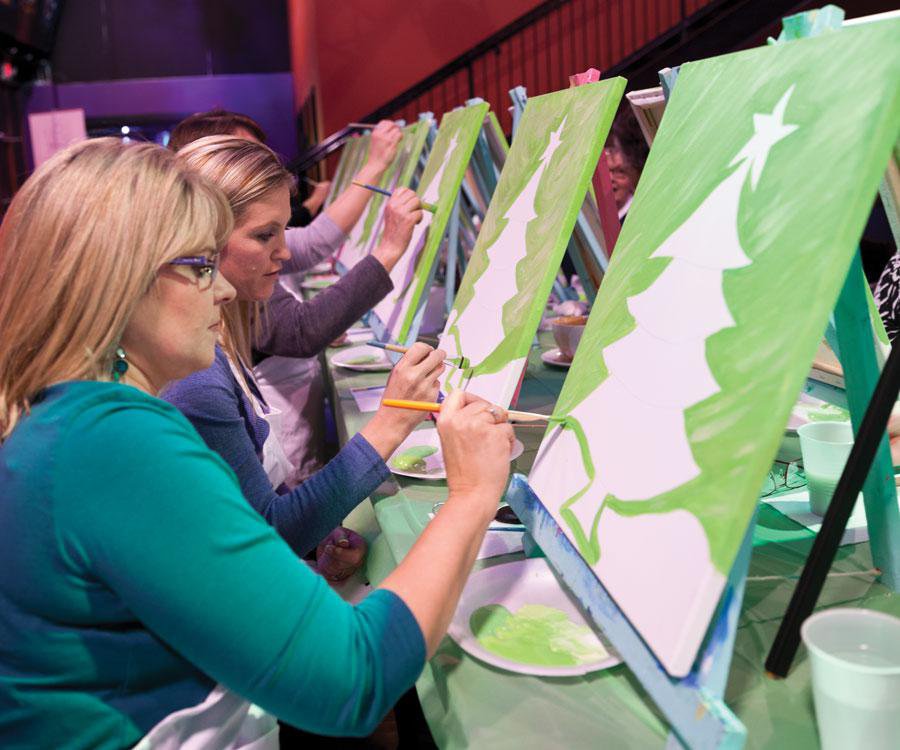 Christie Hawkins is a lifelong artist, creating whimsical pieces and works of art for her home and her daughter, Kiley. So when Kiley turned 10 last year, Hawkins decided to give the gift of art to her daughter and her friends by hosting an interactive painting birthday party.

"When the moms came to pick up their daughters, they were amazed," Hawkins says. "They told me that I had to do a painting party for them, and I did, and The Social Easel took off from there."
For a few months last winter, Hawkins painted and developed a business plan for The Social Easel, booking private parties in customers' homes that would feature an all-inclusive night of creativity. She would bring the aprons, the supplies and the canvases, and after two hours, guests would take home a painting. In January 2014, she hosted her first open paint night in a boutique that was open to the public.
"I had a great partnership with that boutique, and when it unfortunately closed, I started approaching other local businesses," she says. "Now, I partner with a variety of businesses. I bring in customers to paint with me on their slower evenings, and they get the drink and food sales while we have a lot of fun."
The set-up is simple for customers: Grab a drink at the bar, put on an apron and get settled in. Hawkins offers step-by-step instruction and all the materials for 10 to 30 guests during each open paint night. She provides personal attention so any artist, no matter the skill level, can create a 16-by-20-inch work of art.
"When I went to my first class, I didn't think my painting was going to turn out well," says Laura Miltenberger, who has attended 12 Social Easel classes. "The only things I had ever painted before were my walls—no stripes, no loud colors, nothing crazy. But we had a really great time, and I just really enjoyed the relaxation and the sense of accomplishment once I finished the painting. No talent is required. You just have to want to have a good time."
Each open paint night features a painting design created by Hawkins and drink specials to accompany the evening's creativity. But for moms looking to have a creative afternoon with their daughters ages 5 and up, The Social Easel has also partnered with Chic in Pink Boutique & Party Center (4114 S. Lone Pine Ave., Springfield) to host kid paint parties. November's "Frozen" paint party featuring guest appearances by Elsa and Anna sold out in 55 minutes.
But regardless of their age, Hawkins hopes that Social Easel painters let their inhibitions go and get creative.
"Most people think that they're not artistic, that they can't draw a stick figure," Hawkins says. "Most of the people who think like that haven't painted since elementary school, and at the end of the night, they keep saying, 'It looks so good!' They feel accomplished. They're proud of themselves, and they've done something they've never done before. I love being a part of that."