Health
Heart Talk
A new piece of medical equipment is changing the game at Mercy Hospital.
By Ettie Berneking
Jan 2015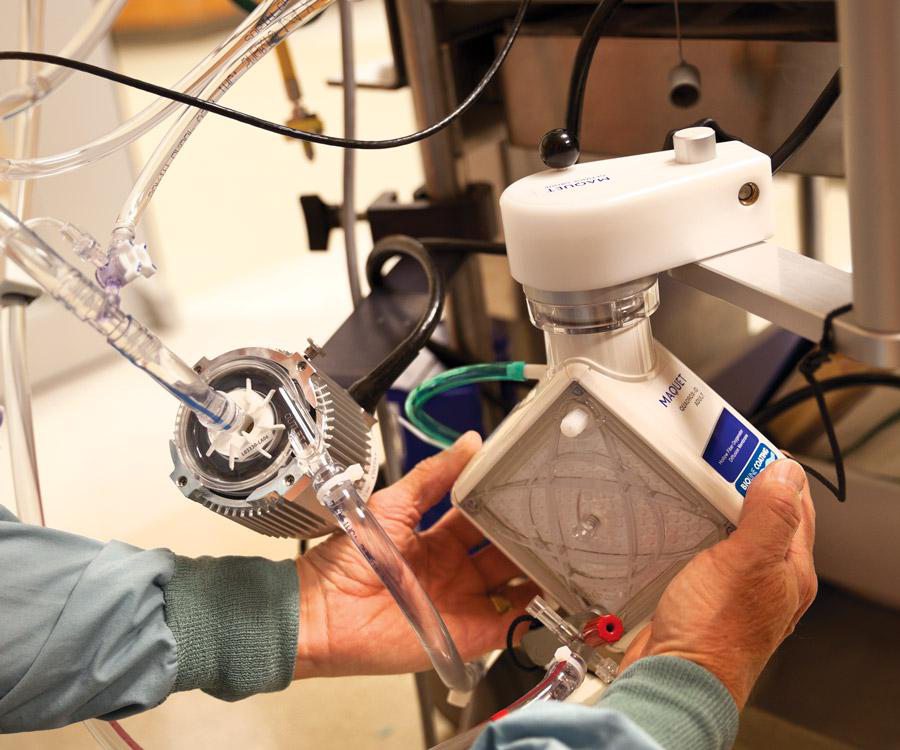 At just 23 years old, most of Tom McClelland's time in a doctor's office was spent getting his physicals for school sports. Measuring in at 6-foot-6-inches, McClelland was a shoe-in for the baseball, football and basketball teams. Tall, strong and athletic, McClelland seemed like a perfectly healthy guy—until he suddenly went into cardiac arrest.
McClelland is a police officer in Miller County. He was serving a search warrant one day when he passed out on his way back to his truck. When he woke up, he was at Mercy Hospital, and 10 days had gone by. "I had no idea what had happened," he says. "They told me I went into cardiac arrest and was put into a medically induced coma." Doctors still aren't sure what happened to McClelland's heart, but thanks to a new ECMO (extracorporeal membrane oxygenation) machine and the expertise of Dr. Sunil Prasad, McClelland lived. 
"We didn't used to have the ability to take on patients with respiratory or heart problems that are more aggressive," says Dr. Sirish Parvathaneni, a cardiac and thoracic surgeon at Mercy, who worked on McClelland's case with Dr. Prasad. "Here's a healthy guy who doesn't smoke, so why can't he get air to his lungs? And he has a healthy heart, so what's wrong?" 
Dr. Parvathaneni and Dr. Prasad grew up together in Chicago and worked together at Barnes Jewish Hospital in St. Louis, and Dr. Parvathaneni helped convince Dr. Prasad to bring his expertise and the ECMO machine to Springfield.
Put simply, the ECMO machine does the work of the heart and lungs. Blood is pumped out of the body and oxygenated through the ECMO machine before being pumped back into the body. In McClelland's case, the ECMO was hooked up to his neck and groin for 10 days in order to give his heart and lungs time to heal. 
"When we got [McClelland], he was basically dead," Dr. Parvathaneni says. "He was blue. He actually flatlined. We had no way to get oxygen to his body. The ECMO machine allowed us to oxygenate the blood and then pump it back in." 
It turned out that back at his car when McClelland passed out, his fellow officers administered CPR, but things went from bad to worse when McClelland threw up into his lungs, which blocked his airflow.
This is where the ECMO machine comes in. The success rate is still pretty low—60 percent for lung problems and 20 to 40 percent for heart problems—but it's a lifeline patients with severe cardiac or respiratory problems didn't have before. 
While the ECMO machine has been around for some time in larger markets, it's new to Springfield. "It's actually used a lot for pediatric surgery for babies with congenital diaphragmatic hernias," says Dr. Parvathaneni. It's also used frequently for patients with a severe flu or pneumonia. When the ECMO machine and Dr. Prasad arrived in Springfield, the new technology was put to use right away. The first patient had really bad lungs. The next three had bad hearts. "Before, we wouldn't be able to operate on half of these patients," Dr. Parvathaneni says. "Now we've given them a fighting chance." The ECMO machine now gives doctors an additional therapy option to use on patients suffering from severe cardiac or respiratory failure. 
It might sound surprising, but the arrival of flu season is when Dr. Parvathaneni believes the ECMO machine will really be put to good use. "When a young person gets the flu and stays home thinking they'll get better, they eventually come to us half dead," he says. "With this machine, we can rest the lungs and let the virus work its way out of the system." At the end of last November, Mercy had four ECMO machines. One week, three of those machines were in use. "We have one guy on an ECMO, and we replaced all of his heart valves," Dr. Parvathaneni says. "This is a young guy in his 30s. At least now he has a fighting chance."
As for McClelland, he's back to work and living a normal life thanks to a defibrillator that catches irregular heart rhythms. 
"Now that we've got the right guy to run this program, we've had a lot of successes," Dr. Parvathaneni says. "We couldn't have done this without Dr. Prasad. You can have the machine, but you need the right people to make it work, including those unsung heroes like the nurses and the perfusionists. They are so vital to this."